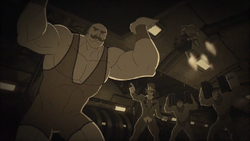 The Circus of Crime is a traveling circus of thieves. Each member is named for a circus act. They target technology from many businesses such as Stark Industries. The head of the circus is the Ringmaster, there is the Strongman, Bruto Strongman, the acrobatic twins, Great Gambonnos, a human cannonball, Human Cannonball and a master archer Trick Shot. Hawkeye used to be part of the circus as Trick Shot.
During a crime, he intentionally triggered the alarm. The circus was caught with Clint Barton. The circus never forgave or forgot his betrayal. Sometime after, Princess Python left the circus to go solo. In the episode "Circus and Crime", the Circus returned and took control of the Avengers, except Clint and Falcon.
Ad blocker interference detected!
Wikia is a free-to-use site that makes money from advertising. We have a modified experience for viewers using ad blockers

Wikia is not accessible if you've made further modifications. Remove the custom ad blocker rule(s) and the page will load as expected.