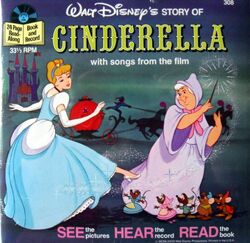 Cinderella is a Disney Read-Along storybook based on the 1950 film of the same name.
Releases
Book and Vinyl
1965; new edition, 1977 - #308 
Book and Cassette
1977 - 6DC
1990 - no number
Book and CD
2006; new editions, 2010 & 2012 - no number
Book and CD Description
Experience the timeless classic, Cinderella, with this 8 x 8 storybook and read-along CD that features the voices of the beloved characters from the film as well as dazzling sound effects! The word-for-word narration will help build vocabulary and encourage independent reading.
Book and CD Details
Reading level: Ages 3 and up
Paperback: 32 pages
Language: English
ISBN-10: 1423133331
ISBN-13: 978-1423133339
CD Details
Original Read-Along CD ISBN from ToyBox Innovations edition: 0-7634-2171-5
Gallery
Ad blocker interference detected!
Wikia is a free-to-use site that makes money from advertising. We have a modified experience for viewers using ad blockers

Wikia is not accessible if you've made further modifications. Remove the custom ad blocker rule(s) and the page will load as expected.