Ad blocker interference detected!
Wikia is a free-to-use site that makes money from advertising. We have a modified experience for viewers using ad blockers

Wikia is not accessible if you've made further modifications. Remove the custom ad blocker rule(s) and the page will load as expected.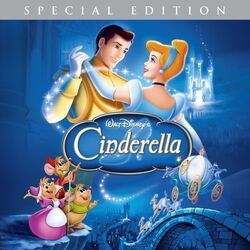 The soundtrack album of Cinderella was released in 1997. It includes several demo songs cut from the original film, a new song, and a cover of  "A Dream is a Wish Your Heart Makes". The music is from the 1950 film Cinderella.
Tracks
Main Title/Cinderella
A Visitor/Caught in a Trap/Lucifer/Feed the Chickens/Breakfast is Served/Time on Our Hands
The King's Plan
The Music Lesson/Sing, Sweet Nightingale/Bad Boy Lucifer/A Message from His Majesty
Little Dressmakers/The Work Song/Scavenger Hunt/A Dream is a Wish Your Heart Makes/The Dress/My Beads/Escape to the Garden
Where Did I Put That Thing?/Bibbidi-Bobbidi-Boo
Reception at the Palace/So This is Love
The Stroke of Midnight/Thank You, Fairy Godmother!
Locked In the Tower/Gus and Jaq to the Rescue/Slipper Fittings/Cinderella's Slipper/Finale
I'm in the Middle of a Muddle (Demo)
2005 (Special Edition)
2012 (Collector's Edition)
12. I'm in the Middle of a Muddle (New Recording)
13. I Lost My Heart at the Ball (Demo)
14. I Lost My Heart at the Ball
15. The Mouse Song (Demo)
16. The Mouse Song (New Recording)
17. Sing a Little, Dream a Little (Demo)
18. Sing a Little, Dream a Little (New Recording)
19. Dancing on a Cloud (Demo)
20. Dancing on a Cloud (New Recording)
21. The Dress My Mother Wore (Demo)
22. The Dress My Mother Wore (New Recording)
23. The Face That I See in the Night (Demo)
24. The Face That I See in the Night (New Recording)
Credits
Jim Brickman/Jack Kugell/Jamie Jones (Composer)
Mack David/Al Hoffman/Jerry Livingston (Composer)
Larry Morey/Charles Wolcott (Composer)
Ilene Woods (Performer)
Jamie Jones (Performer)
Kimberley Locke (Performer)
Mike Douglas (Performer)
Rhoda Williams (Performer)
Verna Felton (Performer)
Wayne Brady (Performer)