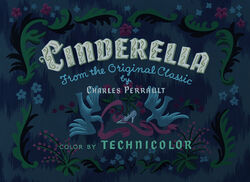 "Cinderella" is a song that is featured in the opening credits of the 1950 animated film Cinderella. For the most part, it is vocalized. Marni Nixon sings the solo part.
Lyrics
Cinderella, you're as lovely as your name
Cinderella, you're a sunset in a frame
Though you're dressed in rags, you wear an air of queenly grace
Anyone can see a throne would be your proper place.

Cinderella, if you give your heart a chance
It will lead you to the kingdom of romance
There you'll see your dreams unfold
Cinderella, Cinderella, in the sweetest story ever told.
Ad blocker interference detected!
Wikia is a free-to-use site that makes money from advertising. We have a modified experience for viewers using ad blockers

Wikia is not accessible if you've made further modifications. Remove the custom ad blocker rule(s) and the page will load as expected.