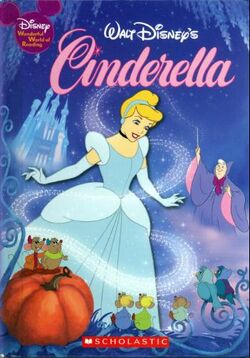 Cinderella is the Disney's Wonderful World of Reading storybook adaptation of the 1950 film of the same name.
Description
Since 1950, the classic tale of Cinderella has captivated young girls with its inspiring rags-to-riches story. After her father's death, the beautiful Cinderella becomes enslaved to her spiteful stepmother and stepsisters. With the help of her kind woodland friends and her Fairy Godmother, Cinderella is transformed into an elegant debutante so she can attend the ball at the King's palace. After dancing with the debonair Prince, the clock strikes midnight and breaks the spell, sending her rushing home in rags. When Cinderella's missing glass slipper is found to be a perfect fit, the Prince knows he has found the woman who captivated his heart, and the two are married and live happily ever after. This magical story shows young readers that true goodness and purity of heart will ultimately be rewarded, and that with enough hope, friendship, and love, anything is possible.
Gallery
Ad blocker interference detected!
Wikia is a free-to-use site that makes money from advertising. We have a modified experience for viewers using ad blockers

Wikia is not accessible if you've made further modifications. Remove the custom ad blocker rule(s) and the page will load as expected.