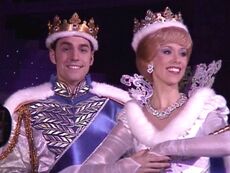 Cinderella's Royal Coronation (also known as Cinderellabration: Lights of Romance) was a show taking place in front of Cinderella Castle at Tokyo Disneyland during the Cinderellabration event. The show showcased Cinderella's royal crowning. It was held every winter from 2003 to 2009.
Show summary
It is time for Cinderella to finally be crowned. The King decided to hold a special event inviting Cinderella's closet friends, royalty and some commoners. The event begins with the inclusion of guest and later leads to Cinderella appearing in a horse drawn carriage with her mice. She is then crowned by the King.
See also
Ad blocker interference detected!
Wikia is a free-to-use site that makes money from advertising. We have a modified experience for viewers using ad blockers

Wikia is not accessible if you've made further modifications. Remove the custom ad blocker rule(s) and the page will load as expected.