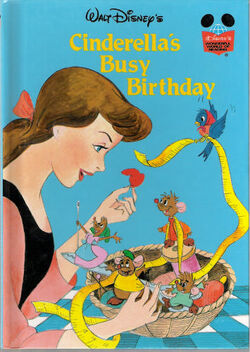 Cinderella's Busy Birthday is a 1985 Disney's Wonderful World of Reading storybook, featuring the characters from Cinderella. In this book, when her stepsisters Anastasia and Drizella, and stepmother Lady Tremaine provide more chores for Cinderella to do on her birthday, some friendly mice come to her aid.
Details
Paperback
Publisher: Random House; Book Club ed edition (December 31, 1985)
Language: English
ISBN-10: 0394875850
ISBN-13: 978-0394875859
Trivia
On the cover, Cinderella's hair is very dark, instead of her normal blonde hair.
Her sleeves and bow are pinkish instead of bluish aqua.
Ad blocker interference detected!
Wikia is a free-to-use site that makes money from advertising. We have a modified experience for viewers using ad blockers

Wikia is not accessible if you've made further modifications. Remove the custom ad blocker rule(s) and the page will load as expected.