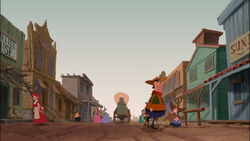 Chugwater is a town in Home on the Range where Sheriff Sam Brown, his dog, Rusty, and his horse, Buck, live until they moved in Little Patch of Heaven following the arrest of Alameda Slim and saving the farm using Slim's reward money. The town has a bank where they send a bank notice to Pearl Gesner, the owner of Little Patch of Heaven, to pay $750 in three days or they will sell it. Maggie, Grace, and Mrs. Calloway also arrive to find Buck and show him the notice that the bank send to Pearl earlier. Rico also arrives carrying a wanted poster and brings it to Sheriff Sam Brown, claiming he wants the reward if he captures the outlaw. There is also a saloon where the cows accidentally entered due the star on the door, thinking it was the Sheriff's office.
Ad blocker interference detected!
Wikia is a free-to-use site that makes money from advertising. We have a modified experience for viewers using ad blockers

Wikia is not accessible if you've made further modifications. Remove the custom ad blocker rule(s) and the page will load as expected.