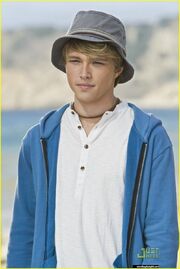 Christopher Wilde
is one of the main character protagonists of
Disney Channel's Original Movie
StarStruck
. He is portrayed by
Sterling Knight
.
History
He is a wild 17 year old teen Popsation and his main love interest is Jessica Olson and how their relationship grows stronger.
Personality
Christopher Wilde is a self-centered, shy, arrogant, inflexible, irresponsible, insecure, bossy, pessimistic, not intelligent, forgetful, obedient and impulsive boy. But also is honest, brave, indulgent, not vindictive, patient, peaceful, lovely, bright, spontaneous, focused, attempt, selfless and has a sensitive side. After he goes with Jessica, he becomes more confident, optimistic and careful.
Ad blocker interference detected!
Wikia is a free-to-use site that makes money from advertising. We have a modified experience for viewers using ad blockers

Wikia is not accessible if you've made further modifications. Remove the custom ad blocker rule(s) and the page will load as expected.