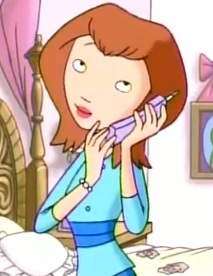 Christie Wilson[1] is a mean-spirited troublemaker who appears frequently as an adversary of The Weekenders. She is voiced by Tara Strong.[2][3]
Her right-hand girl, Candi, is only slightly less cruel. In the film Carver's Media, she is portrayed as the epitome of all evil (at least in Carver's mind). In this episode "Makeover", she and Candi gave Lor a new makeover.
Episode Appearance
"Makeover"
"Vengenace"
"New Friends"
Gallery
References
Ad blocker interference detected!
Wikia is a free-to-use site that makes money from advertising. We have a modified experience for viewers using ad blockers

Wikia is not accessible if you've made further modifications. Remove the custom ad blocker rule(s) and the page will load as expected.