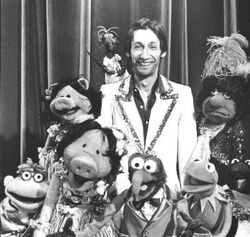 Chris Langham (born April 14, 1949) is an English writer, actor and comedian.
His only role in a Disney-related production so far was a guest appearance on The Muppet Show in episode 519. He was the only writer for the show and he was also the writer for The Muppets Go to the Movies and The Jim Henson Hour (where he was also an occasional guest performer).
Gallery
Ad blocker interference detected!
Wikia is a free-to-use site that makes money from advertising. We have a modified experience for viewers using ad blockers

Wikia is not accessible if you've made further modifications. Remove the custom ad blocker rule(s) and the page will load as expected.