"
Chop Away at My Heart
" is a song performed in the
Milo Murphy's Law
episode, "
Secrets and Pies
". It is sung by
Zack Underwood
when he was in a boy band known as Lumberzack (now known as Lumbermax).
Lyrics
I know you're pining
But every cloud has got a silver lining
The leaves are parting now the sun is shining
And you're in my arms so the planets are aligning
My heart is strong, like a tree!
And you belong, baby you belong to me
Without you, I'm tied to the ground
And if I falls, do I even make a sound?

CHORUS
Chop chop chop! Chop away at my heart!
I can feel it falling (timber!) and I will never part
I know you, you've been there from the start
So baby chop chop chop! Chop away at my heart!
Na na na na, na na na na na na na (x4)

CHORUS (x2)
v - e - d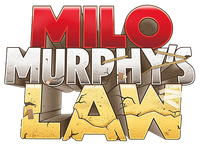 Locations
Swamp City • Jefferson County Middle School • Lard World
Ad blocker interference detected!
Wikia is a free-to-use site that makes money from advertising. We have a modified experience for viewers using ad blockers

Wikia is not accessible if you've made further modifications. Remove the custom ad blocker rule(s) and the page will load as expected.