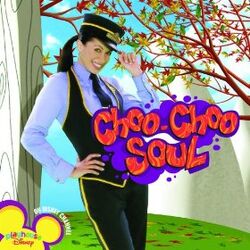 Choo-Choo Soul is a 2008 Walt Disney Records album featuring songs from the Disney Junior short series, Choo-Choo Soul.
Details
Original Release Date: July 22, 2008
Release Date: July 22, 2008
Label: Walt Disney
Copyright: (C) 2006 Walt Disney Records
Record Company Required Metadata: Music file metadata contains unique purchase identifier.
Total Length: 28:47
Genres: Soundtracks
ASIN: B00138JCDO
Track listings
Chugga Chugga Choo Choo
One-Two One-Two-Three
ABC Gospel
Fly Birdie Fly
Jump Jump
Blue Zoo Train
Steam Train
The Polite Song
Animal Sounds
Let's Dance
The Bullet Train
I Like Chocolate
Hop on the Train
Editorial Reviews
Special CD/DVD edition includes a bonus DVD with 11 videos. Join urban music sensation Genevieve Goings and her dancing engineer, DC, all aboard the Choo Choo Train for a musical adventure! As seen on Disney Junior, Choo Choo Soul makes learning fun for preschoolers and parents alike.
Ad blocker interference detected!
Wikia is a free-to-use site that makes money from advertising. We have a modified experience for viewers using ad blockers

Wikia is not accessible if you've made further modifications. Remove the custom ad blocker rule(s) and the page will load as expected.