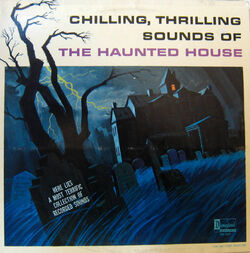 Chilling, Thrilling Sounds of the Haunted House
was an LP album intended for "older children, teenagers and adults", released by
Disneyland Records
.
The album was mainly composed of sound effects that had been collected by the Sound Effects Department of the Walt Disney Studios.
The album was released in several different forms. The album was first released in 1964 in a white sleeve, with a second release in 1973 in an orange sleeve. In both versions, the first side contained 10 stories narrated by Laura Olsher, complete with sound effects. The second side then contained 10 sound effects meant for others to create their own stories. There was also a British release in 1974 which contained a completely redesigned cover. Most recently, a digitally-remastered version of the album was released on iTunes.
In 1976, Disney released a follow-up album of the same name containing 26 tracks featuring new sound effects and story situations. However, that version featured no Haunted Mansion-specific content.
The covers of the American albums were decorated with an image painted with acrylics by Paul Wenzel, which he created as concept art for the attraction The Haunted Mansion (the attraction was still in the planning stages and still being referred to as "The Haunted House" at the time of the album's release). The original was 37" x 39" and was purchased in auction in 2001 for $3,000 USD. The cover of the British release is decorated with an actual photo of the ride and the 1976 album is simply a colored image of a haunted house, a skeleton in a coffin and ravens.
Some of the stories on the album are better known for being sampled in rap songs such as N.W.A's "Quiet on Tha Set", Ice Cube's "Look Who's Burnin'" and "Jackin' for Beats" and Jedi Mind Tricks' "Chinese Water Torture".
Trivia
Many of the sound effects used in this album were originally created for the classic Disney cartoons and would eventually be used in the Haunted Mansion attraction.
References
Mouse Tracks: The Story of Walt Disney Records