Ad blocker interference detected!
Wikia is a free-to-use site that makes money from advertising. We have a modified experience for viewers using ad blockers

Wikia is not accessible if you've made further modifications. Remove the custom ad blocker rule(s) and the page will load as expected.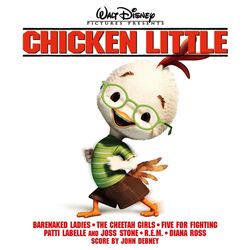 The soundtrack album contains music by a wide range of artists, some musical veterans, such as Patti LaBelle and Diana Ross, as well as others. Uniquely for a Disney animated film, several of the songs are covers of classic popular songs, such as Elton John and Kiki Dee's "Don't Go Breaking My Heart," Carole King's "It's Too Late," and the Spice Girls' signature hit "Wannabe." The soundtrack was released on November 1, 2005.
In one scene of the film, Runt sings Gloria Gaynor's "I Will Survive", though this is not included in the soundtrack.
Track listing
Stir It Up - Joss Stone and Patti LaBelle
One Little Slip - Barenaked Ladies
All I Know - Five For Fighting
It's the End of the World as We Know It (And I Feel Fine) - R.E.M.
Wannabe - Joan Cusack
Don't Go Breaking My Heart - The "Chicken Little" Cast
The Sky Is Falling (score) - John Debney
The Big Game (score) - John Debney
Dad Apologizes (score) - John Debney
Chase to Cornfield (score) - John Debney
Dodgeball (score) - John Debney
Driving with Dad (score) - John Debney
| | |
| --- | --- |
| | This page uses content from the English Wikipedia. The article or pieces of the original article was at Chicken Little (2005 film). The list of authors can be seen in the page history. As with Disney Wiki, the text of Wikipedia is available under the GNU Free Documentation License. |