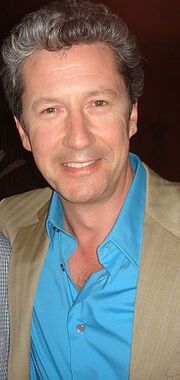 Charles George Patrick Shaughnessy, 5th Baron Shaughnessy (born February 9, 1955), or simply known as Charles Shaughnessy, is a British peer and television, theatre and film actor. He is known for his roles on American television, as Shane Donovan on the soap opera, Days of Our Lives, and as Maxwell Sheffield on the sitcom The Nanny.
For Disney, he voiced Dennis from the Playhouse Disney animated series, Stanley, and he portrays Tom Fairbanks in Dog With a Blog, Jordan Welsh in The New Adventures of Spin and Marty: Suspect Behavior, Nigel Wyndham in the ABC TV show Castle, Dimitri Denatos in Mom's Got a Date with a Vampire and Detective Charles Meany/Falco Grandville in Get a Clue.
Ad blocker interference detected!
Wikia is a free-to-use site that makes money from advertising. We have a modified experience for viewers using ad blockers

Wikia is not accessible if you've made further modifications. Remove the custom ad blocker rule(s) and the page will load as expected.