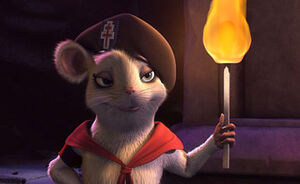 Charles De Girl is a character in Valiant. She is a member of the French Residence: Mouse Division and a master of disguise. She and Rollo guided Valiant and the Royal Homing Piegeon Service through the battlefield to get the message.
Trivia
She is a parody of the World War II French General, Charles de Gaulle.
She is voiced by Sharon Horgan.
Gallery