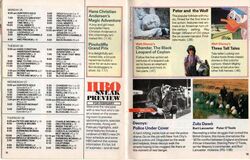 Black Leopard of Ceylon, is a 1972 Walt Disney Productions animal adventure film. Directed by long-time Disney favorite Winston Hibler, who wore many hats in the Disney organization, including producer, director, writer, narrator, even actor.
Plot
Chandar is a black leopard who lives near the beach of Ceylon (Sri Lanka) together with his mother and his sister. When fishers arrive they have to leave and move to a temple in the jungle. When Chandra explores the new territory he falls into a river but the old Buddhist monk Sumana rescues him from the water. Three years later Chandar gets separated from his family during a forest fire and has to learn to live on his own. He meets Sumana again when the monk starts on a pilgrimage together with the young boy Dasa. They visit the old temples and statues of Ceylon and Sumana teaches him Buddhist philosophy and wisdom. Chandar follows them out of curiosity. During an elephant hunt Chandar saves the boy from the wild elephants but gets himself captured by the hunters and is sold to a circus. Some weeks later the boy frees the leopard from his cage in the circus. Meanwhile the police is searching for another leopard who killed a villager. When they see Chandar, they try to shoot him but he can escape by jumping down a cliff. Then Chandar meets a female leopard and they hunt together. The man-eating leopard attacks Chandar but he can defeat him. When Sumana and Dasa reach the end of their pilgrimage the man-eater attacks Dasa but Chandar kills him. When the police arrives the pilgrims convince them that Chandar is not the man-eater. The boy returns to his father and Sumana spends the rest of his life as a hermit in the jungle.
Cast
Ben Wright as Narrator
Joe Abeywickrama as Father
Esram Jayasinghe as Dasa
Frederick Steyne as Sumana
Production Credits
Directed by Winston Hibler
Writer by William Robert Yates
Original Music by Robert F. Brunner
Gallery
Ad blocker interference detected!
Wikia is a free-to-use site that makes money from advertising. We have a modified experience for viewers using ad blockers

Wikia is not accessible if you've made further modifications. Remove the custom ad blocker rule(s) and the page will load as expected.