Ad blocker interference detected!
Wikia is a free-to-use site that makes money from advertising. We have a modified experience for viewers using ad blockers

Wikia is not accessible if you've made further modifications. Remove the custom ad blocker rule(s) and the page will load as expected.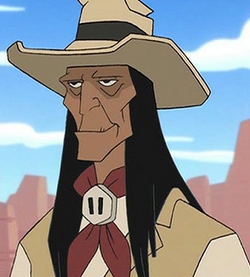 Chakashi
is an Indian ghost of the Desert Coyote and one of the characters of
Atlantis: Milo's Return
. He was voiced by the late Floyd Red Crow Westerman.
Role in the film
He was turning those who he deemed as threats into dust coyote ghosts so that the secret of Crystal Guardian will be kept safe for all eternity. he is not to be considered evil, he's nothing more then a simple spirit guardian with an over-protective mission. thankfully, Milo and the gang were able to convice him that they'll keep his secret, and have no intend on profiting or destroying the anicent indian village.