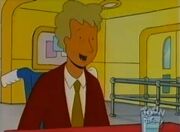 Chad Mayonnaise
is secondary character in 
Disney's Doug.
 He is the single father of Patti Mayonnaise. After the car accident in which his wife died when Patti was younger, his legs got paralyzed and since then he was forced to spend the rest of his life in a wheelchair. In the series finale, he and
Emily Kristal
were married.
Relationships
Gallery
Ad blocker interference detected!
Wikia is a free-to-use site that makes money from advertising. We have a modified experience for viewers using ad blockers

Wikia is not accessible if you've made further modifications. Remove the custom ad blocker rule(s) and the page will load as expected.