"Cereal Criminals" is the fifteenth episode of the first season of Penn Zero: Part-Time Hero. It premiered on March 23, 2015.
Synopsis
In a world where everyone is a cereal mascot and cereal is grown on farms, Penn seeks the help of an imprisoned Rippen to catch the Milkman, a villain threatening to flood all the cereal crops with milk, turning them soggy.
Trivia
Paul Reubens (Pee-wee's Playhouse and Tron: Uprising) guest stars as The Milk Man.
This is the first episode in which Rippen isn't the main villain, as the Milkman is instead.
The brief appearance of "Lenny the Lion" is likely a reference to Linus the Lion-Hearted, a 1959 cartoon created to advertise various Post cereals such as Alpha-Bits, Crispy Critters, Post Toasties, Rice Crinkles, and Sugar Crisp; Linus himself was voiced by well-known character actor, Sheldon Leonard. (Get it?) In addition, the Alpha-Bits mascot, a friendly, Southern-accented Postman, Lovable Truly, is very similar in depiction to The Milk Man in this episode.
This episode reveals Rippen and Larry's jobs as an art teacher and school principal respectively.
Gallery
v - e - d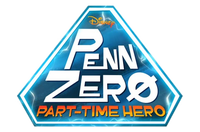 Locations
Middleburg • Middleburg Central High • The Odyssey • Fish Stick on a Stick • North Pole • Knight World • Superhero World • Arabian World • Plush Toy World • Clown World • Dinosaur Cowboy World • Cereal World • Old English World • Giant Monster World • Zombie World • Space World • Ocean World • Color World • Musical Fairy Tale World • Caveman Spy World • Future Barbarian World • Ultrahyperball World • Demon World • Alien World • Galaxy World • Temple World • Dragon World • Gothic Mystery World • Plant World • Animal Barbarian World • Toy World • Outer Space Court World • Robot World • Pirate World • Fairymania World • Steampunk World • Ball World • Ghost World • Rock, Paper, Scissor World • Beast World • Anime World • Sitcom World • Nothingness • Most Dangerous World Imaginable • Least Dangerous World Imaginable
Objects
Multi-Universe Hologram Uplink • Multi-Universe Transprojector • Pigoilet • The QPC Unit • Vortex Tops • Specs