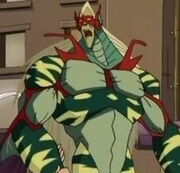 Lord Cedric
Faithful to Prince Phobos and general in Prince Phobos' army, he was entrusted with the task of finding Phobos' lost sister, Elyon, and opens "Ye Olde Book Shop" on Earth, as well adopting a false human identity, Cedric Hoffman. Despite his orders to deceive Elyon, he felt certain affection for her. In the comics, he later falls in love with Orube, but dies shortly afterwards when he sacrifices himself to save her from Ludmoore.
He is voiced by Dee Bradley Baker
Chronology: Animated Series
At the climax of the first season he is shrunk into a little snake-like imp by Phobos as a punishment for failure and is imprisoned along with his master after his defeat.
Towards the end of the second season Cedric was released and devoured Phobos in his moment of glory, ingesting the power of Phobos and the Seal of Nerissa which contained the essence of Nerissa, Elyon, Yan Lin, Kadma, Halinor, and Cassidy. Swelling to a tremendous size and becoming nearly invincible, Cedric demanded that the Knights of Vengeance pledge their allegiance to him. Miranda did so because the two were lovers. Frost and Tracker did so. Sandpit, Gargoyle, and Raythor did not because they supported the Guardians. Sending Miranda to devour the Aurameres, Cedric went to Earth and did battle with the Knights and the Guardians. Meanwhile inside the Seal (which was inside Cedric), Kadma, Yan Lin, Cassidy, Halinor, Nerissa and Elyon joined their powers to break free.
Cedric lost his power and as he fell he coughed up Phobos, and the Seal which separated the Heart of Zamballa and Weira's jewel which still contained the previous Guardians and Elyon. Phobos passed out from exhaustion built up from his fighting to stay alive inside Cedric and Cedric passed out from the mental stress of defeat. The two comatose villains were then re-imprisoned.
Gallery