Ad blocker interference detected!
Wikia is a free-to-use site that makes money from advertising. We have a modified experience for viewers using ad blockers

Wikia is not accessible if you've made further modifications. Remove the custom ad blocker rule(s) and the page will load as expected.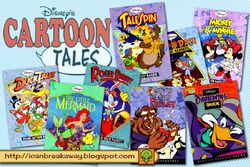 Disney's Cartoon Tales was a series of trade paperbacks published by Disney Comics in the later half of its run, beginning shortly following the Disney Comics implosion in late 1991. Each installment contained reprints of select comic book stories that Disney had published before, usually stories from the company's now-cancelled series or from Disney Adventures. The comic adaptations of The Little Mermaid, Beauty and the Beast, and Aladdin, previously published as their own graphic novels, were also reprinted in this series, which ended right when Disney Comics went defunct in May 1993.
Volumes
Cover
Title
Publication date
TaleSpin: The Sky-Raker
September 1991
Featured stories:

"Flight of the Sky-Raker" (TaleSpin #1-2)

The Little Mermaid: Under the Sea
September 1991
Featured stories:
Chip 'n' Dale Rescue Rangers: The Secret Casebook
September 1991
Featured stories:

"Lights Out!" (Disney Comics Album #5: Chip 'n' Dale Rescue Rangers: The Secret Casebook)
Bones Away! (Disney Comics Album #5: Chip 'n' Dale Rescue Rangers: The Secret Casebook)
"All That Glitters is Not Banana" (Disney Comics Album #5: Chip 'n' Dale Rescue Rangers: The Secret Casebook)
"The Show Must BOW-WOW, ARF, WOOF Go On YIP!" (Disney Comics Album #5: Chip 'n' Dale Rescue Rangers: The Secret Casebook)

Mickey & Minnie: Mystery in Mouseton
September 1991
Featured stories:

"When Mouseton Freezes Over!" (Mickey Mouse Adventures #11)
"Hail and Farewell" (Mickey Mouse Adventures #12)
"What's Shakin'?" (Mickey Mouse Adventures #13)
"Mouseton, The Eagle Has Landed!" (Mickey Mouse Adventures #14)

Roger Rabbit: Who Framed Rick Flint?
September 1991
Featured stories:

"Who Framed Rick Flint?" (Roger Rabbit #11)
"Top Bun" (Roger Rabbit #8)
"The Case of the Tuned-In Toons" (Roger Rabbit #10)

DuckTales: Dime After Dime
September 1991
Featured stories:

"Lucky to Be Smart" (Disney Adventures Volume 1 Number 5)
"Dime After Dime" (Disney Adventures Volume 1 Number 6)
"The Littlest Gizmoduck" (Disney Adventures Volume 1 Number 2)

Darkwing Duck: Just Us Justice Ducks
February 1992
Featured stories:
Dinosaurs: Fossil Fools
1992?
Featured stories:

Citizen Robbie (Dinosaurs #1)
"King Earl and the Knights of the Buffet Table" (Dinosaurs #1)
"Baby and the Beanstalk" (Dinosaurs #1)
"The Flying Fool" (Dinosaurs #1)

Darkwing Duck Returns: Capes and Capers
1992
Featured stories:

"Liquid Diet" (Disney Adventures Volume 2 Number 3)
"The Kitty Kat Kaper" (Disney Adventures Volume 2 Number 9)
"The Found World" (Disney Adventures Volume 2 Number 5)

TaleSpin: Surprise in the Skies
November 1991
Featured stories:

"F'Reeze a Jolly Good Fellow!" (TaleSpin #6)
"Contractual Desperation!" (TaleSpin #4)

Ariel and Sebastian: Serpent-Teen
1992
Featured stories:
101 Dalmatians: Canine Capers
November 1991
Featured stories:

"101 Dalmatians"
"Lucky's Big Break"
"Cruella's Very Furry Christmas"

Beauty and the Beast: A Tale of Enchantment
1992
Featured stories:
Belle and the Beast: The New Adventures
1993?
Featured stories:

"Bewitched" (The New Adventures of Beauty and the Beast #1)
"Bothered" (The New Adventures of Beauty and the Beast #1)
"Bewildered" (The New Adventures of Beauty and the Beast #1)
"Elsewhere" (The New Adventures of Beauty and the Beast #2)
"Elsewhen" (The New Adventures of Beauty and the Beast #2)

Aladdin: Diamond in the Rough
1993
Featured stories:

"Aladdin" (Aladdin Graphic Novel)