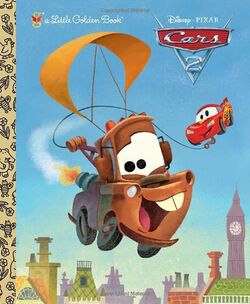 Cars 2 is the Little Golden Book adaptation of the 2011 Disney-Pixar film of the same name.
Details
Description
All the world's a racetrack as superstar Lightning McQueen zooms back into action, with his best friend Mater in tow, to take on the globe's fastest and finest in Disney/Pixar Cars 2. Boys ages 2-5 will love this Little Golden Book retelling of the exciting movie.
Ad blocker interference detected!
Wikia is a free-to-use site that makes money from advertising. We have a modified experience for viewers using ad blockers

Wikia is not accessible if you've made further modifications. Remove the custom ad blocker rule(s) and the page will load as expected.