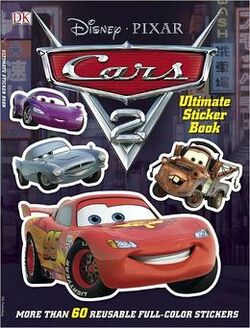 Cars 2: Ultimate Sticker Book is a sticker book based on Cars 2 published by DK Publishing, Inc. in 2011.
Product Description
The Cars 2: Ultimate Sticker Book features more than 60 reusable, full color stickers of all your favorite characters! Recreate your favorite moments from the movie and make your own scenes with Lightning McQueen, Mater, and the rest of the Cars 2 gang.
Details
Ad blocker interference detected!
Wikia is a free-to-use site that makes money from advertising. We have a modified experience for viewers using ad blockers

Wikia is not accessible if you've made further modifications. Remove the custom ad blocker rule(s) and the page will load as expected.