Ad blocker interference detected!
Wikia is a free-to-use site that makes money from advertising. We have a modified experience for viewers using ad blockers

Wikia is not accessible if you've made further modifications. Remove the custom ad blocker rule(s) and the page will load as expected.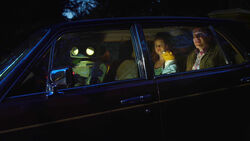 "Cars" is a 1979 song by Gary Numan, a United Kingdom musician.
It was heard in the film The Muppets when Kermit, Gary, Mary, Walter and 80s Robot drove away from Kermit's mansion.
Lyrics
Here in my car
I feel safest of all
I can lock all my doors
It's the only way to live
In cars
Here in my car
I can only receive
I can listen to you
It keeps me stable for days
In cars

Here in my car
Where the image breaks down
Will you visit me please
If I open my door
In cars
Here in my car
You know I've started to think
About leaving tonight
Although nothing seems right
In cars