Darrell Cartrip: "There's smoke on the casino bridge!"
David Hobbscap: "Oh, no!"
Brent Mustangburger: "It's Carla Veloso, the Brazilian race car!"
Carla Veloso is a character in Cars 2. She is one of the racers who competes in the World Grand Prix, in fact being the only female one.
Background
Official Description
World Grand Prix contender Carla Veloso hails from Rio de Janeiro, Brazil. The sweet but powerful Latin diva can dance the night away at "Car-nival" but spends most of her time on the racetrack. After setting a new track record at the local Interlagos circuit, she was drafted to join the 24-hour endurance-racing team in Europe, where she posted a consistent series of podium finishes. In the World Grand Prix, the proud Brazilian Le Motor Prototype racer is the only female in the field, and Carla is ready to prove to the world that #8 is there to win for her home country.[1]
Voice
In the Brazilian version of the film, Carla is voiced by Brazilian singer Claudia Leitte.[2] Leitte's recordings were only used for when Carla replaces Jeff Gorvette in the Brazilian version of the scene where he is supposed to meet Lightning McQueen and Lewis Hamilton (who is renamed after and voiced by Emerson Fittipaldi in the Brazilian version)[3] at the World Grand Prix opening ceremony in Japan. This is part of a localization where Gorvette and his voice actor Jeff Gordon are replaced by different characters and voice actors in international versions of that scene.[4] For the UK/US versions of the video games, Carla is voiced by Brazilian actress Jossara Jinaro.
Physical appearance
Carla is painted in the colors of her country's flag. She has brown eyes, and her front is painted green, and her back is dark blue. Her bumpers, rims and spoiler are also painted in this shade of blue. On her sides is an idol that has the World Grand Prix logo and symbol, her racing number #8, and her country's flag. Her side bumpers also have the World Grand Prix and allinol logos on them. The World Grand Prix logo is also displayed on her spoiler, her bodywork has shapes that represent her country. Her car model is a Pixar in-house design,[5] meaning that she is not exactly based on a real-life car model. Despite being having resemblance to the Peugeot Type-908 FA Le Mans Prototype, the vehicle she is supposed to be based on is the 2009 Le Motor Prototype B12 Racer (according to a toy review of the World Grand Prix Racers).
.
Powers and Abilities
Carla can go up to 206 mph, and zero to 60 mph in 2.8 seconds. She uses a 5.5-liter twin turbo diesel V-12, which gives her a horsepower of 725.[6]
Appearances
Carla is selected by Miles Axlerod to be one of the racers in the World Grand Prix, as to promote a fuel called Allinol, and prove that the world should use alternative energy. For the racing competition, Carla's crew chief is Cruz Besouro. One day before the first race, she attends a party that is the opening ceremony of the World Grand Prix, where she is the first to be presented to the press by Axlerod. In the first race, which takes place in Tokyo, Carla starts from ninth on the grid. As the race starts, she makes her way past the other racers, though she gets overtaken by Francesco Bernoulli and Lightning McQueen. By the time they get to the dirt section, Carla falls down the order, being in seventh place when they get back on the asphalt. However, she manages to get into second place before the racers come to Rainbow Bridge, though Francesco overtakes her again before they finish the lap. Sometime later in the race, she gets overtaken by Rip Clutchgoneski, but soon has to take avoiding action when Clutchgoneski skids due to being hit by an electromagnetic pulse generator that is being used by Grem and Acer. By the end of the race, Carla finishes third.
Afterwards, Carla travels to Porto Corsa for the second World Grand Prix race. Starting in third place, she manages to keep her position while behind Francesco and McQueen. However, she soon skids with flames shooting out, having been hit by Grem and Acer's EMP emitter. Losing control, she bangs into the wall of the casino bridge, before Nigel Gearsley joins her as well. Their accidents immediately lead to the public thinking that allinol is unsafe, and Axlerod decides that the racers can choose their fuel for the final race in London.
As the last race starts, Carla races in eighth place, but Shu Todoroki soon overtakes her before they approach Admiralty Arch. The race is soon put to a halt, however, due to McQueen and Mater zooming off the race track while Mater is using a pair of rockets to prevent a bomb from killing McQueen. It is later learnt that a group of lemons had been causing Carla and several of the other racers to crash because they were trying to become rich by selling their oil. Soon, Carla and the rest of the racers get invited to compete in an unofficial race taking place in McQueen's hometown Radiator Springs, when Carla talks with Shu Todoroki about the race. Starting on pole, Carla soon gets overtaken by McQueen and Francesco, racing in third place, and then she and the other racers get joined by Mater with his rockets.
Printed media
Carla appears in much books that tell the story of Cars 2, as well as in comics like A Friend in Trouble from the official Cars magazine's March/April 2013 issue, where she and McQueen team up to find her team's equipment.
Video games
Carla is playable in Cars 2: The Video Game, where she is trained in spy missions by Finn McMissile and Holley Shiftwell at C.H.R.O.M.E., along with doing races with her friends. In "Lightning the Mood" before the first race in Radiator Springs, Mater welcomes Carla, Jeff and your player (Lightning McQueen if you're playing as Mater, Jeff or her), telling them that they should have the right speed to outrun Frank. Wondering who Frank is, Carla notes him to sound "strong and handsome", to which Mater admits that she "got the strong part right". Finally, everyone completes all the simulations, although Francesco is not able to master all the missions.
Unlike in the movie, she has a big speaking role.
In order to play as Carla, the player has to unlock her by leveling up to Clearance Level 2. She is one of the medium class racers, having more speed than power.
Carla is a non-playable character in the Cars Play Set for the first Disney INFINITY game. In the storyline, Luigi invites her to a race consisting of Radiator Springs' townsfolk, Francesco, Todoroki, Chick Hicks and The King. Occasionally, she is one of the opponents in the regular and battle races that the player takes part in.
While she is in the play set itself, she is not available in the Toy Box, as she is not in the category of cast member toys. This also marks her only appearance in the Disney INFINITY series, apart from a picture seen in Ramone's House of Body Art.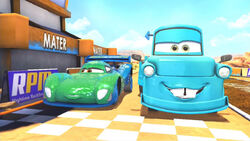 Carla is one of the playable characters in the mobile game Cars: Fast as Lightning. In the game, she builds her own race track as part of McQueen's extravaganza. Carla is unlocked when the player beats her while playing as Miguel Camino in his tournament races. Unlocking Carla also unlocks her race track and pit, the latter placed as a building in Radiator Springs. Occasionally, she sleeps in her pit, usually when the player is not around. She also has four paint jobs that the player can use: Carnaval, Quente, ICE, and Neon Carla. These are unlocked by using gems, or earning stickers in practice races on her track.
Personality
Trivia
Gallery
Promotional Material
Concept Art
Animation
Video games
Merchandise
Videos
External links
References