Carl Barks
Comments

0
19,090pages on
this wiki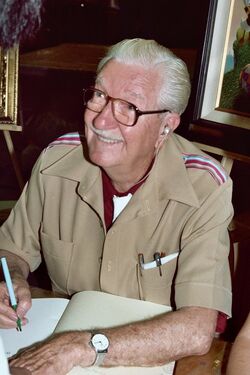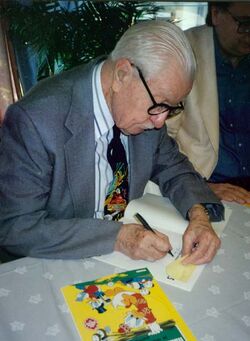 Carl Barks (March 27, 1901 – August 25, 2000) was a famous Disney Studio illustrator and comic book creator, who invented Duckburg and many of its inhabitants, such as Scrooge McDuck (1947),Gladstone Gander (1948), the Beagle Boys (1951), Gyro Gearloose (1952),Flintheart Glomgold (1956), John D. Rockerduck (1961) and Magica De Spell (1961). The quality of his scripts and drawings earned him the nicknames The Duck Man and The Good Duck Artist. Fellow comic writer Will Eisner called him "the Hans Christian Andersen of comic books."
Biography
Barks was born in Merrill, Oregon to William Barks and his wife Arminta Johnson. He had an older brother named Clyde. His paternal grandfather was named David Barks and his maternal grandparents were Carl Johnson and his wife Suzanna Massey, but little else is known about his ancestors.
Disney
Disney In November 1935, when he learned that Walt Disney was seeking more artists for his Studio, Carl decided to apply. He was approved for a try-out which entailed a move to Los Angeles, California. Carl was one of two in his class of trainees who was hired. His starting salary was 20 dollars a week. He started at Disney Studios in 1935, more than a year after the debut of Donald Duck on June 9, 1934 in the short The Wise Little Hen.
Carl initially worked as an inbetweener. This involved being teamed and supervised by one of the head animators who did the key poses of character action (often known as extremes) for which the inbetweeners did the drawings between the extremes to provide smoothness to the illusion of movement. While an inbetweener, Carl submitted gag ideas for cartoon storylines being developed and showed such a knack for creating comical situations that by 1937 he was transferred to the story department. His first story sale was the climax of Modern Inventions, for a sequence where a robot barber chair gives Donald Duck a haircut on his butt.
In 1937 when Donald Duck became the star of his own series of cartoons instead of co-starring with Mickey Mouse and Goofy as previously, a new unit of storymen and animators was created devoted solely to this series. Though he originally just contributed gag ideas to some duck cartoons by 1937 Barks was (principally with partner Jack Hannah) originating story ideas that were storyboarded and (if approved by Walt) put into production. He collaborated on such cartoons as Donald's Nephews (1938), Donald's Cousin Gus (1939), Mr. Duck Steps Out (1940),Timber (1941), The Vanishing Private (1942) and The Plastics Inventor (1944).
Third marriage
As Barks blossomed creatively, his marriage to Clara deteriorated (this is the period referred to in Barks' famed quip that he could feel his creative juices flowing while the whiskey bottles hurled at him by a tipsy Clara flew by his head) and they were divorced in 1951. It was his second and last divorce. In this period Barks dabbled in fine art, exhibiting paintings at local art shows. It was at one of these in 1952 he became acquainted with fellow exhibitor Margaret Wynnfred Williams (1917 to March 10, 1993), nicknamed Garé. She was an accomplished landscape artist, some of whose paintings are in the collection of the Leanin' Tree Museum of Western Art. During her lifetime and to this day notecards of her paintings are available from Leanin' Tree. Her nickname appears as a store name in the story "Christmas in Duckburg", featured on page 1 of Walt Disney's Christmas Parade #9, published in 1958. Soon after they met she started assisting Barks, handling the solid blacks and lettering (both of which he had found onerous). They married in 1954 and the union lasted until her death.
Final days
Still living in a new home in Grants Pass, Oregon which he and Garé had built next door to their original home, Barks died in 2000 at the age of 99 just a few months short of his 100th birthday and a couple of years after Garé passed away.
Although he was undergoing chemotherapy for leukemia he was, according to caregiver Serene Hunickle, "funny up to the end."
Legacy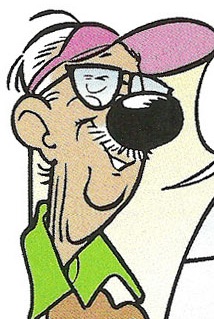 The work of Carl Barks would inspire many people from modern Disney comic authors such as Don Rosa to filmmakers such as George Lucas and Steven Spielberg .
In 1992, a semi-biographical story titled The Man Who Drew Ducks, written by Rudy Salvagnini and drawn by Giorgio Cavazzano, was printed offering a slightly different perspective on Barks and Scrooge. The story saw print in the US in Uncle Scrooge #400 in 2011.