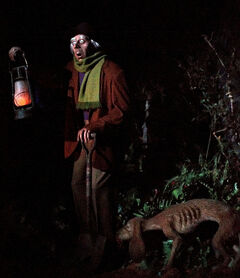 The Caretaker is a character from The Haunted Mansion franchise.
Background Information
The caretaker is presumably the person who tends to the mansion, or at least its grounds. He appears outside the graveyard gates, alongside his dog, both shaking in fear of the ghostly activity happening just in front of them.
Ad blocker interference detected!
Wikia is a free-to-use site that makes money from advertising. We have a modified experience for viewers using ad blockers

Wikia is not accessible if you've made further modifications. Remove the custom ad blocker rule(s) and the page will load as expected.