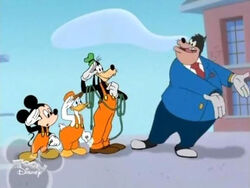 "Car Washers" is an animated short originally aired as part of an episode of Mickey Mouse Works. It was later featured in the House of Mouse episode "Max's New Car".
Plot
Mickey, Donald, and Goofy go into business washing cars, and who should their first customer be but Pete. They must clean Pete's car before he gets back from lunch. Unfortunately, they also have a fairly destructive washing machine.
Characters
Credits
Directors: Tony Craig, Roberts Gannaway
Writer: Neil Aslip
Story Editor: Thomas Hart
Ad blocker interference detected!
Wikia is a free-to-use site that makes money from advertising. We have a modified experience for viewers using ad blockers

Wikia is not accessible if you've made further modifications. Remove the custom ad blocker rule(s) and the page will load as expected.