James B. Hook
Background information
Feature films
Peter Pan
Return to Never Land
Mickey's Magical Christmas: Snowed in at the House of Mouse
Mickey's House of Villains
Jake and the Never Land Pirates: Never Land Rescue
Tinker Bell and the Pirate Fairy
Television programs
DuckTales (mentioned)
Raw Toonage
Timon and Pumbaa (mentioned)
House of Mouse
Jake and the Never Land Pirates
Once Upon a Time
Playing with Skully
Video games
Mickey Mousecapade
Return To Never Land
Kingdom Hearts series
Disney's Villains' Revenge
Peter Pan: The Legend of Never Land
Peter Pan: Adventures in Never Land
Disney Universe
Kinect Disneyland Adventures
Epic Mickey
Park attractions
Peter Pan's Flight
Fantasmic!
Dream Along With Mickey
Magic, Music and Mayhem
Back to Never Land
One Man's Dream II: The Magic Lives On!
Mickey's Soundsational Parade
Mickey's Boo-to-You Halloween Parade
Disney's Once Upon a Dream Parade
Celebrate a Dreams Come True Parade
Main Street Electrical Parade
SpectroMagic
Disney Dreams
Midship Detective Agency
Mickey's Pirates In The Caribbean
Portrayed by
Colin O'Donoghue (in Once Upon a Time)
Portrayed by
Animators
Frank Thomas
Wolfgang "Woolie" Reitherman
Andreas Deja
Voice
Hans Conried
Corey Burton (currently)
Tom Hiddleston (in The Pirate Fairy)
Performance model
Russell Brand (in the Disney Dream Portrait Series)
Designer
Milt Kahl
Inspiration
Captain Hook from the novel Peter and Wendy by J.M. Barrie
Honors and awards
#7 Disney Villain (Ultimate Disney)
Character information
Full name
James Bartholomew Hook
Other names
Hook
Codfish (referred to by Peter Pan)
Cap'n (referred to by Mr. Smee)
World's Most Famous Crook
(referred to by his crew)
Ol' Feather Hat (referred to by Skully)
Captain Crook (confusedly referred to by George Darling)
Personality
Cruel, sadistic, arrogant, loud, cunning, menacing, murderous, persuasive, short-tempered, suave, ruthless, 2-faced, charismatic, dishonest, conceited, impatient, ignorant, greedy, manipulative abusive, determined, funny
Appearance
Slender, fair skin, long black hair, brown eyes, thick black eyebrows, thinly mustachioed (when angles upward sharply), silver or gold hook on his left hand
(in his pirate captain form): Crimson hat with a giant lavender feather, red overcoat with gold brims, pink shirt, white cravat, purple knee-length pants, lavender knee-high socks, black boots with gold square-outlined buckles
(in his bedtime form): Orange and yellow striped nightshirt with left breast pocket and white collar, cuffs, and bottom brim, red bedtime cap, barefoot
Birthday
Occupation
Pirate
Captain of The Jolly Roger pirate ship
Affiliations
Bad
Goal
To kill Peter Pan
To become the richest pirate in the seven seas
Home
Never Land
Relatives
Mama Hook (mother)
Pets
Allies
Red Jessica, The Sea Witch (temporarily), Jafar, Maleficent, Ursula, Hades, Cruella De Vil, Chernabog, Scar, The Queen of Hearts, Oogie Boogie, The Evil Queen
Minions
Mr. Smee, the rest of his crew (including Sharky and Bones), Heartless, Never Bird (formerly), Terra (temporarily)
Enemies
Peter Pan, The Crocodile, Tinker Bell, Wendy Darling, John Darling, Michael Darling, Lost Boys, The Octopus, Jane, Vidia, Prilla, Jake, Izzy, Cubby, Skully, Marina, the Pirate Princess, Winger, Wise Old Parrot, Captain Flynn, Beatrice Le Beak,The Sea Witch, Queen Coralie, Mickey Mouse, Minnie Mouse, Donald Duck, Daisy Duck, Goofy, Pluto, Sora, Riku, Moby Duck,Don Karnage, Terra, Ventus, Aqua, Vanitas, Master Xehanort, Unversed, King Triton, Flora, Fauna, and Merryweather, Fairy Godmother, The Sea Witch, Disney Princess, Mizrabel, Oswald the Lucky Rabbit, Jiminy Cricket
Likes
Treasure, power, getting his way
Dislikes
Peter Pan, crocodiles, octopuses, alarm clocks, Jake and his crew, not getting what he wants, rivaling pirates, children in general
Powers and abilities
His excellent sword-fighting skills, very persuasive abilities
Weapons
His collection of hooks, rapier, pistol
Fate
Gets chased away by the crocodile (in the original film)
Gets chased away with Smee and his crew by the octopus (in the 2002 sequel)
Quote
"Blast that Peter Pan!"
"I'll get you for this, Pan, if it's the last thing I do!"
"Oddsfish."
"SMEE!!!!"
"Blast!"
"Barnacles!"
[Source]
Captain James Bartholomew Hook is the main antagonist of the Peter Pan franchise. The captain of a crew of pirates, Captain Hook has long since abandoned sailing the high seas in favor of having revenge on Peter Pan for ruining his life (Peter having cut off Hook's left hand and fed it to the Crocodile, considering it, by Mr. Smee, a "childish prank"). Ever since swallowing the Captain's hand, the Crocodile has developed a taste for Hook and is in constant pursuit of the remainder of the pirate's body. While a worthy opponent for Peter Pan, Hook is destined to fail, sometimes because of Peter Pan's ability to fly, but more often through the bumbling actions of his mate Mr. Smee who is unquestioningly faithful to the Captain, but is incompetent and dim-witted. Hook invariably ends up fleeing for his life from the Crocodile, of whom he is understandably terrified. Hook's frustrations are understandable; he lost a hand to his opponent, is constantly pursued by the Crocodile and cannot fly.
These factors arguably make him the most sympathetic Disney Villain, and one of the most popular. His antics with the Crocodile are considered by many to be the funniest animated scenes ever created by Disney Frank Thomas and Ollie Johnston in the book The Disney Villain. He was voiced by Hans Conried in the first film and is now voiced by Corey Burton. Hook is an official member of the Disney Villains franchise.
Characteristics
Background
Captain Hook acts as a menacing and cunning villain. Due to this, he is made a fool of quite often. Despite this, he's still a very furious character. He is very murderous. In the film, he shot and killed one of his crew members because of his singing. Later in the film, he viciously threw one of his pirates overboard using only his hook. This makes Captain Hook one of Disney's most popular villains. Hook is extremely intelligent and manipulative and is even able to trick his nemesis, Peter Pan, into believing he has surrendered at the climax of the original film, giving Hook a chance to murder his foe off guard. Captain Hook also seems to have a tendency to find loopholes in agreements or contracts, or show obedience to the letter of the law, rather than the spirit of the law. For instance, when Hook was made to promise that he would not lay a finger or a hook on Peter Pan, he agreed, but instead he planted a bomb disguised as a present in Peter's hideout, destroying Peter's residence, stating "Captain Hook never breaks a promise." Hook also tricked Tinker Bell into telling Peter's hiding place and Wendy's daughter, Jane, into becoming apart of his evil plan to finally kill Peter and retrieve his treasure. He is also rather untrustworthy and double crossing and two faced. However, despite his personality, he does have a coital personality to him and is also rather suave. He is also determined to kill Peter Pan believing that Peter Pan won't fight "Hook man to man" and fly away like "a cowardly sparrow" in the first film and also swears no rest until his enemy is in irons in the sequel.
Captain Hook is one of the rare villains that view their sidekick as not only a minion but as a friend. While Hook is incredibly cruel, deadly, short tempered and shows no care for his crew, he seems to only tolerate the bumbling actions of Mr. Smee. It has been shown that Hook murders his crew members out of irritation and aggravation but despite the constant annoyance from Smee, Hook has never shown any desire to kill him (though he has attempted to pummel Smee for his stupidity, but he is always interrupted). Aside from this, Captain Hook also views Smee as his confident, sharing personal thoughts with Smee which is not common for a villain of Hook's acclaim. He is also charismatic and gains command of his men like Governor Ratcliffe and The Sheriff of Nottingham.
Much of Hook's past hadn't been revealed until Jake and the Never Land Pirates, where it is revealed that the captain had a rather miserable childhood. As a young buccaneer, he was trained in the ways of a pirate by his mother, Mama Hook, so that he would one day become a feared captain, much like her. However, according to Mama Hook, Captain Hook was a somewhat pitiful pirate during his training, and seemed hopeless for many years. It was also revealed that he was heavily ostracized by others as a child, as he explains to Mr. Smee several times throughout the series, resulting in him spending most of his childhood hated and alone. These are all prime factors in the reasons for Captain Hook's undeniable cruelty. It also makes Captain Hook one of the most tragic Disney villains.
Designs
Captain Hook is a thin man with curly, black shoulder-length hair that drapes over his shoulders, a large hooked nose, a thin black mustache that angles upward sharply, and a large chin. He wears a frilly white cravat underneath a crimson coat with gold lining and crimson cuffs. Each of these cuffs sports 2 gold cufflinks. He also wears an orange sash over his right shoulder that holds his sword scabbard at his left hip. He wears rose pants and white knee-high socks, as well as black boots with a pink circle decorating each one. The tongues of his boots are enormous, reaching halfway up his shins. He wears a large crimson hat with a huge lavender feather stuck in it. He carries a rapier with a gold hilt and guard as a weapon. He had a steel hook on his left hand silver or gold. In close-ups, his eyes appear to be green from Epic Mickey.
It is rumored that Captain Hook's appearance is based on that of his animator, Frank Thomas. The actor Hans Conried not only provided Hook's gravelly voice but also performed extensive live-action reference for the character. Kathryn Beaumont, who voiced and performed live-action reference for Wendy Darling, enjoyed working with him, admiring his ability to be both comical and marvelously evil at the same time. Also, Hook's climatic scenes with the Crocodile were animated by Wolfgang Reitherman, in Peter Pan.
Character Development
At the beginning of the story development stage for Peter Pan, the story department wrote an analysis of Captain Hook for the film, suggesting that he be a fop, but mean to the point of being murderous; one of the directors, however, imagined him as a complete heavy, considering any foppish traits to distract the audience from his villainy. The character was only completely pinpointed long into the animation stage, as it proved difficult to create a menacing villain whose character would not be diminished by the scenes with the Crocodile. Eventually, the character settled on was a black-hearted man who tried to put on airs and pretended to be a gentleman of good taste and style. It was realized that Hook would become likable to the audience, and, as a consequence, it was decided that the character should not be killed in the film, the development ends.
"Maybe with the crocodile and Hook - the crocodile is waiting for him - then have a funny chase - the last you see is Hook going like hell. That's better than having him get caught... the audience will get to liking Hook and they won't want to see him killed" - Walt Disney, in a story meeting
Appearances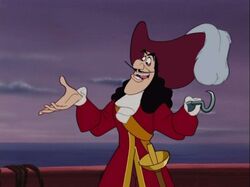 In the original film, Hook plays the main antagonist and is first seen on his ship, the Jolly Roger, trying to find the hiding spot of Peter Pan using a map. Hook suddenly gets the idea to kidnap the Indian Princess Tiger Lily and tells the idea to his faithful sidekick, Mr. Smee. He plans to force her into revealing the location of Peter's hideout or be killed. Just then, Hook hears the sound of a ticking clock, causing his eyes and mustache to twitch in rhythm (with the music of Never Smile at a Crocodile). When he turns to see that the crocodile, who has eaten his hand, has come to taste more of him, he begs Smee to get rid of the creature, which Smee does. A little moment later, Hook receives a word from a pirate on a lookout that Peter is on approach. He orders Smee to rally up the pirates, then looks through the telescope to see Peter and three others, the Darling children, in company of him standing on the clouds. He and the pirates then set up the cannon and fire cannonballs up at Peter Pan.
Later, Captain Hook and Smee are seen rowing past the Mermaid Lagoon in a rowboat with a captive Tiger Lily, whom they take to Skull Rock. Unbeknownst to Hook, Peter Pan spots them and follows them to the cave, plotting to rescue Tiger Lily. The crocodile who has appeared earlier also follows Hook to Skull Rock. As Captain Hook forces Tiger Lily to reveal Peter's secret hideout to the point of shouting directly to her face, Peter spooks Hook by imitating a spirit. Captain Hook goes on an investigation to find out where the strange voice (Peter's imitiation of Hook) is coming from. He finds Peter on the rocks, and is about to lay his hook on him, but thanks to Wendy's warning, the captain's hook only catches Peter's hat as Peter slips away. Captain Hook engages Peter in a duel, eventually pushing him off the cliff's ledge. Upon realizing that he is standing on thin air, he struggles to keep himself from falling and manages to hang onto the ledge with his hook. Just then, Captain Hook hears the sound of a ticking clock, causing his eyes and mustache to twitch in rhythm (with the music of Never Smile at a Crocodile) again, the crocodile arrives and attempts to eat Hook as it pulls him into the water. Captain Hook escapes from the crocodile's jaws and frantically swims back to his ship with the crocodile in hot pursuit.
Back at Jolly Roger, Hook sits in his room, sick and injured from the previous battle with Peter. He is bothered by Smee hammering up a sign asking to not disturb the captain but when he tries to grab at Smee, he is smacked on the face with the hammer causing him to briefly lose consciousness. When Hook gets a visit from Smee, Smee tells Hook that Pan has banished Tinker Bell. This shocking news give Hook an idea, so he orders Smee to capture her. He does so, and Hook uses her jealousy of Wendy (whom she thinks Peter is in love with) to get to Peter's hideout. As Captain Hook thanks Tinker Bell for her help, he locks her in a lantern, then he, along with Smee and the pirates, goes to Hangman's Tree to capture Wendy, Michael, John and The Lost Boys. As the pirates take them to the ship, Captain Hook and Mr. Smee set a time bomb (disguised as a gift of love from Wendy) in the hideout, since Peter is still there.
Captain Hook tries to convince the captured children to join his crew but they all refuse. Wendy believes Peter will save them but Hook reveals his plan to blast Peter away from Neverland forever, prompting Tinker Bell to struggle to break free from the lantern, which she manages to do so, and flies off to warn Peter. Peter and Tinker Bell are caught in the explosion anyway, but they both quickly recover and leave the destroyed hideout to rescue Wendy and the boys. Just as Hook, who has had sent Wendy off the plank (but she is rescued by Peter), is about to select the next person to follow her, Peter reveals himself and engages Hook in another duel. While dueling on the ship's deck, Peter lauches himself from the ship's rope ladder like a slingshot and kicks Hook backwards, sending Hook flying to one of the ship's cannon, which in a similar fashion to Smee's hammer from earlier, hits him hard on the head, knocking him unconscious. After Hook recovers, he climbs up the rope ladder to confront Peter on the mast, calling him a coward for his tendency to fly away from the duel.
Hook makes Peter promise not to fly and gains the upper hand by disarming Peter, but Peter manages to turn the tide and disarm Hook. Hook pleads for his life, declaring that he will leave forever and do anything Peter says. Peter orders him to shout loudly that he's a codfish; Hook does so, making the Lost Boys, Wendy, John and Michael sing "Hook is a codfish" and the crocodile dance in the sea to that song. Peter then allows Hook to leave and never return, but when his back is turned, Hook sees his chance and is about to lay his hook on Peter in revenge for being humiliated. Thanks to Wendy's warning, Peter jumps out of the way, and Captain Hook loses his footing as he falls to the sea, where the crocodile is waiting to catch him. Captain Hook ends up being chased away from Neverland by the crocodile. He is last seen swimming past a rowboat rowed by Smee and the pirates, with Smee calling for Hook.
Walt Disney insisted on keeping Hook alive, as he believed that the audience would get to like the villain and would not want to see him get killed. This insistence was supported with the release of the sequel, Return To Never Land.
Hook made a guest cameo at the end of the second episode of Raw Toonage, in which Don Karnage was hosting a segment on treasure hunting. When Karnage finds the treasure chest in question, Hook appears and claims it as his own. They then engage in a swordfight, which Hook wins by pinning Karnage to a tree and he say towards the camera: ¡That own the eyes of the price, that the best lesson pirate import!, and he got with the chest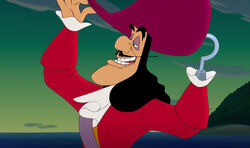 Captain Hook plots to destroy Peter and gain his treasure all at the same time. His first part of the plan is to kidnap Wendy to lure Peter to his doom but he mistakenly takes Jane, her daughter. Fortunately for Hook, Pan arrives and Hook summons an undersea giant octopus to kill both Peter and "Wendy". Peter dives down to battle and is seemingly killed. Just as Hook begins to celebrate, Peter reveals to be alive and by using pixie dust, Tinker Bell boards the octopus onto Hook's ship. After accidentally swallowing Hook, the Octopus develops a taste and becomes another crocodile problem for the Captain. The Octopus pulls him out of the ship and into the water (the first pull accidentally pulled his pants down). Hook flies back onto the ship and gently asks Smee to fix the broken plank so he can "make him walk it!".
Later on during a massage, the Captain is again attacked by the octopus, who is shooed away by Smee. This encounter angers Hook even more to the point where he gathers the pirates to sail to the island to find and kill Peter. While searching, they witness the girl they kidnapped is not Wendy but her daughter Jane and that she is desperate to return home. This gives Hook yet another plan. That night, he tricks Jane into working for him. If she can find his treasure, he'll give her a ride home on his ship. Jane acts as if she's playing the game "treasure hunt" to have Peter and the Lost Boys assists her. Eventually, the treasure is found but she changes her mind and throws the whistle to summon Hook into the waters. It is found by Lost Boy Tootles who blows it, calling the pirates. An ambush follows resulting in Peter and the boys being captured and taken to The Jolly Roger.
Back in the ship, Captain Hook prepares to watch Pan's death but is interrupted by Jane and Tinker Bell. A battle follows and in during which Pan is set free. Hook's anger and frustration is targeted for Jane who is the cause of his failure. Just before he is given the chance to murder her, Peter saves the day by having Hook fall into the ocean, attracting the octopus. It chases Hook through the ship, now sinking. Hook and the pirates are then chased away altogether.
Captain Hook regularly made cameo appearances in the animated series House of Mouse. He was also one of the leading villains in Mickey's House of Villains, where he was Jafar's second-in-command. Hook was also one of the few villains to appear in Mickey's Magical Christmas: Snowed in at the House of Mouse where he was seen with Jafar and Hades at the finale song.
At the opening of the show, Donald was seen being rather reluctant on shaking Hook's hook at the club's entrance. In "Dining Goofy", Goofy innocently told Hook about Donald's constant jokes centering the captain, putting Donald in one awkward position. In the episode "House of Genius", Hook was shown to get very frustrated upon hearing Goofy say pan. In "Pluto vs. Figaro", Hook mistakenly thought he and his crew were under attack and fired a cannon into the kitchen, landing in Goofy's mouth. In "Ask Von Drake", Hook assisted Mickey and friends in an attempt to prove that Ludwig Von Drake cannot know everything. In that same episode, Hook was seen alongside Smee during the headcount of all the guests.
―The theme song for Captain Hook in the series
In this preschooler-age series, Captain Hook and Smee are the main antagonists that Hook's pirate rival Jake and his young crew outwit while searching for treasure. After Peter and Tinker Bell left Never Land for outside adventure, Hook stayed behind instead of following his nemesis to dominate Never Land during Peter's absence. However, Peter left a crew of pirates to keep him at bay. Usually, Hook can be found searching for treasure. While he searches for treasure every now and then; he usually intends to steal someone else's instead. Instead of his previous crew, Hook's latest crew consists of himself, Smee and two new pirates known as Sharky and Bones. Along with the new crew, Hook's bond with Smee has definitely grown stronger, as their friendship is often explored throughout the series.
As mentioned, Hook's main objective throughout the series is to collect as much treasure as possible, even if it means stealing it from someone else. To achieve this goal, Hook often uses one of his special hooks, created for treasure hunting. Some of the hooks include a propeller hook to give the captain flight, a plunger hook to grasp treasure, and even a butterfly net hook. Hook's mother, known as Mama Hook, made a special appearance in the series, later becoming a recurring character. The episode Hook and the Itty-Bitty Kitty introduced Red Jessica, a swashbuckling pirate gal that Captain Hook fell in love with, though she is apparently unaware of his affections. Whenever something goes wrong, Hook would exclaim "Blast!'.
Throughout the series, it is also revealed that Captain Hook is rather infamous throughout the seven seas (harking back to the lyrics in his trademark song, The Elegant Captain Hook). As several characters are encountered by the series' protagonists, they all seem to have some history with the villainous captain, though it's always a negative one. Various other pirate characters such as the daring Captain Flynn and the regal Pirate Princess all have shown to have a hatred for Hook proceeding their respective debut episodes. Interestingly enough, Hook himself never seems to recognize them.
In the popular novel series, Hook was briefly mentioned by Ariel in the series' second installment: Disney at Dawn.
Captain Hook appears in the ABC fantasy/drama and is portrayed by Colin O'Donoghue. Before becoming Captain Hook, he was known as Killian Jones.
Before the Curse
As a young boy, Killian Jones and his father plan to sail and explore other worlds together on a ship. Unfortunately, Killian receives an emotional blow when his father secretly disappears during the night to avoid capture as a fugitive and leaves him to fend for himself.
Killian grows up to become a Lieutenant of a ship named the Jewel of the Realm and is invited along for a sea expedition with his brother, Captain Liam Jones. On orders of the king, they must travel to a far off island and obtain a plant, Dreamshade, rumored to heal any affliction. On way there, they is attacked from behind by two other ships firing cannons. To escape them, Liam commands for the sail to be released down, which is made of Pegasus feathers, and glides the ship off the water's surface into the clouds.
The Jewel of the Realm lands back into the ocean once they approach the island. Then, using a small boat, Killian and Liam paddle to the shoreline. While assessing their surroundings, a young boy, Peter Pan, takes them by surprise. After Pan affirms he lives on the island, Neverland, Liam introduces himself and his brother while briefing on their mission, at the behest of the king, to procure Dreamshade. As Pan looks at the plant drawing, he attests Dreamshade is dangerous and comments that their king must be really ruthless, but Liam pegs his claims as nonsense while Killian chimes in it's medicine. However, Pan presses the plant only leads to doom and exemplifies how easy it is to kill an entire army with poison instead of a messy onslaught of bloodshed in battle. Beginning to have doubts, Killian tugs Liam aside to discuss the possibility Pan is telling the truth, though his brother doesn't buy it. Liam takes back the drawing and makes off deeper onto the island. Killian follows behind, though he turns back to see Pan waving him off.
At the top of Dead Men's Peak, they find a large batch of Dreamshade growing along the wall. In a misguided attempt to put his brother's worries to rest, Liam purposely cuts himself with a branch of Dreamshade. Passing out from the rapidly spreading poison, Killian is panic-stricken and pleads for Pan's help until he parts a horde of Dreamshade thorns to allow passage to the island's remedial spring. As a catch, Pan gives a fair warning that they should not leave Neverland unless willing to pay for the price of magic. Killian promises whatever the price, he'll give it. He hurries back to deliver the water to Liam, who is completely healed by it. He turns to repay Pan for his services, but the boy is nowhere to be seen.
Journeying home, Liam proposes they must shed their king's true colors in sending them to collect poison, however, he collapses after the Jewel of the Realm leaves Neverland's seas. Dying in Killian's arms, his body is later thrown into the sea. Liam's death has a profound effect on Killian, who takes his place as captain of the ship and renames it the Jolly Roger. Killian reveals to the crew what type of man their king is, to which everyone agrees they need not serve someone so horrible any longer and embrace the life of pirates "with honor" instead. 
During his many adventures as a pirate, Killian and his crew stop in a town tavern where a woman named Milah frequents. They become acquainted and begin gambling and drinking together. Killian entertains Milah with stories of the lands he has visited. One day, they are interrupted by the appearance of Milah's husband, Rumplestiltskin. Rumplestiltskin asks Milah to come back home with him, though she refuses. Killian comments how Rumplestiltskin is taller than Milah had described. Rumplestiltskin and Milah's son, Baelfire, who had been told to wait outside, comes into the tavern calling for his mother. Seeing her son, Milah forfeits her stay and goes home. The next day, Killian and his crew seemingly kidnap Milah, but in actuality, she goes willingly with them. Not knowing the truth, Rumplestiltskin goes to his ship to plea for his wife back. Killian references himself as a man with a code of honor, and if Rumplestiltskin can fight him and win, he will allow Milah to return home. When Killian throws the sword to Rumplestiltskin so they battle man-to-man, the latter backs out of the duel.
Several years later, Killian returns to the same tavern where he met Milah and proceeds to drink and enjoy a good time with his crew. In the alley outside the tavern, he is bumped into by a seemingly helpless beggar, whom he makes fun of by referring to him as a crocodile. The beggar begins to laugh hideously, and casts off his cloak to reveal he is none other than the Dark One. Rumplestiltskin asks for Milah, and at first, Killian feigns ignorance of knowing a woman by that name, but then, he lies and states she died many years ago. However, Rumplestiltskin takes his words as truth, and challenges him to a sword fight. Confidant in a victory, the Dark One also takes Killian's sword and remarks there'll be something poetic about killing him with it. During the duel, Rumplestiltskin gains the upper hand and, plunges his hand into Killian's chest; preparing to rip his heart out.
At this moment, Milah makes her presence know and orders Rumplestiltskin to stop. She proclaims to possess the magic bean once owned by William Smee if he will spare both her own as well as Killian's life. She also reveals Killian is her lover, and joined his crew of her own free will. Rumplestiltskin agrees to the bargain and will meet them on Killian's ship, the Jolly Roger, the next morning. He threatens Killian's crew will be the casualties if the pirate himself decides to flee. The next day, Milah offers Rumplestiltskin the bean, but they get into a heated dispute about why she left. She admits wrongdoing in letting her own desire to be out of the marriage take precedent over the well-being of their son, Baelfire. However, Milah spitefully says she never loved Rumplestiltskin. When he moves towards her in a fit of rage, she tosses the magic bean to Killian, who clenches it in his fist as he watches Rumplestiltskin rip Milah's heart out. He runs to her side and holds her as Milah professes her love for him with her last remaining strength. She dies in Killian's arms as Rumplestiltskin crumbles her heart into dust.
Rumplestiltskin demands the bean, but Killian angrily refuses. In response, Rumplestiltskin cuts off Killian's left hand, which he believes holds the bean. In agony, Killian cries out in pain, then grabs a hook near Milah's corpse and drives it into Rumplestiltskin's chest. Unaffected, rhe Dark One laughs and disappears in a cloud of dark red smoke, leaving the hook to clatter onto the deck. In a rage, Hook takes the hook and replaces his left hand with it before burying Milah at sea. Then, he tosses the magic bean, which was concealed in his other hand, into the sea, where it creates a portal. As he sails the ship to the portal, Killian states he and his crew are going to a place where youth is eternal. When Smee asks the name of this place, Killian, now Hook, says, "Neverland". 
Upon Baelfire arriving at Neverland via being carried by a being called the Shadow, he manages to ward the creature off with fire. As a result, Baelfire falls into the ocean and an approaching ship spots him in the water. The crew throw a rope to pull him aboard. Sputtering and confused, Baelfire awakens to meet the captain of the ship, Hook, and one of his crew members, William Smee. 
Hook hides Baelfire below deck in a vent when Neverland's lost ones, led by Felix, climb aboard to search the ship for a certain boy Peter Pan is looking for. With casual complice, Hook allows Felix full range to check all the rooms below deck. When he does not find the boy, he has no choice but to leave empty handed. After the lost ones are gone, William Smee approaches Hook and is against his decision in not handing over Baelfire to them. Hook states he's not about to lose his only chance at revenge when he has the Dark One's son on his ship; showing he is aware who Baelfire is. He develops a friendship with Baelfire and teaches him how to steer the ship. Their likenesses are made even more clear when Baelfire tells Hook the truth about who and what his own father became. From this, Hook learns of the Dark One's dagger and if Rumplestiltskin himself is stabbed with it, he will die. Baelfire is upset as it's the only thing his father cares about now and even chose his only son over it. Seeing the boy's disappointment and hurt at being abandoned by his father, Hook comforts him by detailing the story of how his father, too, left him alone.
Hook's close kinship with Baelfire is ruined when the boy finds a drawing of Milah and demands to know how he knows his mother. Unable to hide the truth, Hook spills about the true fate of his mother, who ran away to be with him because they were in love, but she died when Rumplestiltskin tore out her heart and crushed it. Hook tries to alleviate the betrayal of lying to Baelfire by telling him about how Milah used to always speak of going back to get her son so that the three of them could be together. He believes the two of them can live out her dream and become a family. Baelfire doesn't care and wants to get off the ship for good. Since he can't go back to Wendy and her brothers, Baelfire opts to go to Neverland. The rejection hardens Hook from other emotions and revenge becomes his main and only focus. Bitterly, he thanks Baelfire for helping to see the thing he truly cares about is killing Rumplestiltskin. 
Sometime later, Hook returns to the Enchanted Forest and breaks into the Evil Queen's palace to procure information from Belle on where Rumplestiltskin hides his dagger. Belle has no idea what dagger he is talking about, so he knocks her out and prepares to kill her for being so useless, but the Evil Queen steps in and informs Hook that she plans to cast a curse that will transport everyone to a land without magic, where Rumplestiltskin can be destroyed much more easily. In exchange for this revelation, she asks that he travel, via Jefferson's hat, to Wonderland and rip out the heart of her mother, Cora. To do this, the Queen enchants his hook, providing it with the magic to remove only one heart. She requires that her mother's corpse be returned to the Enchanted Forest, so she sends a dead soldier with him.
Upon arrival at Cora's palace in Wonderland, where she is known as the Queen of Hearts, Hook attempts to rip out her heart, but she has since removed and hidden it elsewhere. He then tells Cora that her very own daughter Regina sent him to kill her. Eventually, Hook is swayed into a partnership with Cora, when he learns it will be impossible for him to enact his revenge in the Land without Magic, as he would no longer remember Rumplestiltskin, let alone what he had done. However, if he would help Cora get close enough to Regina to rip out her heart, Cora promises to transport Hook to this new land with memories of his hatred for Rumplestiltskin. Hook returns to the Enchanted Forest with Cora, who feigns being dead, and he presents the body to the Queen. On the Queen's request, he leaves the mausoleum so she can say goodbye to her mother. Cora hears her daughter's last confession and decides not to kill her, which calls for a last minute change of plans. She and Hook return to the Enchanted Forest, before the casting of the Dark Curse, to an island over which Cora casts a protective shield that keeps them and all of the Safe Haven's inhabitants safe from the curse. There, Hook learns from Cora, that they will be frozen for twenty-eight years until the curse is broken. 
After the Curse
In the present day Enchanted Forest, Hook stands by a seashore near the small island hamlet where the survivors of the dark curse live. Cora approaches and shows him the ashes of the wardrobe. They talk about using the ashes to get them to the other world. Hook says that Cora will get to meet her daughter and he will get to skin a crocodile, referring to Rumplestiltskin. 
When Emma, Mary Margaret, Mulan and Aurora come to Safe Haven, they discover Hook beneath a pile of bodies. He attempts to deceive the four of them by saying he survived Cora's attack on the camp by playing dead and that he was a blacksmith who had lost his hand in an ogre attack. Emma is not buying his story and puts a knife to Hook's throat, saying that she can tell when a person is lying. She ties Hook to a tree, whistles for the ogres to come get their bait, and begins to walk away. Unable to best Emma, Hook reveals his true identity as a shocked Mary Margaret pulls his hook out of his satchel. Hook admits to working with Cora, but offers to join forces with Emma and her team as he knows a way to get to Storybrooke. Most of all, he wants to go to Storybrooke to get revenge on Rumplestiltskin for taking away his hand. Emma decides to cut him free. Then, he leads them to a giant beanstalk stretching up into the sky, and explains there is an Enchanted Compass at the top, but first they must deal with the giant guarding it. 
Hook tells the four women that he possesses a counter spell from Cora, which was originally intended to allow only her and himself to climb the beanstalk, so therefore he can take but one other person with him. Emma volunteers, and he slaps a black cuff on her wrist that glows gold briefly before allowing her to climb up with him. On the beanstalk, Hook asks Emma about her past, but she is reluctant to reply. Hook knows she has a son, but also guesses that Emma herself is an orphan and does not want to leave Henry in the same situation. She asks how he could possibly know that, and Hook states while in Neverland, he spent time in the company of a group of orphans known as the Lost Boys, so recognizing another orphan comes easily. He probes Emma on the subject of being in love, though she replies it's never happened for her.
At the top of the beanstalk, Emma and Hook arrive in the realm of the giants. Emma asks why the place is so run down and Hook asks her what she knows of giants. Emma mentions knowing the story of Jack and the Beanstalk. After hearing her brief synopsis, Hook states while her version is a good tale, that's not quite how it happened. He fills her in on the lore of the Enchanted Forest of a man named Jack who led an invasion of the giants' realm, killing all but one giant. When Hook sees Emma's hand cut from the stalk, she brushes it off as nothing, but he doesn't think so. Emma wonders if that means he wants to be a gentleman, to which Hook shrugs it off and states the giant can smell blood and points out he already is a gentleman. As he cleans her wound, Hook starts working up a plan on how to get the compass from the giant. Emma doesn't think the idea is worth it, so she suggests they could use the poppy dust Mulan gave. While Hook passes her the powder, Emma spies a tattoo on his arm for Milah. Hook alludes it's in memory of someone he knew long ago. Emma realizes he loved Milah, and Hook notes that for a woman claiming not to have ever fallen in love, she is perceptive about the subject. Emma acknowledges she may have been in love once.
To lure the giant out, Hook takes a human bone and uses it to pound on a massive metal shield. The noise annoys the giant, who comes storming out and sees Hook. He begins taunting the giant as a cover to lead him towards Emma. The tactic works, and Emma manages to knock the giant out by throwing the dust in its face. At first, Emma believes Hook to have been crushed by the giant, but he is alive and congratulates her on knocking the giant out cold before they proceed inside. They wander through the giant's lair, with Emma looking for the magical compass, while Hook seems to have more of an eye on the treasure. Emma snaps him out of it, though Hook tucks a golden coin in his belt. They stumble across the skeleton of Jack the Giant Killer. All that remains are his bones, a few tattered bits of cloth and a large sword with Jack's name inscribed on it. As Hook prepares to search further, Emma notices a tripwire and stops him in his tracks. Hook takes this as a sign of affection from her, which she strongly denies.
Hook spies the compass sitting on top of a golden bird cage, and asks Emma to give him a boost, to which she retorts the one fetching it should be her, not him. He requests Emma to trust him, but suddenly, they hear the sound of the now awakened giant, pounding up and down, behind them. Roaring in fury, he storms towards them as his movements loosen stones from the ceiling, which fall and appear to crush Hook.
After fighting and trapping the giant, Emma releases him in exchange for the compass and a promise to delay Hook from immediately following her down the beanstalk. The giant, Anton, obliges to her wishes since she is the first human he has encountered in a long time that isn't out for blood. Freeing Hook from under the rocks, Emma shows him the compass, but as he reaches for it, she tucks it into her coat pocket. Then, she clamps a manacle on Hook and voices her distrust in him. She turns and leaves as Hook shouts for her to come back and free him. 
Later, Hook manages to escape the giant and climbs down the beanstalk. Landing on the ground, he finds Cora waiting for him. The two talk, and Hook illustrates how he planned to bring the compass to her, but Emma took it away and left him. Cora believes Hook has betrayed her, which leaves him wondering if she will kill him, and dares her to try. Instead, she feels satisfactory in leaving him alone in the Enchanted Forest with his vengeance unfulfilled. He moves to attacks her, but she disappears, leaving him face down in the dirt.
Hook earns back Cora's trust by sneaking into the cell of her prisoner, Aurora, and ripping out her heart. When Aurora awakens and is startled by his presence, he graciously frees her, though she has no idea of what transpired while unconscious. She wonders why he is letting her go, and Hook discloses Cora's failure will be gratifying to him. He asks Aurora to deliver the message that his deal with Emma still stands, and still wants to help her back to the land without magic if he can go as well. Later, in the cell, Cora comes in to find Hook, and detonates he was the one who freed Aurora. For his insolence, she binds him to the wall with preparations to kill him, but Hook remarks she should be thanking him as brought her a gift. He instructs her to look in the satchel. After opening it, Cora is delighted he procured Aurora's heart for her. Using it, he and Cora listen to Aurora and her three companions speak. They learn about the foursome's next journey to Rumplestiltskin's old cell to find squid ink, which will entrap and render Cora powerless. Cora congratulates him on taking out a heart, and Hook proposes they continue to Storybrooke together. Once Cora agrees, he leaves, presumably to get the compass from Emma. 
With Aurora's heart in hand, Cora manipulates the girl into triggering a switch to lock all four of them in Rumplestiltskin's old cell. Out of the darkness, Hook and Cora make themselves known. When the three women attempt to confront Aurora over her "betrayal", Cora unveils Aurora's heart from beneath her cloak and squeezes it as a test. Hook confronts Emma about leaving him atop the beanstalk. She tries to make him reconsider, but Hook is not interested and shows her a "souvenir", a magic bean, which was procured from the giant's neck. Tauntingly, he affirms she is very much like the bean as it was once magical and full of hope, but is now "dried up, dead, and useless." Hook makes it clear he's done with her, and leaves with Cora for Lake Nostos.
Once there, Cora has Hook dump the wardrobe ashes into the waters of Lake Nostos, thereby fusing the ashes with enough magic to open up a portal. Ready to jump in, Cora asks Hook to hold onto the compass in her hand or else he'll end up somewhere that is not Storybrooke. However, Mulan stops them in time by firing an arrow, and shooting the compass out of Cora's hand. He and Emma fight for the compass while Mulan battles Cora. Mary Margaret attempts to find a good angle to aim her arrow, but cannot with everyone's sudden movements. To evade Mulan's attack, Cora disappears within a cloud of smoke leaving behind the satchel that holds Aurora's heart. Momentarily, Mulan manages to catch it on the tip of her sword, but Hook, mid-fight, and using Emma as a counter weight, literally bends backwards over the portal and catches Aurora's heart. He tosses it back to Mulan, and attests to being a pirate, but still bristles at the thought of a woman losing her heart unless over him. Mulan, on Mary Margaret's urging, hurries back to return Aurora's heart as Hook and Emma continue their sword-fight. At one point, Emma is pinned down by him. She tolerates another one of his innuendos until revealing the compass in her hand, and promptly knocks him out cold.
After the portal closes following Emma and Mary Margaret's ascent home, Cora looks at the waters of Lake Nostos in disappointment. However, Hook once again reminds her of his "souvenir" and the waters will restore magic to the bean, which can then transport them to Storybrooke. While the newly reunited Charming family enter Granny's diner in celebration in Storybrooke, Hook's ship emerges through the fog gliding across the sea surrounding Storybrooke with Hook and Cora on board. 
At the Storybrooke harbor, Hook stands on the dock as Cora disembarks his ship. They discuss his desire for vengeance against Rumplestiltskin and that matters are a bit more complicated now that magic is in Storybrooke. A local resident of Storybrooke approaches and admires the ship, to which Cora uses her magic to conceal it from prying eyes and turns the man into a flopping fish. Then, Hook kicks the fish into the water.
Sometime later, he and Cora observe Regina leaving the diner alone after her talk with Emma. Hook asks if her daughter is broken, and Cora says not yet. To set the plan into motion, Cora masquerades as Regina and sets her up for the murder of Archie.
Aboard his ship, Cora tells Hook she has brought him a gift that will make it easier for him to gain information about Storybrooke and Rumplestiltskin. Cora takes Hook into the ship's hold and shows him a captured and bound-up Archie. When Hook asks who she actually killed, Cora has no knowledge of who it is as she has only been in town for a short time. Cora smiles wickedly at Archie and says there are ways to make a cricket chirp. 
Below the deck of the Jolly Roger, Hook demands Archie for knowledge on the dagger. Archie pleads ignorance on the topic, and Hook sees he is telling the truth. However, he knows Rumplestiltskin must have a weakness, and threatens to "dissect a cricket" if Archie does not talk, which he agrees to do.
Later, when Belle enters the library, she finds Hook casually reading a book near the back. When she informs him the library is not open yet, Hook remarks he's not here for books. Immediately, Belle recognizes him from her previous life in the Enchanted Forest when he broke into her cell in the Queen's castle. She attempts to run, but Hook follows and blocks her escape through the front door. Hook admits while he still wants to kill Rumplestiltskin, she will "do for now". Hastily, Belle pushes the book cart, which falls upon Hook and knocks him down; giving her time to run into the elevator. As Hook bangs on the door from the outside, Belle calls Mr. Gold for help, but when he arrives, her attacker is mysteriously gone. Without Mr. Gold's knowledge, Hook deliberately drove him to rescue Belle from the library so Smee could steal Baelfire's shawl for him.
When Belle discovers Hook's ship, she releases Archie; uring him to find Mr. Gold, and begins to search for the shawl. From behind, Hook mockingly holds up the shawl. Belle motions for her gun, but Hook grabs it first. After a bit of observation, he seems to understand its workings and points it at her head. When Belle declares she is not afraid of him and questions whether he has hurt Rumplestiltskin enough, he chuckles and begins to reveal the truth about Milah and how she died, although she is resistant to his words. She knocks him into the hold and runs up to the deck, though Hook arrives there first. Suddenly, Mr. Gold approaches and begins beating Hook, who openly taunts his cowardice. Horrified, Belle pleads for him to stop now that the shawl is in safe hands. Hook is left in a battered bloody mess as Belle and Mr. Gold leave the ship.
After Mr. Gold has successfully crossed the town line with the enchanted shawl, he bids Belle, who is standing just on the other side of the line, good-bye. Suddenly, Hook shoots at her, causing her to fall across the town line and into Mr. Gold's arms. Magic passes over her, and she loses her Enchanted Forest memories. Then, a car speeds past the town line, hits Hook, and swerves to the side of the road. 
Shortly thereafter, Emma arrives at the scene of the crash. Mr. Gold is enraged at what has unfolded and hurts Hook further by crushing his already broken ribs. Emma notices his condition and takes him to the Storybrooke General Hospital, along with the stranger who crashed into Storybrooke.
When Hook later awakes in his hospital room, he is interrogated by Emma. She asks him about the location of Cora, Hook comments and deflects her questions with by flirting with her. Emma gets frustrated and psychs him out moving forward quickly making Hook regret it with the pain of his ribs. He then admits that he has no idea where Cora is and she has her own agenda. He inquires after his hook and flirts with Emma about certain attachments when Emma notes that he's a chipper especially after his accident and failure on revenge. Hook notes he's done damage towards Mr. Gold by hurting Belle. Nonetheless, he finds the blow well worth it since Rumplestiltskin started it all by killing Milah. As a last word, Emma gives him a threat about how Mr. Gold is still very powerful and Hook himself could be dead within the year because of what he did.
Having recovered from his injuries, Hook is taken out of the hospital by Mary Margaret, David and Leroy who question him about Cora's plans. He agrees to take them on his ship, and the group pass the invisibility spell to find a giant who was kidnapped, shrunk down in size, and trapped in a cage by Cora. Hook continues to deny knowing anything about Cora's plans and tells them to ask the giant. Mary Margaret opens the giant's cage and assures him it will be alright. When he sees David, Anton the giant, recognizes him, and he knocks him down. Mary Margaret starts firing arrows and Hook escapes in the confusion.
In the hopes of contacting Cora, Hook places a Queen of Hearts card on the ground. Instead, Regina appears. She blames him for not killing her mother, but admits they have made amends. She asks if the townspeople have found his ship and Hook says Cora should ask him for herself. She asks Hook if Cora's things are still on his ship and Hook specifies the giant has escaped. From this, Regina devises a plan to use the giant to her advantage in causing trouble in town. 
Hook barges in on Regina and Cora, asking if Rumplestiltskin is truly no longer in Storybrooke. Regina and Cora confirm this, and Hook is eager to leave Storybrooke and seek him out to kill him, as Mr. Gold has no magic outside Storybrooke. Cora promises he will have his vengeance, but to do so, Hook must team up with her and Regina to find the one thing that can control Mr. Gold--the Dark One's dagger. 
After Regina retrieves the call number for a book in the library from Belle's purse, Cora and Hook meet her there and search for the book indicated on the yellow index card. They do not find a book, but Cora pulls out a treasure map. Hook states that they are lucky that he knows how to handle a treasure map, and he proceeds to outline the area where the dagger is located. As the trio makes to leave, Cora uses her magic to fling Hook against the back wall of books, knocking him unconscious. 
Awakening, Hook takes matters into his own hands by going to the Storybrooke jail, where he attacks David, steals keys and uses them to open a drawer where his hook is kept. Reattaching it as his missing hand, he leaves and sails the Jolly Roger to New York. Tracking Mr. Gold to an apartment complex, he knocks Emma out of the way to stab Mr. Gold with his hook, which is coated in Dreamshade, stating he took Milah and his happiness from him, and now Rumplestiltskin's life is his. Emma manages to knock Hook out before he can hurt Mr. Gold any further. Neal runs down the stairs and sees the scene, recognizing Hook. To keep Hook from harming anyone else, Emma locks him in the Neal's storage closet while they make plans to sail back to Storybrooke on the Jolly Roger. 
Later, Neal notifies Emma that when his fiancée, Tamara, went to get her bags from the storage closet, Hook was not there. In truth, though Neal and Emma are under the impression Hook somehow escaped, he is actually taken hostage by Tamara and Greg. They sneak him into Storybrooke via hiding him in the back of a truck, and want to use him for their own means. 
On the top level of the clock tower, Tamara and Greg tie Hook to a chair. He guesses they are going to interrogate and torture information out of him, and laughs at the situation. Hook doesn't care about following their rules as he believes he has already accomplished his life's goal of killing the Dark One. Tamara and Greg show him the truth by easing his chair close to the clock tower's face and handing him a telescope. Hook uses it to peer down onto the ground level of the town, and becomes enraged seeing Mr. Gold alive and well walking beside Belle. Greg makes him see he cannot win against the Dark One unless he has help, and if they help him, he must also do as they want. Greg wants Hook to get close to Regina under the pretense of becoming her ally, which he agrees to do.
Hook comes to Regina in her office and pretends to spill Tamara and Greg's secret plan of wanting him to become aligned with and betray her later on. He gives his condolences upon hearing of Cora's death, and pulls at Regina's heart by talking about the one thing Cora wanted for her daughter was to see her win. Regina lets Hook in on her escape plan from Storybrooke by using magic beans to go back to the Enchanted Forest. Before she leaves with Henry, Regina wants to activate a "fail-safe" that will eradicate the whole town and its inhabitants. Hook asks if the "crocodile" will also perish, which Regina confirms.
Hook and Regina travel down to the basement level of the clock tower where inside a cave hides the "fail-safe". Hook grimly talks about how revenge is all he is living for, and once his vengeance is fulfilled, he'll have nothing to live for. But, Regina believes otherwise; that after vengeance is a fresh start. She notices Hook is wearing her mother's armband, and demands it back. Inside the cave, Regina explains the "fail-safe" is guarded by Maleficent, and the magic in the cave prevents her from dying so she can continue to keep the "fail-safe" from intruders. Hook becomes Maleficent's bait and distraction after Regina pushes him into her pit. Despite stabbing Maleficent, she regenerates and reforms into a bigger version of her current self. Using unknown means, Tamara and Greg save Hook from her.
Hook is waiting in the library by the time Regina makes her way back up from the cave to the ground floor of the clock tower. She is astounded he survived, but he states that's the thing he's best at. Hook reveals he felt a genuine connection when she spoke of starting over with a new life after vengeance, and it almost made him put a stop to his "plan". Upon further inquiry, he unveils it as Tamara and Greg's plan, and they walk into the room to face off with Regina. Despite Regina's attempts in using magic against them, it does not work as the armband is designated by science to cancel out magic. Hook lets Greg take the lead in speaking to Regina, and watches as Tamara, on Greg's orders, puts a bag over Regina's head and take her to an unknown location. 
Greg has Regina tied up with the intentions of torturing her until she admits where his father is. He asks Hook to give him a hand, "preferably his good one". Hook refuses, telling Greg that he will only help them when they're interested in killing Rumplestiltskin, before walking off. 
Hook is incredulous Greg and Tamara plan to use the trigger to bring about the destruction in town and murder everyone just to get rid of magic. With his own safety at risk, too, he aligns himself with David, Emma, Mary Margaret and Regina. The trigger can't be stopped, but Regina can slow it down. David suggests the delay will give them more time to steal back the remaining beans from Greg and Tamara, use them to open portals, and traveling to the Enchanted Forest. Emma points out no one knows their current whereabouts, though Hook chimes in he knows. To keep the pirate from betraying them, David goes along with him.
Outside the cannery, they witness Greg burning documents. Inside the building, David threatens to pull the trigger unless the beans are handed over. As Greg pulls out a small clear bottle containing them, Tamara ambushes from behind and shoots, though David manages to dodge while getting grazed by the bullet. Hook tackles Greg to the ground; causing the bottle to break on the floor. While David chases after Tamara, Hook wrestles for the beans and eventually grabs one while Greg makes off with the other.
Hook catches up to David, who was just bested by Greg. David is upset at their failure, but Hook shows him the bean he was able to get and puts it into his belt container. This does little to cool David's anger at letting Greg and Tamara escape, but the latter attempts to calm him down. Rejecting Hook's words, he grabs the box containing the bean and stalks off.
Returning to the diner, where some of the townspeople are grouped, David gives Emma the news about the procured bean. Henry questions where his adoptive mother is, and Emma tells him that she is in the mines slowing down the trigger, but will not be able to make it out. This cause anger on Henry's part since Regina will basically be left behind as everyone else escapes to the Enchanted Forest. He points out this situation isn't any different from the Wraith attack, which gives Mary Margaret the idea they can use the bean to send the trigger to another dimension. After much debate, Mary Margaret sways Emma into getting Regina out safely. As David tosses the boxed bean to Emma, Hook snatches it in mid-air. Not settling for wasting time and energy on saving someone who clearly wants to die so others can leave the trigger's catalyst, Hook declares he is leaving alone. Emma reasons that he's only ever known to rely on himself as she has, but they are going through with the plan whether he is a part of the group or not. Impressed by her speech, Hook forks over the bean, or so he makes it appear. In actuality, he gives back the box, but hid the actual item for himself. Then, he asks the real reason she's going out on a limb for Regina. Emma tells him Henry's father is now dead and vows to not let her son lose his mother. To Hook's surprise, he is finding out for the first time that Neal, who was known to him as Baelfire, is Henry's father.
After this conversation, Hook gets back on his ship and plans to use it to save himself from the trigger that is destroying town. On deck, he notices the wood indentation on deck where he carved "S" for starboard and "P" for port when he taught Baelfire how to steer the ship. He is reminded of the genuine affection he had for the boy and how he once cared for someone, and decides not to use the bean to make his getaway. Confronted at the docks by Emma, Mary Margaret, David and Regina, he forfeits the bean. Emma still has the impression he has only ever cared for himself, but Hook says he needed some reminding of his own capability to care for others. He allows them to board to start a journey in traveling to another world to find Henry, who has been kidnapped by Greg and Tamara and taken to another land.
Aboard the Jolly Roger, Mr. Gold directly asks Hook if he's done trying to kill him. Grudgingly, Hook responds affirmatively, and the two trade glares. Then, Mr. Gold uses the globe to track the realm Henry is currently in—Neverland. After Hook casts the magic bean into the water to open a portal, he, David, Emma, Mary Margaret, Mr. Gold and Regina set sail for the land. 
Journeying through the portal, Hook steers the ship until it lands in the nighttime waters of Neverland. Cautiously, everyone on board looks around to assess their new surroundings until Emma asks aloud if they are at the proper destination, which Hook affirms, as they sail towards an island.
On deck, Hook slows down the moving pace of the ship, and in doing so, perks Regina's attention. She chastises him about taking his time while Henry's life is in danger. Hook reassures her he's simply trying to bring them to the far side of the island that is linked with the widest part of the river and sail right through to shore to take Henry's captors by surprise. Recalling who else is on traveling with them, Hook bitterly remarks of the irony of having spent unmentionable amount of time trying to leave Neverland and hunt down Rumplestiltskin, and instead, his sworn enemy is now a guest on the Jolly Roger back to the same land. He states it's not the happy ending his hopes were pinned on. From this, Regina is reminded of something Greg said to her; that she is a villain, and those in this category don't get happy endings. She asks if Hook believes that to be true, but he hopes not or else they've wasted their lives.
At the railing, David and Mary Margaret talk with Emma and convince her they will find Henry, though Mr. Gold coolly interrupts to state that won't be happening; drawing Hook and Regina's attention as well. From behind the steering wheel, Hook notices the older man swapped clothes for his old Rumplestiltskin outfit, and scoffs what a great use of their time that is for. With a calm determination, Mr. Gold announces his intent to get Henry back on his own. Annoyed, Regina reminds him they agreed to go on the search and rescue together, but he replies there was no such agreement. Mr. Gold asserts Emma has never truly believed in her parents, in magic, or even herself, and this is what will be a complete failure in her rescue of Henry. Then, he disappears with a spin of his cane.
Below deck, Hook walks in on Emma doing pull-ups. When asked what she is doing, Emma says it's preparation for a fight. He declares she doesn't appear to be someone who needs strengthening for battle while Emma gives him a look and stops her workout routine. Hook adds what he means is to not be so down from Mr. Gold's earlier words. Hook mentions he has something to give her, and briefly talks about having spent time with Baelfire, though Emma maintains she only knew him as Neal. He offers her a blade that once belonged to Baelfire, which makes Emma question when Hook became so sentimental. Hook states, in fact, he simply thought she might need a weapon and nothing more. Then, he places a small cup in her hand and pours rum for both of them. They make a toast in Neal's honor. Sitting across from each other, Emma asks how much time he spent with Neal. Hook says it was long enough to miss him, too. Suddenly, a loud rumbling and pounding against the ship causes alarm, and they both hurry to the deck to see what's happened.
Assessing the situation, Hook realizes what is happening and ushers everyone to prepare for attack. Having no idea what he means, Regina expresses confusion, but Hook urges her to grab a weapon. High pitched screeches ring from beneath the waves, and Emma asks what is out there. They all look over into the waters to discern what creature it could be, and see bodies of swimming mermaids, which only Hook is unsurprised to inform them of. He attempts to quicken the ship to outrun them, but there are too many. Though Emma and Mary Margaret manage to catch a mermaid on the fishing line, Regina scares off the rest with fireballs and then teleports the captured one onto the deck. Disgusted, Hook calls for the mermaid to be thrown off his ship, but Regina disagrees as it might be helpful to have a hostage. David sides with Hook and wants the creature away from them. Regina proposes they should find out why the mermaids were attacking while Mary Margaret wonders if she means to torture it, to which the latter is open to. Sneakily, the mermaid grabs a conch shell that was also tangled in the fishing line and blows into it to signal a warning; eliciting the sound of thunder from the sky as a response. She threatens them all with death if they don't free her. David attempts to interrogate the mermaid about what exactly she did by sounding the shell, while the half-fish half-human being pleads to be let go. Regina refuses, and warns she will use force if no answers are given. Frustrated, Mary Margaret states threatening someone isn't a way to get a response, though Hook clues everyone in that a mermaid's word absolutely cannot be trusted. Mary Margaret suggests perhaps the mermaid is afraid of Pan and letting her go would be best, but Regina hints if that happens, it's just as likely the whole horde of them will be swimming right back to kill everyone. With an air of confidence, the mermaid sneers she doesn't need her friends to slaughter them, and they will do it themselves.
Unexpected loud thunder claps brewing from the sky startle everyone; making Hook realize the mermaid previously called the storm to arms. Using authority with a sword, David presses the creature to stop the storm, and then they will let her go. She refuses, and an impatient David moves to prepare slashing open her neck as Regina incites him to go through with it. However, a shocked look from Mary Margaret deters him away from doing so. During Hook's struggle to motion the ship into speeding away from the storm, more bickering follows Mary Margaret and Regina's disagreements over what to do with the mermaid. Eventually, Regina decides for the group to freeze the water nymph into a wooden statue so the storm disturbance will cease, but instead, speeds it up into a downpour of rain and gigantic sea waves.
Emma tries to help Hook turn the ship at the steering wheel when tensions are reaching a breaking point with Mary Margaret and Regina. Their ongoing dispute over whose fault it is for the current situation turns into an all-out jab of personal remarks until they both begin trading physical punches. David hurries over to break it up, but Hook incurs his wraith by using an unintended insult towards Mary Margaret, and the two start a fist fight. Emma tries to stop it, but even her attempts at informing everyone the real reason for the storm's cause—everyone's animosity towards each other—falls on deaf ears. Too busy brawling, neither Hook or the other three notice anything is amiss until they all see Emma jump head first into the water. In the process, a rigging rope pulley block snaps from the sail and falls into the water; knocking Emma unconscious. Panicked, Mary Margaret requests Regina to bring her up, but she is unable to without knowing Emma's exact location underwater. David volunteers to retrieve Emma, which quickly helps assemble a group effort to tie a rope around his waist so they can pull him in later. Beneath the waters, David grabs hold of Emma and surfaces; signaling Hook, Mary Margaret and Regina to haul them back onto the ship. The hard work pays off, and both are out of harm's way. On the soaked deck, Emma's parents cradle her until she finally comes to just as the ocean begins to calm and the moon peeks from behind the dark sky.
The Jolly Roger, damaged by the storm, causes a change of plans, and those on board take a rowboat towards the island shoreline. On their ascent off the boat, Regina advocates towards another alternative plan instead of going through the jungle; she can fix the ship with magic and follow through with what Hook intended to do. Emma thinks it'd be better to save up the magic for later use, and notes they should stop running away as Pan already knows of their presence. She proclaims Mr. Gold was correct in that Neverland is fueled by the power of believing, and it didn't sit right that everyone was busy being at each other's throats to be believers. Emma also admits she was wrong, too, and the best thing is to not believe in magic, but in each other. Emma doesn't expect friendship; just cooperation to save Henry. David doesn't think they can with Hook and Regina, but she insists it's possible to succeed by being who they are and sooner or later each person's individual skill will be needed. With that, she walks off into the jungle. David and Mary Margaret quickly follow suit as does Hook, and Regina trails behind. 
While treading through the jungle upwards to a cliff ridge, Regina mentions she could have easily used magic to bring everyone to the present area, but Hook points out there are hidden dangers in an unfamiliar location. He asserts only he himself has proper knowledge to guide them through; a judgment Emma trusts because of his previous residence in Neverland. As David progresses in the lead of the hiking expedition, he swipes stray branches and twigs out of his way with his sword to allow himself and the others to bypass forward easily. Seeing a bushful of thorns blocking a path, he prepares to slit them into pieces, but is blocked by Hook. David insists he can handle it, though the pirate familiarizes everyone with the actual danger in a substance, Dreamshade, oozing from the thorns. He mentions it is the same poison, in a concentrated dose, once used on Mr. Gold and in Dreamshade's natural form, death will be much more painful and agonizing. Hook advises they go left, but David ignores the recommendation and chooses the right path as Mary Margaret and Regina follow; leaving Hook and Emma. Teasingly, he says her father is very distrustful of others, but Emma's opinion is David isn't used to working with enemies. Avouching himself, Hook promises that while they are on the island, he is not one of the bad guys. Even so, Emma counters Pan isn't supposed to be, either. He wonders where she got that idea, and Emma indicates the impression came from stories heard as a child. Hook corrects the pretense by stating Pan is the most treacherous villain he's ever faced. Curious about other fictional incarnations of himself, Hook asks her what he is like in stories; aside from being a handsome villain. Unamused, she leaves him to decide if perms and waxed mustaches are his thing. Hook ponders aloud if her tone indicates perms are a bad thing.
Up ahead, the ridge allows them to get a view of the island, but Hook is unable to discern anything as everything looks different since he was last present. With the effort of the journey wasted, David proposes they begin combing the sections of the island, but Hook puts them off from the plan as the Dark Jungle is not safe to travel through and suggests taking the path around it. Seeing as everyone's strength is likely depleted, he decides it's best to set up camp for the night. Regina demands if resting is the answer while Henry is still out there, which Hook agrees it is if everyone wants to live long enough to find him. Tiredness overrides the drive to continue the search as they call it a night.
The group sleeps through the night on makeshift beds, but only Emma awakens and has a face-to-face talk with Pan, who offers her a map to Henry, but only if she stops denying her true self. Later, everyone awakens to the news of Emma's encounter. Hook muses Pan likes his games, but Regina is in disbelief since the map clearly has nothing on it and brings up the possibility it will lead to a trap. Hook points out Pan doesn't need to do such a thing since the whole island is rigged. From behind, David and Mary Margaret arrive back after finding no sign of Pan anywhere. As Emma is having no luck deciding what to do next, Regina deems the whole charade to be one of Pan's tools to distract them from looking for Henry, and prefers to try using magic on the map. She moves to take it, but Emma stands her ground in following the given instructions; a move Hook agrees with as breaking Pan's rules are unwise. Grudgingly, David echoes Hook's sentiments, to which the pirate deems the latter is becoming more trustful of him.
Emma tries her hand at unlocking the map by voicing out loud truthful statements about herself with encouragement from David and Mary Margaret to dig deeper to unearth the more uncomfortable facts about herself, including the biggest of them all, which Hook doesn't understand, so Regina tips him off on the "s" word. Preparing herself, Emma firmly declares she is the savior, but the map remains unmarked with no response. Tired of playing games, Regina snatches the map and casts a locator spell on it to guide them to Pan's current location.
They follow the map through Dark Jungle to an area shaped like a pit, and at the center standing with his back towards them appears to be Henry. Emma calls out to him, but as the boy turns around, it's revealed to be Pan dressed in Henry's clothes. Pan, displeased at the breaking of his rules, sets the Lost Boys to circle Emma and the rest of her group into battle. Hook counsels everyone to be on the lookout for the Lost Boys' arrows as they are laced with Dreamshade. As everyone else defends themselves against the onslaught, Hook duels with Felix. A moment later, at the sudden pierce of a whistle, all the Lost Boys round up to Pan's side. Pan reaffirms the map will only show a path once Emma stops denying who she is, and makes off with his gang.
After the scuffle with the Lost Boys, Emma manages to unveil the contents of the map. From looking at the map, Hook deducts Pan's camp is in the northern part of the island, but traveling there will be bound with impediments. David suggests preparing for what is coming up, though Regina isn't so sure about their way of doing things. Emma allows her the opportunity to disagree, but reasons their best chances are through working together. With a strategy planned, the group breaks apart to assemble for leaving. Hook offers Emma a drink of rum and asks how she unlocked the map. She states it worked by following what Pan told her to do. Notably, he wonders who she really is, but Emma isn't interested in sharing that information. When she hands him back the rum, Hook tells her he wouldn't mind knowing, but Emma leaves wordlessly. 
Heading straight north to the site of Pan's lair, Emma unravels the map to see how much further away they are, when the destination on the map changes to a location far behind them. Hook informs the group Pan has just moved his camp. Emma comments the entire journey was a waste, so Regina brings up a faster way to reach Henry; namely by using magic to transport everyone there and grab him. The suggested plan is rejected as, per Hook's knowledge, Pan will likely have shields against magic and that kind of attempt would only result in everyone's death. Regina considers what he has in mind instead, so Hook explains they can track down a fairy Pan trusts as she might be a good inside source to get them into the camp with pixie dust. At this, Emma thinks he means fairy dust. David clears things up by explaining pixie dust is much stronger and is akin to nuclear fairy dust, which helps Emma to realize the fairy they are looking for is Tinker Bell. Alarmed, Regina thinks it's a bad idea, but once again, she's in the minority and eventually goes along with the plan.
With Hook in the lead, he stops to wait for Emma, Mary Margaret and Regina to go ahead, but when David walks past while covering his chest, he confronts him about the wound. David feigns ignorance until Hook says he clearly saw what happened when the arrow struck him earlier in the fight with the Lost Boys, and asks to see how bad it's gotten. Making sure the others are not near, David pulls up his shirt to show the cut has turned black and is spreading further out. David wants to know how much time he has left, which Hook estimates to be days or weeks at most, though he definitely won't make it to summer. Hook insists it might be better if David tells Mary Margaret, but he strongly refuses, and instead hopes Tinker Bell's pixie dust can heal him.
Since Regina stays behind to rest in the jungle, Hook and the others progress to Tinker Bell's tree house. Inside, Hook climbs up first to make sure it's safe and then allows everyone else to follow. David proceeds to look around for the pixie dust, but Hook points out there is no way Tinker Bell would just leave it lying around. While getting used to the tree house surroundings, Mary Margaret finds it strange Tinker Bell needs a ladder when fairies are known to have wings for flying. From sleuthing, David finds a white cloth, which Mary Margaret recognizes as Regina's. Emma pieces together that Tinker Bell was tracking Regina, and they rush off to rescue her.
They ambush Tinker Bell outside a cavern, but Regina arrives to attest to the fairy's innocence. However, Regina states Tinker Bell won't helping them infiltrate Pan's camp. Hook chides the fairy for not assisting him after all they've been through in the past, but Regina comes clean that Tinker Bell no longer possesses magic, pixie dust or her wings. Through much discussion, Emma and Mary Margaret promise if Tinker Bell gives a hand to their cause, she can make a new home in Storybrooke. Tinker Bell agrees to the deal, and announces her intentions to enter Pan's base as well as leave an opening for them, too. Later that night, the group settles into their campsite along with Tinker Bell. 
At the camp base, Hook listens with rapt attention as Emma uses a stick and a drawing on the ground made of dirt and stones to elaborate on Pan's headquarters. Emma drills that once Tinker Bell talks her way in and gives the signal of a clear coast, they will be sneaking in from the back. Tinker Bell adds they will still have to deal with any Lost Boys inside. With contempt, Regina states a few children with pointy sticks can be handled just fine. While folding up a blanket, Tinker Bell promises it's not the sticks that are a cause for concern, but the poison they're dipped in. At this mention, Hook gives David a vigilant and knowing stare. Mary Margaret recalls it must be the Dreamshade Hook previously told them about. As Tinker Bell goes on to forewarn that even so much as a nick will cost any one of them their lives, David hastily intercedes to conclude they understand that poison sticks equal inevitable death. He asks when they will be putting the plan into action, to which Tinker Bell is all up for it, but also wants to be filled in on the escape route off the island. Her question is met with silence and perplexed looks between members of the group. She re-asks to be sure, though Mary Margaret answers they were planning on figuring it out at the last minute. Tinker Bell emphasizes there's no point in going forward with the plan if there isn't a way out of Neverland. Firmly, Regina responds they will figure it out, but Tinker Bell vouches no one ever leaves the island without Pan's permission. David ensures when it relates to family, they always find a way. Seeing as no one is taking her cautions seriously, she pulls out a watch from her pocket and states it was from the people who brought Henry to Neverland. Hook learns the fates of Greg and Tamara ended in death once they were of no more use to Pan. Tinker Bell schools the group on the severity of what Pan does to people he employs and what he could do to them. She contests the risk is not worth it for herself unless there is a way off the island and asks to be notified once they figure it out. After Tinker Bell strolls off back to her tree house, David prepares to call her back, but Emma stops him. She sees reason in Tinker Bell's words and believes it might be unwise to break into a place without knowing the way out, which Neal once taught her. David directs questioning onto Hook on how he made it out of Neverland before. Hook affirms he did so aboard his ship, alas, the portal used to leave was made from magic acquired in a deal with Pan and it doesn't seem likely the same bargain could be repeated a second time. Regina inquires if this means no one has ever truly left without Pan's say so, but Hook brings up Neal once did.
In order to find out, they set off to reach a cave Neal once inhabited. They reach a steep rock ensnared with vines. Hook asks for Emma's help in lending a hand, even though David enlists himself for the job. Together, the two men work to pull down a rope. Hook perceives David is not looking well, though his comment is taken lightly by the recipient. Their efforts yield the opening of a cave door, to which everyone begins making their way in. However, Hook holds back David to ask him how much longer he is going to keep up the charade as well as his family's due in knowing about the wound. David doesn't see the point with no way to stop the poison in his body, which means there is no hope. Hook remarks that the one thing he's learned from "hero" types is hope never dies. From this, David senses Hook is holding back information, so the latter states the cure is a world apart and with no way of getting off the island any time soon, it is impossible. David advises no word of their conversation can slip out because the only thing everyone else needs to worry about is getting Henry back.
In the cave, Hook hurries in to light a torch, with help from David's lighter, which brightens up the wall decorated with various drawings. Instantaneously, Emma determines Neal must have lived here as a boy. Hook suspects there are clues in the cave to show how he escaped Neverland.
While looking over the drawings, Emma comments she had no idea Neal liked drawing. Hook attests he got from his mother. Later, she returns with a lit candle for closer inspection of the wall, while Hook guesses the drawings were just a way for the boys on the island to pass time. Emma, with a pensive expression, realizes he knew Neal, when he was Baelfire, pretty well, to which Hook agrees with since they spent a fair amount of time together.
Looking over some items left behind in the cave, a peculiar looking half coconut with holes turns out to be a perfect fit with Emma's candle holder. After the torch is snuffed out, the two halves are combined to kindle a recreation of a night sky of constellations that proves to be an escape route map. However, though Hook did teach Neal how to navigate using the stars, he is unable to actually read the encryption pattern and the only who could is the map maker himself, which is Neal. 
With no way of using the map, everyone gives a more thorough search in the cave for something else that might be able to help them. Emma spots a large set of drawn on tally marks behind a bed. As she pulls away the covering, Hook asks if she needs a hand. She perceives him to be starting a joke, but he is serious and lifts the bedding away to expose the marks on the wall. Hook observes Neal counted how long he was trapped in Neverland. Upon closer look, Emma guesses Neal stopped marking the days because he got off the island. On second thought, she realizes the actual reason is due to his dimming hopes of ever leaving, so there was no merit in continuing to count. Regina's interest is piqued by Emma figuring that out from a bunch of scribbles. Emma admits she did the same thing while growing up being placed in foster care homes one after the other. David supposes Henry must feeling the exact same way right now. Although they are working towards rescuing him, she determines Henry himself is not aware of that and he needs to be given a sign his family is coming. Regina doesn't see a way around when there are Lost Boys constantly trying to kill them. On Mary Margaret's suggestion, they could use it to their advantage and files out of the cave to show them her idea.
Emma moves to follow, but Hook wants to speak with her first. In a heart-to-heart, he speaks from experience of knowing what it's like to lose hope, too. Uncomfortable, Emma shuts down the conversation by calling him out for attempting to bond with her as something she's not interested in. After she is gone, Hook takes a moment to gather himself before turning to go as well. David steps back into the cave to proclaim Emma is never going to like him and judges him harshly as nothing but a pirate.
By the campfire, the group begins weaving a large net out of vines. Hook can't take his eyes off Emma, who awkwardly glances at him, and resumes work. Regina is dubious a trap for a Lost Boy is going to lead anywhere, though Mary Margaret's plan is to show retaliation by firing back at their attackers. As David comes back from the jungle carrying more vine, Hook expresses doubts at the probability any Lost Boy will betray Pan. Mary Margaret ignores his advice while Emma states they need more vine. Heading back to collect more, David implores Hook to tag along. Hook mouths back in defiance, but Emma presses they need more rope. He makes a grand gesture of bowing and going as "the lady insists"; annoying David further and drawing a curious look onto Emma from Mary Margaret.
While David grabs handful of vine, he warns Hook again to stay away from his daughter. Hook indicates Emma can take care of herself and doesn't need his parenting, which is a good thing. David asks what he means. Stating the obvious, Hook points out he's going to die in a day or so. Still not accepting the reality of the situation, David swears if he does die, it'll be in helping his family and is certain that's something Hook could never understand. Hook tries to bring up a possible way to save him, but David believes it'll only lead everyone off the main course of getting Henry back. He accuses Hook of being selfish instead of thinking of what else is at stake. Fed up, Hook deems himself in harm's way for every second he's in Neverland risking everything for them. David rejects his excuse as he knows Hook's real reason for being here is Emma. He promises to do everything in his power to keep Hook from getting her. Smirking, Hook jeers it's good that he'll die soon, to which David takes swing at him, but the latter ducks. Already very weakened, David passes out as Hook catches and carefully places him on the ground.
Hook snaps him back to conscious with a dose of rum, though David rejects the offer of drinking more. Unable to stand up, Hook helps him to lean against a wall and forces David to show him the Dreamshade wound once more. From studying the abrasion, he assesses it's nearly spread to David's heart and that means there are only hours of life enough. Even at Hook's insistence to tell his family the truth now before it's too late, David doesn't want to and insists on doing whatever he can to be useful. Hook keeps him from trying to move any further than necessary and in the process, purposely drops his brother's military insignia that David picks up shortly after. He perpetrates a story of how his brother lost the insignia during a duel with Pan on Dead Man's Peak. Hook supposes it washed down from the storm that wrecked the Jolly Roger when they came to the island days earlier. Then, he feigns perplexity over the fact the insignia survived after all these years, and it's possible his brother's satchel did as well, which contains a sextant useful for decoding Neal's star map. David decides to make it his last mission to nab the item and makes Hook come along so if he dies, at least the sextant can be given to Emma.
Hook and David head back to inform everyone else about the change of plans. Emma is all set to go looking for the sextant, but Hook heeds the importance of getting a message through to Henry. At this, David says only he and Hook will be fetching the sextant and says last farewells to Emma and Mary Margaret.
On the way to Dead Man's Peak, Hook probes David on the current state of his health. David tells him to worry about getting to the sextant, though Hook is actually talking about how he handled saying a final goodbye to his family. David establishes he did it out of love and hopefully Mary Margaret will eventually understand. Hook asks if he means to tell his family that from beyond the grave. Alternatively, David wants Hook to memorialize him as a hero fighting for their way home, and warns against telling them he left already a dead man. Hook doesn't see why he should help him, so David recounts it was his theft of the magic bean that led Greg and Tamara to making off with Henry as well as everyone leaving Storybrooke for Neverland. Hook abstains from the argument, and unlike himself, considers David lucky to have the chance to say goodbye to his loved ones. His words help David figure out Hook lost someone, too. Hook ignores his comment and upon reaching the peak base, he identifies how they will be climbing up; with himself going up first and throwing down a rope line. David guesses he lost a brother; reminiscing about his own twin sibling, who passed away before they ever met. Hook muses two of them would be a disaster as he can barely stomach one as it is. Chuckling, David believes Hook might've liked him since he was a thief and liar, too. To this, Hook remembers his brother as a stubborn man.
Hook ascents the peak and prepares to throw a rope line for David when Pan appears for a chat. He proposes a deal for Hook to come back and work for him. Hook notes he doesn't miss the old days of being under his employment, even so, Pan offers to give him and someone else, namely Emma, a safe crossing out of Neverland. Still, Hook points out Emma could never leave her son behind. Pan remarks she did once and if it happened again, Hook can be there to help her pick up the pieces. Reminiscing about their past business relationship, Pan sees the present as a perfect opportunity to restart the affiliation, though Hook doesn't care. Knowingly, Pan can distinguish Hook is indeed interested because he is good at survival. When Hook questions what is required of the job, Pan cites a bit of dirty work, which he will reveal in time, but firstly, wants him to seal the deal by killing David. Hook glosses that either way David will die soon from the effects of Dreamshade. Pan contends he wants to see him murdered in cold blood. Hook answers by challenging his authority, so Pan reminds him of what happened the last time he came to the island and didn't listen. Before taking off, Pan pulls out Hook's rum flask and tells him to come to a decision by having a drink. In the nick of time, Pan disappears as David climbs up. Hook scolds him for not waiting. However, David suspiciously questions if he was just speaking to someone. Hook brushes it off as an old habit of talking to himself.
At the peak cliff, they round the corner to a massive patch area of Dreamshade thorns. Hook stands back to let David cut through them, but finds a sword drawn in his face. David reveals he overheard his discussion with Pan and doesn't trust Hook not to follow through with the orders. Pushing the sword tip into Hook's neck, he demands the sextant. Hook comes clean with his lies about the satchel and how he planted the insignia so David would find it. He also professes to going to that extent just so David's life can be saved. Nonetheless, David believes Hook brought him to the peak to die and throws the first punch. To stop things from escalating, Hook knocks David unconscious.
Then, Hook slices through the Dreamshade thorns to retrieve some of the remedial spring water hidden behind it. He wakes David, who begins pushing him away, but listens when Hook shows him the water that can save his life. Before handing it over, Hook tells David the water's power is from the island, and once consumed, he can never leave. David perceives it's small price to pay for the chance he'll have of saving Henry and help his family return home. He drinks the whole canteen until the Dreamshade begins to physically disappear from his body. Helped up onto his feet, David asks why Hook risked his life when there is nothing to benefit from it. Hook jokes he didn't do it for him.
Hook and David report back safely, though they startle Emma, Mary Margaret and Regina, who mistakenly believe intruders are approaching the camp. David has an happy reunion with Mary Margaret as the two kiss frantically. Looking away in disdain, Regina inquires where the sextant is. Hook announces Pan got to it first. Pulling away mid-kiss, Mary Margaret asks what happened to cause David to become overly affectionate all of a sudden, but he entices her back into their make-out session. Gawkily, Emma is painfully embarrassed at their display while Regina mumbles what she wouldn't give for another sleeping curse. Finally, the two lovebirds break apart as David publicizes how Hook saved his life. Hook questions if he's sure about telling them. Nonetheless, David stretches the truth by saying on their trek up the peak, they were ambushed by Lost Boys, but Hook did everything in his power to keep him from being hit by a Dreamshade arrow. After procuring Hook's flask, David makes a toast to him, takes a sip of rum and hands it over for Mary Margaret to do the same. Then, it is passed to Regina, but she has no inkling for drinking rum and walks off into the distance. Instead, Emma takes a drink. David and Mary Margaret go off to be alone; leaving Emma and Hook together once more. She asks if he really saved David's life. He wonders if that fact surprises her. As she hands back the flask, Emma illustrates he and David haven't been the best of mates. Even so, Hook indicates it doesn't mean he'd leave her father to die, to which she gives a sincere thank you. Flirtatiously, he steers her towards giving gratitude on another level; drawing a smile from Emma, who replies that's what the thank you is for. He japes that David's life is only worth that much to her. Emma believes Hook can't handle it, the attraction blooming between them, but he professes she's the one who has been unable to come to terms with it. Sparks fly, and Emma pushes Hook into a long, passionate kiss. She diverts away stating this is only a one time thing, despite the hurt look on Hook's face, and leaves him. Trotting off, Emma requests he not follow her, and for the time being, gather up some firewood. He promises to do as she wishes.
Later, while Hook is alone, Pan confronts him about having rejected the offer. Happily, Hook chugs on rum while saying he doesn't need his help with Emma after all. Pan mocks him for thinking one little kiss means anything, though Hook perceives Emma is finally seeing who he really is. To this, Pan defines him as a one handed pirate with a drinking problem, which sounds less than appealing. Hook murmurs he is a man of honor, so Pan presents him with something that may conflict with his budding romance--Neal is alive and in Neverland. Pan leaves it up to Hook's own preference to tell Emma the news, or not, to see what kind of man he actually is. 
Conflicted, Hook returns and immediately requests a private chat with David and Mary Margaret. In a hushed voice, he relates about receiving another visit from Pan, who told him Neal is alive and in Neverland, to which David and Mary Margaret are bewildered by the news. Mary Margaret doesn't think it's probable since Emma clearly witnessed Neal sustaining an injury and falling through into the portal; all things no one can survive. Hook reasons Neal did and Pan captured him from their campsite to be put in a cave. David is curious why Pan chose to let them know about this. Hook claims he doesn't know and Pan must have his reasons. Looking for evidence, Mary Margaret peers around; recognizing Pan is telling the truth when she catches sight of a snapped branch near the brush as well as footprint tracks that resemble a struggle. Immediately, she plans to tell Emma, but David pulls her back because their daughter already lost Neal once and if this is another one of Pan's games, they can't put her through the same thing again. Hook is in agreeance since Pan obviously wants Emma to know, so Mary Margaret ponders if they wish to look for Neal first, though lying to Emma doesn't sit well with her. Hook vouches it's not a lie, but keeping a secret until confirmation. Despite that, she views secrets in a negative light because they keep their loved ones away. David debates that sometimes secrets can protect the people they care about, which she eventually gives into. In preparation for the search for Neal, David begins strapping on a satchel as Mary Margaret helps him. She proposes a good cover story is necessary if they are going to find Neal without Emma finding out. Hook and David like the idea, but are sidelined when Emma and Regina walk up. Emma asks where they are going. Both David and Hook give different simultaneous excuses. When either are unable to reply after Emma inquiries what is going on, Mary Margaret blurts out that Neal is alive. Emma reacts in shock and trades a brief, nervous glance with Hook. Mary Margaret is repentant for giving out the truth, but thought Emma deserved to know.
Though everyone else is taking Pan's claim seriously, Regina finds it to be a waste of time. Mary Margaret shows Emma the footprint patterns collaborating with a possible scuffle. Emma is hesitant to accept it automatically means Neal was at their camp. After Regina's stance is ignored by Emma, she leaves everyone to follow the "evil munchkins' dirt road". They track the footsteps to a cave. There are no guards outside, but Hook brings to light his past exploration inside the place, known as an Echo Cave, where he once lost half his crewmen. He stresses the only way to rescue someone inside is for each of them to reveal one of their deepest, guarded secrets. Emma doesn't buy into the requirement since it could still be a trap, but Hook states this is exactly what Pan wants; for them to free Neal. Additionally, he explains once they do what is necessary, Pan has hopes their secrets will destroy each one of them.
Once inside, they come across a dead end, but in the distance, there lies a separate strip of land housing a caged, unconscious Neal. Hook looks on with at troubled expression. As Neal comes to, he notices Emma and shouts her name, which echoes off the walls. Mary Margaret observes Neal must be at least a hundred feet across while David scrutinizes that even if they fashion a rope as a means of getting there, there is nothing to attach it to and swing over. Hook repeats the prerequisite everyone needs to fulfill in order to bring Neal out safely. To find out if the cave rules work, he goes first in baring his secret.
With much reluctance, Hook confirms he and Emma shared a kiss. David reacts in outrage, though Mary Margaret presses it's not the time to start an argument. Emma discloses she already told Mary Margaret about the kiss, so it's not really a secret. Hook replies that it's what the kiss exposed, which is he's never been able to forget his first love, Milah, or believe his future could be with someone else until meeting Emma. At the spur of the moment, the ground begins shaking and the first section bridging them to Neal forms. David moves to speak next, though Mary Margaret has more urgent news for him. Mary Margaret pours out frustration about having missed their own child's whole upbringing and verifies her desire to have another child when they get back to Storybrooke. With another secret out of the bag, the second bridge arrangement molds into existence. In response, David begins coming clean about his lie, which only Hook had knowledge of this entire time. Again, more rumbling follows for the third and final completion of the bridge formation, allowing Emma to cross over to Neal's side. Hook, David and Mary Margaret watch, but are unable to hear Emma reveal her secret to Neal. In the next instant, the cage bars melt away as she and Neal warmly embrace each other.
When they reach the outside, Neal thanks everyone for their efforts in rescuing him. David thinks it's too soon for that since they still have to get to Henry. Hook fills him in about discovering his star map, which Neal promises if they can find Henry, he can definitely get them off the island. Hook instructs that they should regroup with Tinker Bell first and continue on with the mission from there. David and Mary Margaret head back as does Hook, except he purposefully lingers behind to eavesdrop on Emma and Neal's conversation. He hears Emma express guilt about what she told Neal earlier and is sorry her feelings can't be changed. Neal disagrees and doesn't think she has anything to apologize for after everything he put her through. Then, Neal tells Emma his own secret; he won't ever stop fighting for her. 
Hook, Emma, David and Mary Margaret are familiarized by Neal on a proposed tactic for getting off the island using Pan's shadow. Even though Neal can read the star map, they still need a way to get off the island, and will be flying out of Neverland using the Shadow. Emma can't comprehend how it's possible since they have never been within ten feet of Pan unless he let them. Hook interjects into the discussion to provide knowledge about the Shadow rarely being with Pan and it can exist as a separate entity to carry out his will from miles away. Neal assures that they can nab the Shadow without being anywhere near Pan. Since Neal knows where to look for it, Emma steps up to go with him on "shadow duty". A beat later, Hook enlists himself as well, justifying that the hike there won't be easy and they could use another veteran of the island, which makes Neal thankful for his help. While the three of them are gone, David and Mary Margaret plan to head over to notify Tinker Bell. They agree to meet back at Tinker Bell's tree house, then getting Henry and going home.
Before they capture the Shadow, Hook, Emma and Neal revisit the old Lost Boy cavern. Neal rapidly begins searching for the coconut halves, so Emma goes to fetch it from a hiding place. Once the two are alone, Hook gives him credit for being so understanding. Neal doesn't grasp what he means until hearing about Hook and Emma's dalliance in a form of a kiss. Hook had the impression Emma already told him, but Neal brushes it off as something she probably forgot to bring up in her distraction over Henry.
Emma returns with the star map and notices a visible change between the two men, even though Neal reassures that everything is fine. After checking the two halves, Neal tells them that they'll be using it to trap the Shadow. Hook is equivocal over whether it will work, so Neal compares how a certain pirate once left Neverland on a ship through a portal, which isn't much different than driving out on a magic coconut. Hook concedes and asks for the next place they are headed. Neal announces it'll be at Dark Hollow. Hook recalls it as the darkest place on the island where any light that makes its way in is snuffed out by the shadows that call the area home and admits he himself has never been there. Emma pulls a one-liner about breaking tradition while Neal concludes Dark Hollow will be the only way they can ever get back to Storybrooke.
Traveling to Dark Hollow, Neal stops shortly since the tall grass is blocking their way. Emma forks over her weapon to let him cut through the obstacle, which he recognizes as his old cutlass and discovers that Hook gave it to her. Neal wonders when Hook suddenly became sentimental. Hook reasons he did it for Emma's benefit so she could have something to remember Neal by. Annoyed, he sarcastically thanks Hook and quips that Emma has him now. As Neal strides away, Emma turns to give Hook a questioning stare. Hook admits that he accidentally told Neal about their kiss under the assumption she already told him. She doesn't see why he would assume that; leading Hook to profess hopes that the kiss did mean something to her. Preferably, what meant something to Emma is Hook's honesty in letting everyone know Neal is alive as she realizes he could have kept that piece of information to himself. Hook prompts her on why he would do such a thing. She guesses Pan offered him a deal of some sort. Hook takes into account that Pan wanted to test to see if he'd leave behind an old friend who happens to be vying for the affections of the same woman as himself. Emma is relieved at his choice. Hook perceives she is surprised by his actions. She wisecracks that he is a pirate, after all, which saddens Hook. He mentions being in good form in order to win her heart fair and square without any trickery and it'll happen because she wants him, too. Emma states it's not a contest, but he lets her know that the bottom line is a choice between him and Neal will have to be made eventually. Instead, the only thing she wants to choose is how to get her son back. Hook believes she can, but warns when that happens, the "fun" will begin.
Led by Neal, they enter into a light-less, windy zone with bare trees all around. Hook interprets the place as home to all the shadows Pan captured. Neal expands on this by illustrating the shadows are forced to spend eternity in the darkness and hopes they won't be joining them. Neal takes out the coconut halves to explain that once the candle inside is lit, the Shadow will be drawn to the light and once it gets too close, the flame will engulf it and then seal the creature by putting the lid on. Hook states they have nothing to light it with since the lanterns are out. Neal's back-up method is using a lighter and he begins attempting to use it on the candle. Hook tries to lend help; saying he has only one hand and probably can do better. Tension arises as Neal suspects Hook wants to impress Emma with his skill. Hook finds the accusation ludicrous while Emma is exasperated by their quarrel. Since Neal is having trouble with the lighter, Hook pushes aside their differences to try his hand at it. His effort also produces no flame on the candle, which Neal mocks him for and tries to snatch the lighter back, but Hook refuses to give it up. During the struggle, Hook's grasp slips and the lighter ends up sailing a few feet away onto the ground.
They both go to retrieve the lighter as Emma complains they don't have time for squabbling. Abruptly, Emma alerts them to the presence of three identical shadows in the air. As they dodge the shadows' lunges, Neal quickly realizes that Pan is controlling all three. Hook is thrown off his feet and pushed up against a tree by one shadow while the same befalls Neal seconds later. The third shadow keeps Emma busy as Hook and Neal are subject to having their shadows painstakingly ripped out. Emma miraculously uses magic to conjure a flame on the candle and draws the Shadow into it. The two other shadows dissipate; releasing Hook and Neal.
As they head over to Tinker Bell's place, Neal apologizes to Emma over his actions at Dark Hollow. Emma affirms he as well as Hook screwed up and nearly lost their chance at catching the Shadow because they were fighting over a lighter. Hook corrects Emma to hint they were fighting over her. To settle the score once and for all, Emma confides that if she had to choose, it'd be Henry, due to him being the only love there is room for in her life.
They near the tree house just as Tinker Bell is telling David and Mary Margaret that she's not helping them until there's proof Pan's shadow has been captured. Hook and Emma follow behind as Neal, triumphantly holding the rope bound coconut halves containing the Shadow, straggles out from the wilderness to show Tinker Bell. Finally, Tinker Bell agrees to do her part in the plan to take down Pan. 
While moving ahead to Pan's camp, A rustle from the jungle causes the entire group to assemble for battle, but it turns out to be only Regina and Mr. Gold. Regina tells them about the power of Pandora's Box while Neal's distrust in his father causes him to blurt out Mr. Gold's objective to kill Henry and prevent a seer's prophecy from coming true. Subsequently, Hook and everyone begins to regard Mr. Gold as an enemy by drawing their weapons. Things cool down only when Neal forces him to hand over the box.
Some time later, Hook is approached by Emma about an alternative to removing David's ties to the island because of the Dreamshade cure. He concludes that nothing can be done, but then Mr. Gold steps in to offer his potion-making skills to concoct an elixir cure for David. Emma agrees to his bargain, though in return, Mr. Gold wants a favor of equal value. Neal puts a full stop to his asking price by demanding that he help for the right reasons rather than personal gain.
After Tinker Bell gains access into the perimeter of the encampment and the Lost Boys are put to sleep by Regina, neither Henry or Pan are found there. Instead, Neal frees a young prisoner, Wendy, and brings her back to camp to inquire about Henry. Forced to act on Pan's wishes, Wendy lies to them, but with some encouragement, she yields and tells the truth. Emma gains insight on Pan's real reason for needing Henry's heart, which is to save himself from dying and then become immortal. As a trade, Pan lives, but Henry will die. Hook stays behind at camp while Emma, Mr. Gold, Neal and Regina set out for Skull Rock to stop Pan. After Henry sacrifices his heart to Pan, Hook feels a powerful wave of magic gust through Neverland.
Hook makes a brief appearance in the animated short, watching in the crowd as Cruella De Vil walked down the runaway in a fashion show.
Captain Hook is set to appear in the upcoming addition to the Tinker Bell film franchise. Set before the events of Peter Pan, a young Captain Hook, then known as James the Cabin Boy, meets a rascally fairy (named Zarina) that has betrayed Pixie Hollow (the homeland of Tinker Bell and the fairies of Never Land) and left to live amongst the pirates, befriending James once she does. It is said that James will be seen as an initially very kind, open hearted, and overall benevolent. However, unbeknowst to Zarina and the other fairies of Pixie Hollow, James is actually a black hearted villain. A pirate captain actually manipulating Zarina for his own nefarious purposes.
Video games
Captain Hook has appeared in an excessive amount of video games, more than any other Disney villain. Many of his games are based off the Peter Pan franchise, but many others are crossover games such as the Kingdom Hearts games and Disney Universe.
In Mickey Mousecapade, Hook appears as the boss of the fourth level, the pirate ship, but only in the Japanese version. (In the American version, he is replaced by Pete.) Out of all the bosses in the Japanese version, he is the only one not from Alice in Wonderland.
In this game, Hook stole the ending to Peter Pan and altered it so that Peter would age into an old man, giving him the incredible advantage of succeeding to the point where he doesn't even have to battle. However, the game's player, along with Jiminy Cricket, battle Hook in Peter's place, blasting him onto the moon and giving Peter his youth back.
| | |
| --- | --- |
| | This page uses content from the Kingdom Hearts Wiki The list of authors can be seen in the page revision history (view authors). As with Disney Wiki, the text of KHWiki is available under the GNU Free Documentation License. |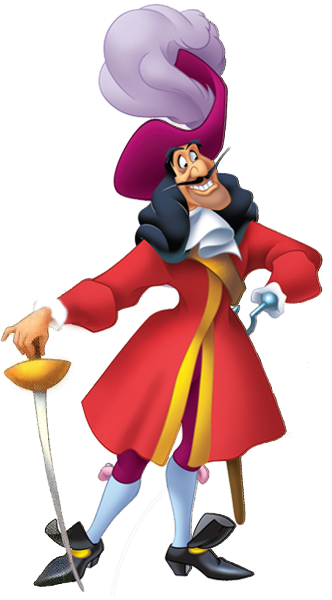 Captain Hook made appearances in Kingdom Hearts, Kingdom Hearts: Chain of Memories, Kingdom Hearts 358/2 Days, and Kingdom Hearts Birth by Sleep.
Captain Hook wreaks havoc in the world of Neverland 10 years before Sora's visit to the world. He is attacked along with Smee by a group of Unversed while he is trying to move his treasure to a safe location until Terra comes and rescues them. Hook then tells Terra that a young boy has been tormenting him for quite some time, attempting to steal "the light" inside Hook's chest. Terra at first believes that the boy may be Vanitas, but Hook tells him it is someone called Peter Pan, and requests Terra to take the chest to Skull Rock and guard it against Peter. Once they arrive, Smee informs Hook of a shooting star which landed not far from where they are. Hoping to find more treasure, Hook leaves the chest in Terra's care and departs to find the shooting star.
He finds it just as he captures Tinker Bell, whom was being accompanied by Ventus. Thinking Ventus to be a Lost Boy, Hook informs him to send Peter Pan to Mermaid Lagoon to face him. However, this was another trick as he had his pirate crew launch cannonballs from the ship to try doing both Ventus and Peter Pan in. Hook escapes with Tinker Bell and reunites with Terra inside Skull Rock, showing him the imprisoned fairy, who he plans to use to trap Peter Pan. However, Terra frees Tinker Bell, having learned the truth about Hook during a brief fight with Peter Pan. Just as Hook prepares to engage Terra, the Crocodile appears and Hook makes a run for it.
Shortly afterwards, Ventus finds him waiting at the Cove, wondering if Peter Pan has been defeated yet. Ven defeats Hook in battle, ending by knocking him into the water, where he is chased off by the Crocodile.
During Aqua's storyline, the Lost Boys tell Aqua that Hook has stolen the Lost Boys' treasure once again. Aqua, Peter and the Lost Boys eventually track Hook down, but as Hook gloats, he opens the treasure chest only to find nothing but the Boys' toys and other stuff (among them Ventus's Wooden Keyblade). As he curses, the Crocodile appears and he runs away.
During the credits, Hook's hat is stolen by Peter.
In Kingdom Hearts, Captain Hook has joined forces with Maleficent to use the Heartless in his bid to be rid of Peter Pan once and for all. With the Heartless's powers, he can travel to many other worlds via his pirate ship. After their initial meeting about Sora, Hook is called back to Hollow Bastion to serve as guide to Kairi's location for Riku. After Riku returns from Monstro, Hook is more fearful of him due to Maleficent granting him power over the Heartless.
Thinking that Wendy may be one of the Princesses of Heart, Hook kidnaps her, but later finds out from Maleficent via Riku that Wendy's heart is not pure light. When Sora, Donald, and Goofy arrive on his ship in Neverland, he imprisons them in the hull, which they soon escape from after teaming up with Peter Pan. After learning from Maleficent, Hook decides to use Wendy as a shield to keep Peter Pan at bay. At the same time, Riku fled back to Hollow Bastion with Kairi.
Doing battle with the heroes, Hook proves a formidable opponent, but in the end, he is tossed into the ocean and chased away by the crocodile when he's defeated.
Hook makes an appearance in Kingdom Hearts: Chain of Memories as a figment of Sora's memories. He met his demise when Sora challenged him with Peter Pan.
Hook also appears in Riku's story-line, as a figment of his memory and a representation of the darkness inside him.
Upon finding a pile of treasure maps, Captain Hook and Smee begin digging all over Neverland to find treasure. However, this ends up infuriating Tinker Bell because they are ruining the scenery. Much to his annoyance, Hook doesn't find treasure for several months, with the only consolation being a constant appearance of the Heartless, who of attracted to his greed-scented darkness. Because he is no longer connected to Maleficent, Hook flees the Heartless in fear. However, he does not lose hope; Hook believes that one of the maps is real and the others are counterfeits created to protect the genuine treasure.
Eventually, it is revealed Pete was the mastermind behind the creation of the maps; he hoped to use Hook's powerful greed to create numerous Heartless to add to Maleficent's army. However, Roxas had been slaying the more powerful Heartless prior to his arrival.
About 160 days into searching for treasure, Hook is on his last map, searching by Skull Island, hoping that real treasure will be there. Much to his ecstatic joy, Hook finds that he is right as a treasure chest and golden sword lay buried below. However, before he can collect the reward for all his troubles, Pete uses the power of darkness to turn the treasure into an avian Heartless called Ruler of the Sky. Luckily, Roxas is there to dispatch the giant Heartless, allowing Captain Hook to escape to his ship. In the end however, his greed comes full circle when the Heartless crash into his ship.
Two versions of Hook appear in the Epic Mickey games: A robotic version that lives in Wasteland and the real Hook.
Hook's Wasteland counterpart was transformed into an animatronic by the Mad Doctor and lead a charge to convert his former comrades. Mickey can choose to either defeat him on the deck and either destroy him or send him to the animatronic Tick Tock lurking in the Thinner Sea, or climb up to the mast to free Pete Pan's Sprite and restore that rivalry.
In the sequel, Animatronic Hook has disappeared, leaving a power vacuum in the ranks of his crew and rival pirate Blackbeard driving Hook's pirates from Tortooga. His clothes can be found in chests in Ventureland to be utilized in various quests in the area
The real Captain Hook appears as the game's first boss. Under the enchantment of Mizrabel, Hook battles Mickey with a massive array of bombs on the deck of the Jolly Roger. After being defeated, Hook is restored to his proper self and wants revenge on Mizrabel for making a fool out of him.
In this game, Hook and Smee travel around Never Land to find Peter who has a treasure map that belongs to Hook. However, Peter is also after the treasure and once they finally cross each other a battle follows leading to Hook's defeat. After beat Hook, he hears the sound of a ticking clock, causing his eyes and mustache to twitch in rhythm (with the sound of music Never Smile at a Crocodile). The Crocodile arrives to eat his favorite dish the codfish. Hook chased away from the hungry Crocodile whlie Smee row the boat to followed to rescue him.
Captain Hook makes a "cameo" in Disney INFINITY.  When he appears he steals a Emblem in 3DS version of the game.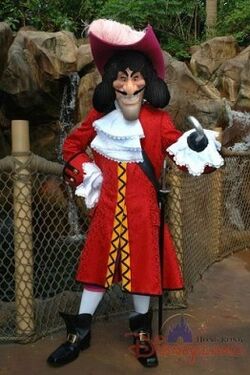 Captain Hook is a common character at Disney parks around the world. He is seen in many shows and parades and is a meetable character. He is usually seen with Mr. Smee.
As of 2012, Captain Hook is the most common Disney Villain in the parks appearing in more shows, meet-and-greet areas, and advertisements than any other to the point where he is occasionally the only villain present. Hook was one of the villain suspects in Midship Detective Agency on the Disney Fantasy cruise ship. He is also seen in Villains Mix and Mingle, the Unleash the Villains stage event, and One Man's Dream II: The Magic Lives On!.
In the Disneyland Fantasmic! Captain Hook is one of the villains called to destroy Mickey Mouse along with many other popular Disney villains. The captain can be seen battling Peter on the ship until Pan throws Hook overboard right into the ocean. Fortunately for Hook, a rope was near having Hook dangling over the hungry crocodile.
In this show, Captain Hook and Mr. Smee work for Maleficent who plans to take over the Magic Kingdom. The pirates ambush Mickey Mouse's dream celebration and sword fights Peter Pan. Hook is scared into believing the crocodile is near and seemingly surrenders until Maleficent arrives. Hook and Smee stay to aid Maleficent after most of the heroes (including Peter and Wendy) fled the scene. However, Donald and Mickey are able to use the power of dreams to defeat the witch having Hook and Smee run for safety.
Captain Hook appeared in the live castle show in the Magic Kingdom in Walt Disney World Resort. In the event, Hook and the pirates planned to take over Cinderella Castle and brutally attacks it. However, the Fairy Godmother called fourth Tinker Bell who used her powers to foil the captain.
Captain Hook serves as the show's main villain, appearing after Peter Pan's shadow has an encounter with Dr. Facilier's shadow and mechanical castle. He throws Pan's shadow into the water towards the crocodile, with Ursula and Maleficent joining in on tormenting the shadow. Peter Pan and Tinker Bell arrive to restore the magic back to the Second Star to the Right and undo Hook's machinations, trapping him and the others inside.
In the former attraction, Robin Williams was transformed into an animated character and reluctantly put into a scene aboard Captain Hook's ship. Just as Robin fears the worse, Hook appears and demands to know the whereabouts of Peter Pan. Robin fails to answer spending time trying to calm Hook down instead, but the Captain viciously throws Robin overboard to the crocodile. Fortunately for Robin, Tinker Bell arrives and uses pixie dust to save him and give the crocodile flight. Hook then runs away in panic from the hungry flying croc.
On the Disney Magic cruise ship, Hook makes an appearance in the special show where he and his crew invade the ship in an attempt to take it over. During Mickey and friends' pirate celebration, Hook ambushes the gang, having the ship's crew tied hostage by Smee. Mickey refuses to step down resulting in the Captains Challenge. Mickey and friends dance battle the pirates and succeed. After, the captive crew are freed and chase Hook and Smee around the ship, eventually arresting them.
Hook plays a large role in the game, appearing as a meet-and-greet character in Fantasyland and taking part in the Mickey's Soundsational Parade mini-game. Hook also takes part in the Peter Pan's Flight mini-game. Here, the captain kidnaps Cubby and threatens him to reveal the whereabouts of Peter Pan. Before Hook can kill the uncooperative Lost Boy, Peter and the players arrive. Hook sword fights the player(s) and is ultimately defeated and thrown overboard. Hook is last seen swimming away from the crocodile. Hook also assigns several tasks. For one of the tasks, the player must find some ticking clocks hidden throughout the park.
Appearance in Disney Fairies Books
In Fairy Dust and the Quest for the Egg, when Mother Dove's egg breaks he like the other Never Land residents start to grow older. Later, the questers took his double cigar holder while he was asleep to give to Kyto so he would restore the egg.
He appears briefly in Iridessa, Lost at Sea, when Iridessa and Tinker Bell snuck onto his ship and ordering Smee around.
Disney Fairies Graphic Novels
Tinker Bell to Rescue
Tinker Bell and the Pirate Adventure
Tinker Bell and Her Stories for a Rainy Day
Quotes
(smiles sweetly) "And just what do you think you are doing, Mr. Smee?"
(screams bloody murder and pushes Smee's rowboat harder with his left foot which causes it to move faster like a motorboat) "PUT HER BACK, YOU BLITHERING IDIOT!!!!"
"So, you want a splash, Mr. Starky? (grabs Starkey with his hook and throws him into the water) I'LL GIVE YOU A SPLASH!!!! WHO'S NEXT?!"
(smirks playfully and shows Smee Peter Pan's cap with his hook) "Here's your spirit, Smee!"
"So posthaste, our worthy opponent".
(draws his sword) "I'll show you this ghost has blood in his veins!"
"Ha, ha, ha! You won't dare fight ol' Hook; man to man. You'd fly away like a cowardly sparrow!"
(smirks at Smee who brings Tiger Lily back to the Indian campus by order of the Spirits of the Great Sea Water) "My orders?!"
"THIS is the one I won't harm. Here, (hands Jane one of Peter's hairs) you keep it. The rest of him is mine."
"I DON'T WANT TO BE A GOOD CAPTAIN!!!!"
"I beg your pardon, MR. SMEE?!"
"Good form, Mr. Smee? (screams bloody murder) BLAST GOOD FORM!!!! DID PAN SHOW GOOD FORM WHEN HE DID THIS TO ME?!"
(grabs Smee by his shirt with his hook, then smiles sweetly) "And where do you think (pokes his pink nose) you are going?"
"You will go ashore, pick up Tinker Bell, and bring her to me. (screams bloody murder) UNDERSTAND?!"
(to Wendy and the boys) "And now, which will it be: the pen.... or the PLANK?!"
"I did it.... I did it! I can't believe it.... I'm free.... free from Peter Pan forever!"
(sarcastically) "Good heavens, run. Run for your lives. It's.... a little girl."
"How did you escape the beast?"
(whines like a baby) "I'M A CODFISH!!!!"
"Smee? SMEEEEEEEE! Oh, save me Smee! Please Don't let him get me Smee! Please don't let him get me Smee, Smee!"
"Hello Wendy"
"Great Scott! No sooner do I rid meself of that cursed crocodile and now this!"
"I swear, Smee, this is propelling me to delirium! I detest cephalopods!"
Trivia
Hook's full name was revealed to be James Bartholomew Hook in the Jake and the Never Land Pirates episode, "Mama Hook Knows Best". However, in the original (pre-Disney) story, the name Hook was actually an alias because his real identity (which was implied to be a respected individual), had it leaked out, would have "caused a firestorm".
Captain Hook was listed #24 in Empire Magazine's The 50 Best Animated Movie Characters. Stating as his stroke of genius The gibbering panic that overtakes the otherwise snarling bad guy whenever the sound of ticking comes near.
Hans Conried also provided voice and live-action-reference for George Darling, remaining faithful to the theatrical tradition that Captain Hook and George Darling be portrayed by the same actor.
Captain Hook's outfit consisted of a red coat, a pink shirt, white cravat, a red sash and purple pants.
Captain Hook is briefly mentioned in the DuckTales episode "All Ducks on Deck", when the Phantom Blot is comparing himself to other villains: "Compared to me, Dr. Doom is a wimp, and Captain Hook is about as dangerous as a plastic coat hanger!"
Captain Hook makes a cameo in the 2011 novel, Pirates of the Caribbean: The Price of Freedom. Although he was only mentioned as "James" in the novel, several characteristics prove that "James" and Captain Hook are one and the same. This was further proven by the confirmation of the book's author A.C. Crispin. One of the early concept arts of Pirate Lords for Pirates of the Caribbean: At World's End showed a pirate with a hook in place of his left hand.
Bruce W. Smith, an animator at the Walt Disney Animation Studios, used Captain Hook as a reference when creating Doctor Facilier.
He can play the piano, as seen in Peter Pan.
Hook was briefly mentioned by Timon in the Timon and Pumbaa episode, "Ocean Commotion".
He is similar to Cutler Beckett as they are both cruel to their henchmen but still manage to persuade others. Another similarity that Hook has to Beckett is that they both have murderous personalities. Ironically, Hook was a pirate, and Beckett was a guy who ruthlessly hunted down pirates.
Captain Hook is arguably one of the funniest Disney villains ever made.
Captain Hook actually made more appearances than any of the Disney film villains combined.
According to an interview for Epic Mickey, early concepts had Captain Hook wearing blue.
Although he is the main antagonist Captain Hook does not interact with Peter Pan once until the duel at Skull Rock. But in the sequel like Shere Khan he appears much earlier.
Hook's backstory in Once Upon a Time is constantly inconsistent. According to the film Hook had Peter Pan cut off his left hand and fed to Tick Tock, explaining the pirate's hatred against the boy, as well as how he got his hook in the first place. Some promotional media, however, claims that Tick Tock simply bit off Hook's hand.
Despite his skinny and frail appearance, Hook is actually physically much stronger than he looks, shown when he lifts the rather corpulent Smee and throws Starkey off the ship, both using only his arm with the hook as well as lifting Tiger Lily with only his arm with the hook while she was tied to an anchor.
Captain Hook's English voice actor, Corey Burton, also voiced many additional characters such as Yen Sid and Ansem the Wise in two of the series's installments. His Japanese voice actor in Kingdom Hearts and Kingdom Hearts: Chain of Memories, Chikao Otsuka, is the voice of Master Xehanort and the real-life father of Akio Otsuka, the Japanese voice actor of Ansem, Seeker of Darkness and Terra-Xehanort.
In Jake and the Neverland Pirates, it is revealed that Hook occasionally gets seasick (on sea as well as while crawling backwards) despite being a pirate captain.
Captain Hook may have been inspired by the legendary Turkish Barbary pirate, Barbarossa (Redbeard), who in the early 16th century lost his left arm, earning him the nickname Silver Arm, in reference to the silver prosthetic device which he used in place of his missing limb. Barbarossa also inspired another Disney character, Barbossa in Pirates of the Caribbean.
The casting call describes him as, "A handsome, fearsome and confident pirate ship captain, Hook relishes every challenge and never backs down from a fight, whether the reward is power, riches or women. He possesses the meticulous style and old-school manners of a proper gentleman, but beneath that veneer lies a vindictive enemy who will not rest until all his enemies have been defeated… and humiliated."[1]
Part of Colin O'Donoghue's inspiration for the character is Dread Pirate Roberts from the movie The Princess Bride.[2]
His wardrobe is inspired by the electronic band Depeche Mode.[3]
The name "Killian" is of Irish Gaelic origin derived from the name "Cillian" and itself derived from the word "ceall" that means "church".[4][5]
The surname "Jones" is of Welsh origin derived from the given name "John" and itself derived from the Latin name "Johannes" that means "God is gracious".[6]
Hook is one of very few Enchanted Forest characters to have a known surname.
Has a tattoo with Milah's name on his right wrist.
Has a deleted scene from "In the Name of the Brother" showing Hook's confused reaction in seeing the food product Jell-O for the first time.[7]
Gallery
References