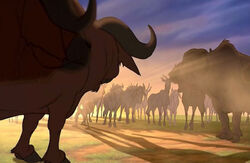 Cape Buffalo (also known as African Buffalo; full name: African Cape Buffalo) are creatures that appear in The Lion King media.
Physical Description
Cape buffalo are considerably large and thickly-muscled. Males can grow to be up to 1.7 meters high and 3.4 meters long. Buffalo averagely weigh in-between 500 and 900 kilograms. Males are normally larger than females. Most buffalo have dark eyes, while their fur color varies between different shades of brown, black, and gray. Upon reaching adulthood, most male buffalo have black or dark brown coats, while females tend to have more reddish coats. Calves of both genders have red coats. Interestingly, the front hooves of a buffalo are wider than the rear, which is associated with the need to support the weight of the front part of the body, which is more powerful than the back.[1] All buffalo have horns.
Appearances
Cape buffalo make their first and only appearance at Simba's presentation during the "Circle of Life" sequence. Years later, their bones can be seen scattered around the Pride Lands, due to Scar's poor reign. It can be assumed they return for the presentation of Simba's cub at the end of the film.
Cape buffalo return for the presentation of Kiara and "Upendi." They later appear in "Not One of Us," in which they help to drive Kovu out of the Pride Lands. It can be assumed they return to Pride Rock for Simba's acceptance of the Outsiders into his pride.
Cape buffalo are seen at Simba's presentation. Due to Pumbaa's flatulence, they fall over in a dead faint, giving the appearance that they're bowing to the new prince.
The cape buffalo also made a few appearances in the novels.
"There's only one water hole left, and Boma and the other cape buffaloes won't let me near it."
―A leopard complains to Ahadi
In A Tale of Two Brothers, it is revealed that the Pride Lands are suffering from a terrible drought. Many Pridelanders are complaining about Boma and his herd, as they are hogging the last water source left in the Pride Lands. When Mufasa tries to sort things out with Boma, Taka purposely angers the cape buffalo, who begins to chase Mufasa. The young lion manages to evade the buffalo and Boma falls into a ravine. Meanwhile, the rest of his herd sneak up on and attack Taka. Before Mufasa can save his brother, the buffalo give him a ravaging scar across his left eye. Ahadi arrives on the scene and the buffalo are scolded for their aggressive behavior. The Lion King then sends an elephant to help Boma out of the ravine.
Zazu: "It's those cape buffaloes again. They're hogging the waterhole. The hippos are hopping mad."
Simba: "I thought I told those buffaloes to move over."
Zazu: "The buffaloes show no signs of shuffling, sire. You know how buffaloes can be. Big, nasty creatures."
—Simba and Zazu about cape buffalo
When Zazu is reporting to Simba, he tells him that the cape buffalo are hogging the waterhole again. Simba protests that he's already told them to move, but Zazu reminds him that buffalo aren't always trustworthy.
"Well, I'm ready for this fight. My grandparents were taken by them years ago. I have never forgotten that awful attack."
―Boma about a legendary army ant attack
While flying over the Pride Lands, Zazu recalls a distant memory of a buffalo stampede. During a fierce storm, a pack of hyenas had attacked the buffalo herd and caused the great mass of animals to stampede towards Pride Rock. Zazu had reported to Mufasa, who ordered him to get the elders to safety. Together, the two saved the pride and evaded the dangerous stampede.
In addition, Boma is seen frequently throughout this book. When a hoard of army ants invades the Pride Lands, Mufasa instructs a group of Pridelanders, including Boma, to help push rocks off Zulu Falls to drown the ants and stop the invasion.
Notable Cape Buffalo
Boma is the leader of his cape buffalo herd.
References
v - e - d
Episodes
Timon & Pumbaa
Season One: "Boara Boara" • "Saskatchewan Catch" • "Kenya Be My Friend?" • "Good Mousekeeping" • "Brazil Nuts" • "South Sea Sick/The Lion Sleeps Tonight" • "Never Everglades" • "Cooked Goose" • "Yukon Con" • "Doubt of Africa" • "How to Beat the High Costa Rica" • "Swiss Missed" • "Russia Hour" • "You Ghana Join the Club" • "Uganda Be an Elephant" • "To Kilimanjaro Bird" • "Rocky Mountain Lie" • "Amazon Quiver" • "French Fried" • "Big Top Breakfast" • "Madagascar About You" • "Truth or Zaire/Yummy, Yummy, Yummy" • "Mojave Desserted" • "Beauty and the Wildebeest" • "Don't Break the China" • "Can't Take a Yolk" • "Stand by Me" • "The Pain in Spain" • "Frantic Atlantic" • "Unlucky in Lesotho" • "Rafiki's Apprentice" • "Tanzania Zany" • "Guatemala Malarkey" • "Mombasa-In-Law" • "TV Dinner" • "Back Out in the Outback" • "Gabon with the Wind" • "Timon's Time Togo" • "The Law of the Jungle" • "Manhattan Mishap" • "Paraguay Parable" • "Be More Pacific" • "Going Uruguay" • "Let's Serengeti Out of Here" • "Congo on Like This" • "Okay Bayou?" • "Shake Your Djibouti" • "Yosemite Remedy" • "The Sky is Calling" • "Mozam-Beaked" • "Ocean Commotion"
Season Two: "Palm Beached" • "Jamaica Mistake?" • "Oregon Astray" • "New Guinea Pig" • "Isle of Manhood" • "Puttin' on the Brits" • "Klondike Con" • "Isle Find Out" • "Beetle Romania" • "Rumble in the Jungle" • "Wide Awake in Wonderland" • "Zazu's Off-by-One Day" • "Animal Barn" • "Roach Hotel" • "Africa-Dabra!" • "I Don't Bolivia" • "Shopping Mauled" • "Library Brouhaha" • "Catch Me if You Kenya" • "Scent of the South" • "Monster Massachusetts" • "Handle with Caribbean" • "Forbidden Pumbaa" • "Washington Applesauce" • "Alcatraz Mataz" • "Oahu Wahoo" • "I Think I Canada" • "Zazu's Off Day Off" • "Beast of Eden" • "Sense & Senegambia" • "Timon on the Range" • "The Man from J.U.N.G.L.E." • "Maine-Iacs" • "Fiji-Fi-Fo-Fum" • "Rome Alone" • "Amusement Bark" • "Once Upon a Timon" • "Home is Where the Hog Is" • "Beethoven's Whiff" • "Bumble in the Jungle" • "Mind Over Matterhorn"
Season Three: "Whiff" • "To Be Bee or Not to Be Bee" • "Luck Be a Meerkat" • "Just When You Thought You'd Cuisine it All" • "Lemonade Stand Off" • "Big Jungle Game" • "Boo Hoo Bouquet" • "So Sumo Me" • "Now Museum, Now You Don't" • "Visiting Pig-nitaries" • "The Truth About Kats and Hogs" • "Escape from Newark" • "Truth Be Told" • "Circus Jerks" • "Nest Best Thing" • "Super Hog-O" • "Don't Have the Vegas Idea" • "Hot Enough for Ya?" • "Werehog of London" • "Bigfoot, Littlebrain" • "Astro-Nots" • "Robin Hoodwinked" • "Seregenti Western" • "All Pets are Off" • "Two for the Zoo" • "The Swine in the Stone" • "You May Have Already Won Six Million Bakra" • "My Meteor, My Friend" • "Jungle Slickers" • "Don't Wake the Neighbear" • "Recipe for Disaster" • "Going Over-Boar'd" • "Ivy Beleaguered" • "Broadway Bound & Gagged" • "Steel Hog" • "Dealer's Choice Cut" • "Space Ham" • "You Bet Your Tukhus" • "No-Good Samaritan" • "Living in De Nile" • "One Tough Bug" • "Pirates of Pumbzance" • "Miss Perfect" • "Hakuna Matata U." • "Pig-Malion" • "Why No Rhino" • "War Hogs" • "The Big No Sleep" • "Common Scents" • "Mister Twister" • "Don't Be Elfish" • "Lights, Camera, Traction" • "The Running of the Bullies" • "Special Defects" • "Wishy Washy" • "Ice Escapades" • "Guru-Some" • "Jailhouse Shock" • "Nearly Departed" • "Early Bird Watchers" • "The Spy's the Limit" • "Ready, Aim, Fire" • "Timoncchio" • "Ghost Boosters" • "Stay Away from my Honey!" • "Sitting Pretty Awful" • "He's a Bad, Bad, Bad Sport" • "Dapper Duck Burgers" • "It Runs Good" • "Hot Air Buffoons" • "Timon in Love" • "Kahuna Potato" • "Mook Island" • "Cliphangers"
The Lion Guard
Season One: "Never Judge a Hyena by its Spots" • "The Rise of Makuu" • ""Bunga the Wise" • "Can't Wait to be Queen" • "Eye of the Beholder" • "The Kupatana Celebration" • "Fuli's New Family" • "The Search for Utamu" • "Follow That Hippo!" • "Call of the Drongo" • "Paintings and Predictions" • "The Mbali Fields Migration" • "Bunga and the King" • "The Imaginary Okapi" • "Too Many Termites" • "The Trouble With Galagos" • "Janja's New Crew" • "Baboons!" • "Beware the Zimwi" • "Lions of the Outlands" • "Never Roar Again" • "The Lost Gorillas" • "The Trail to Udugu" • "Ono's Idol" • "Beshte and the Hippo Lanes" • "Ono the Tickbird"
Season Two: "Babysitter Bunga" • "The Savannah Summit" • "The Traveling Baboon Show" • "Ono and the Egg" • "The Rise of Scar" • "Let Sleeping Crocs Lie" • "Swept Away" • "Rafiki's New Neighbors" • "Rescue in the Outlands" • "The Ukumbusho Tradition" • "The Bite of Kenge" • "Timon and Pumbaa's Christmas"