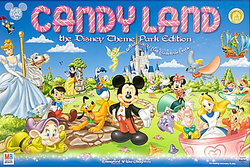 Candyland is a board game made by Hasbro. A Disney version of the game was released.
Description
All your favorite Disney friends are ready to welcome you to the most magical land in the Magic Kingdom...Fantasyland! Here you will journey through a world of imagination, wonder and fantasy. You and your friends will enjoy many magical moments along the way.
Details
Gallery
Ad blocker interference detected!
Wikia is a free-to-use site that makes money from advertising. We have a modified experience for viewers using ad blockers

Wikia is not accessible if you've made further modifications. Remove the custom ad blocker rule(s) and the page will load as expected.