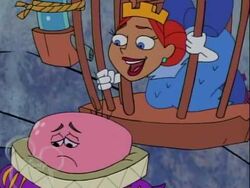 Candy and her Zit, is a song from the Disney Channel Original Series Dave the Barbarian. It is from the episode "Beauty and the Zit", and serves as a parody of Beauty and the Beast, sung by the Princess Candy and her amorphic Zit.
Lyrics
Candy
A love as old as cheese,
And with a cheesy smell,

Candy & Zit
Can the two of us,
Get along,

Candy
Despite your puss,

Candy & Zit
Only time will tell,

Candy
And yes, your very sweet,
But how can I commit?

Candy & Zit
Nothing's ever simple,

Candy
When you love a pimple,

Candy & Zit
Candy and her Zit,
Candy and her-
Ad blocker interference detected!
Wikia is a free-to-use site that makes money from advertising. We have a modified experience for viewers using ad blockers

Wikia is not accessible if you've made further modifications. Remove the custom ad blocker rule(s) and the page will load as expected.