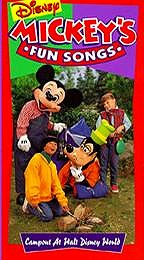 Campout at Walt Disney World is a Disney home video, originally released as a Mickey's Fun Songs home video on February 2, 1994, and then re-released as a Disney's Sing Along Songs video in 1996.
Songs
Comin' 'Round the Mountain
The Caissons Go Rolling Along
The Happy Wanderer
Oh, Susanna!
Camptown Races
By the Beautiful Sea
Talent Roundup
Jeepers Creepers
Mountain Greenery
Country Roads
If You're Happy and You Know It
Goodnight Campers
Gallery
Cast
Kids
Voice cast
Trivia
This is the fourth live-action sing-along video.
Christian Buenaventura, Tiffany Burton, Toby Ganger, Michelle Montoya and Shira Roth also appeared in various Kidsongs videos.
Near the end of "Happy Wanderer", Goofy sings the first section of "The Cassions Go Rolling Along".