Camp Wannaweep
Comments

0
19,089pages on
this wiki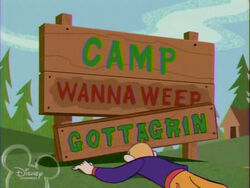 Camp Wannaweep
is a summer camp featured in the television show
Kim Possible
.
History
Camp Wannaweep was once attended by Ron Stoppable. It was the worst time of his life for four reasons: he is without Kim, there's a monkey, Gil bullies him, and his mom stoped receiving his calls. It had been abandoned for years afterward due to toxin released from a nearby Science Camp. Now it was rebuilt as Camp Gotagrin.
Camp Wannaweep is but one of the many camps surrounding Lake Wannaweep. Some of the other camps are:
Clown Camp
Band Camp
Tele-Communications Camp
Science Camp
There might even be other surrounding camps.
Years ago, Lake Wannaweep was polluted by run-off from Science Camp, which caused it to be smelly, green, and as Little Ron Stoppable, who was stuck at Camp Wannaweep, has observed, "I think that I have even seen the fish glowing at night."
It is really the birthplace of so many of Ron Stoppable's fears and phobias, as well: Monkeys, Spiders, Insects, Large angry Squirrels, the toxic lake of Lake Wannaweep, Poison Oak, Bullies and of course, the Camp itself.
Gallery