Ad blocker interference detected!
Wikia is a free-to-use site that makes money from advertising. We have a modified experience for viewers using ad blockers

Wikia is not accessible if you've made further modifications. Remove the custom ad blocker rule(s) and the page will load as expected.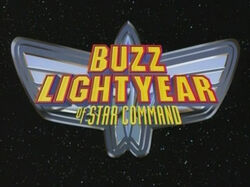 The following is a list of episodes of Buzz Lightyear of Star Command, listed in the order they originally aired.
A total of 62 episodes aired across the 2000-2001 season, with 49 episodes airing in syndication and on UPN as part of Disney's One Too, and the remaining 13 airing on ABC as part of Disney's One Saturday Morning.
In 2001, the series' direct-to-video pilot movie, Buzz Lightyear of Star Command: The Adventure Begins, was aired as a 3-part episode (bringing the series up to the standard 65-episode count), with the opening sequence with Andy's toys removed and Buzz's lines redubbed by Patrick Warburton.
| # | Title | Production Code | Original Airdate | Network |
| --- | --- | --- | --- | --- |
| 1-3 | Buzz Lightyear of Star Command: The Adventure Begins | Movie | August 8, 2000 | N/A |
| 4 | The Torque Armada | 003 | October 2, 2000 | Syndication |
| 5 | Gravitina | 004 | October 3, 2000 | Syndication |
| 6 | XL | 007 | October 4, 2000 | Syndication |
| 7 | Little Secrets | 020 | October 5, 2000 | Syndication |
| 8 | Inside Job | 026 | October 6, 2000 | Syndication |
| 9 | NOS-4-A2 | 001 | October 8, 2000 | Syndication |
| 10 | The Planet Destroyer | 006 | October 9, 2000 | Syndication |
| 11 | The Beasts of Karn | 010 | October 10, 2000 | Syndication |
| 12 | Tag Team | 016 | October 11, 2000 | Syndication |
| 13 | The Main Event | 019 | October 12, 2000 | Syndication |
| 14 | The Return of XL | 008 | October 13, 2000 | Syndication |
| 15 | Lost in Time | 002 | October 14, 2000 | ABC |
| 16 | Strange Invasion | 027 | October 15, 2000 | Syndication |
| 17 | The Taking of PC-7 | 018 | October 16, 2000 | Syndication |
| 18 | Mindwarp | 017 | October 17, 2000 | Syndication |
| 19 | Mira's Wedding | 024 | October 18, 2000 | Syndication |
| 20 | Panic on Bathyos | 031 | October 19, 2000 | Syndication |
| 21 | Shiv Katall | 015 | October 20, 2000 | Syndication |
| 22 | Rookie of the Year | 052 | October 21, 2000 | ABC |
| 23 | Stress Test | 048 | October 22, 2000 | Syndication |
| 24 | A Zoo Out There | 047 | October 23, 2000 | Syndication |
| 25 | Root of Evil | 028 | October 24, 2000 | Syndication |
| 26 | Super Nova | 053 | October 25, 2000 | Syndication |
| 27 | Downloaded | 039 | October 26, 2000 | Syndication |
| 28 | The Plasma Monster | 013 | October 27, 2000 | Syndication |
| 29 | Wirewolf | 011 | October 28, 2000 | ABC |
| 30 | The Crawling Flesh | 036 | October 29, 2000 | Syndication |
| 31 | Dirty Work | 023 | October 30, 2000 | Syndication |
| 32 | The Slayer | 051 | October 31, 2000 | Syndication |
| 33 | The Lightyear Factor | 056 | November 1, 2000 | Syndication |
| 34 | Clone Rangers | 032 | November 2, 2000 | Syndication |
| 35 | Bunzel Fever | 044 | November 3, 2000 | Syndication |
| 36 | Rescue Mission | 014 | November 4, 2000 | ABC |
| 37 | Devolutionaries | 043 | November 5, 2000 | Syndication |
| 38 | Head Case | 035 | November 6, 2000 | Syndication |
| 39 | The Yukari Imprint | 038 | November 7, 2000 | Syndication |
| 40 | The Shape Stealer | 040 | November 8, 2000 | Syndication |
| 41 | Star Crossed | 042 | November 9, 2000 | Syndication |
| 42 | Haunted Moon | 060 | November 10, 2000 | Syndication |
| 43 | Star Smasher | 009 | November 11, 2000 | ABC |
| 44 | Stranger Invasion | 050 | November 12, 2000 | Syndication |
| 45 | Eye of the Tempest | 034 | November 13, 2000 | Syndication |
| 46 | Revenge of the Monsters | 045 | November 14, 2000 | Syndication |
| 47 | Lone Wolf | 054 | November 15, 2000 | Syndication |
| 48 | Planet of the Lost | 061 | November 16, 2000 | Syndication |
| 49 | Revenge of the Raenoks | 045 | November 17, 2000 | Syndication |
| 50 | Enemy Without a Face | 030 | November 18, 2000 | ABC |
| 51 | The Starthought | 021 | November 19, 2000 | Syndication |
| 52 | Millennial Bugs | 063 | November 20, 2000 | Syndication |
| 53 | Conspiracy | 033 | November 21, 2000 | Syndication |
| 54 | At Large on a Small Planet | 058 | November 23, 2000 | Syndication |
| 55 | Sunquake | 057 | November 24, 2000 | Syndication |
| 56 | Good Ol' Buzz | 022 | November 25, 2000 | ABC |
| 57 | First Missions | 059 | November 26, 2000 | Syndication |
| 58 | Large Target | 046 | November 27, 2000 | Syndication |
| 59 | War and Peace and War | 064 | November 29, 2000 | Syndication |
| 60 | Return to Karn | 037 | December 2, 2000 | ABC |
| 61 | Speed Trap | 029 | December 9, 2000 | ABC |
| 62 | Holiday Time | 062 | December 16, 2000 | ABC |
| 63 | Opposites Attract | 041 | December 23, 2000 | ABC |
| 64 | Ancient Evil | 049 | January 6, 2001 | ABC |
| 65 | 42 | 025 | January 13, 2001 | ABC |