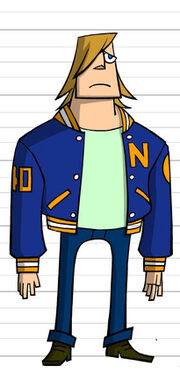 Buttermaker
is a student at
Norrisville High
. He is the captain of the "Wave Slayers," the school's water ski team and seems a normally nice and friendly guy. He appeared in "
Wave Slayers
". In that episode, he became
Stanked
following his water ski accidentally getting wrecked by Randy Cunningham and the Stank went into the suntan on his nose which turned him into an aquatic monster that attacked the other team. Because of the
NinjaNomicon
's explanation to stanking, this suggests that Buttermaker has some attachment (besides the obvious physical one) with his nose.
Trivia
Buttermaker made a nonspeaking cameo in "Sword Quest".
In the episode "Night of the Living McFizzles", Buttermaker made a cameo where he is screaming like a girl and he is with Mike Moe, S Renisewn, and the Nameless Girl with Big Eyelashes.
In Got Stank episode Buttermaker made a cameo where he's inside of the Norrisville High Gymansium "Fish Cage" and he's with 2 other Norrisvillian Female Students where is also in the Fish Cage.
Gallery