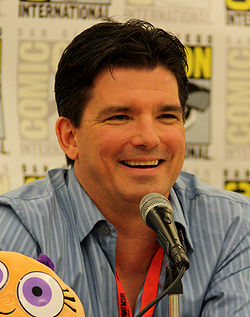 Elmer "Butch" Hartman IV (born January 10, 1965) is an American animator, executive producer, animation director, storyboard artist, voice actor, occasional singer, producer and creator of the Nickelodeon animated shows The Fairly OddParents, Danny Phantom, T.U.F.F. Puppy, and Bunsen Is a Beast.
He was the video reference crew for the 1995 Disney animated film Pocahontas. He also was a character designer for Timon and Pumbaa and 101 Dalmatians: The Series and a storyboard designer for 101 Dalmatians: The Series.
Gallery
Cite error: <ref> tags exist, but no <references/> tag was found
Ad blocker interference detected!
Wikia is a free-to-use site that makes money from advertising. We have a modified experience for viewers using ad blockers

Wikia is not accessible if you've made further modifications. Remove the custom ad blocker rule(s) and the page will load as expected.