Buster's Bath was the first half of the 23rd episode of the first season of My Friends Tigger & Pooh released to television in the United States. It was originally broadcast on February 16, 2008, and was later included in on the DVD Bedtime With Pooh, which was released on August 17, 2010.
While out chasing squirrels, Darby's dog Buster jumps in a puddle and gets covered with mud. Darby wants to give him a bath, but Buster doesn't like baths, so the Super Sleuths get together to try to convince him that bathing can be fun.
Story Detail
Opening
Buster chases a squirrel through the Hundred Acre Wood and Darby shouts for him to stop. She stops to say hello to the viewers. "You can probably tell Buster loves chasing squirrels," she says, then continues that even if he ever did catch one, he wouldn't know what to do with it. Buster chases the squirrel around Darby and then perches on a tree stump and taunts him. Darby makes a grab for him, but he gets away and accidentally jumps into a mud puddle. Perched up above on a tree branch, the squirrel giggles. Buster moans and shakes himself off, splattering the tree and very nearly Darby with mud. She tells him to "come here," but when Buster happily races towards her, she changes her mind. "I mean stay!" she shouts and starts running away. "Don't jump. You'll get me muddy, too. Sit, Buster, sit."
Buster sits and Darby tells him that he is "now officially a mudhound." She says that it looks like they're going to have to give him a bath, but Buster whimpers and runs away. Darby starts chasing after him again. The scene changes to the outside of Pooh's house, where Pooh is carrying some honey pots. Buster races by Pooh and hides in a bush. Darby asks Pooh if Buster just ran by and Pooh says that the something he saw was more muddy than Buster-y. Darby explains to Pooh how Buster landed in the puddle and now she needs to give him a bath. Buster whimpers at the sound of the word, which allows Darby to find him.
Buster is the Case
Buster continues to sulk in the bush and Darby tells Pooh that Buster doesn't like baths, or even the sound of the word. "Let me try," suggests Pooh. He says the word "bath" and Buster immediately whines. "You're right," he agrees. Darby says that she'll need some help and Pooh suggests the Super Sleuths. Darby tells Buster to stay there and that she and Pooh will be right back.
The group proceeds to the Changing Tree and recites the Super Sleuth Oath. When there's no yapping from Buster, Tigger notes his absence, saying that the Oath isn't the same without his yapping. Darby explains that it's Buster that's the problem and the Finder Flag shows Pooh's house. The group hops on their scooters and returns to Pooh's, where Buster is sniffing around in Pooh's honey pots. At the sight of the Sleuths, Buster runs away. Tigger says that the case will be erased in no time, as "Poochie-washing is what Tiggers do best." He says that they'll just need a washtub and some bubbles. Darby explains to him that the problem is that Buster doesn't like baths. Tigger says that it doesn't matter, he'll have him washed, scrubbed and hung out to dry before you can say "Scrub-a-Buster." He holds out a scrub brush while Pooh and Darby stand by the washtub, but Buster just whines and retreats deeper into the bush. "Please, pretty please," tries Tigger, but it doesn't work. He tries begging, which is no good either. Tigger decides that poochie-washing is not what Tiggers do best.
Pretend Bath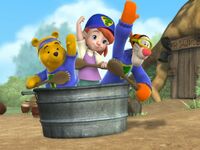 The group decides to Think, Think, Think and the "Think, Think, Think" song is performed. Pooh suggests that maybe Buster just doesn't know much fun taking a bath can be and maybe they should show them. Darby agrees that they could all take a pretend "you-know-what." Tigger says that Buster would want to join in the "splisherin' and splasherin'." So the group takes a pretend bath and sings the song "Bathtime is Fun". As the song continues, Buster seems to become curious and he leaves the bush. He dances around to the song, but once the song ends, Buster whines again and retreats back into the bush. "Apparently Buster still doesn't think it's fun," laments Pooh. Darby says that a bath toy would make it more fun.
Bath Toys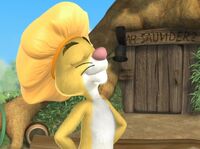 Tigger agrees that "nobody can resist a floaty-time plaything, not even a stubborn pooch." Pooh says that Buster will love his rubber duckie. Darby asks Pooh to get it while she and Tigger fill up the tub and asks us what our favorite bathtime toy is. She says she hopes they can find one that Buster likes. The scene changes and Pooh turns on the hose to fill up the tub, which now has Pooh's duckie floating in it. In an exaggerated voice, Darby says that it's a great toy and Tigger oohs and ahhs over it. He picks it up and squeezes it. Buster yips questioningly and Pooh says that the toy makes washtime seem like playtime. Buster gives some curious whines and emerges from the bush, but when Pooh says the word "bath," Buster yelps and races straight back to the bush. Tigger says they just have to find an "even better-ific toy." Darby suggests that maybe one of their friends has something Buster will like.
The scene changes and Piglet, Rabbit, Roo and Eeyore arrive. Piglet's toy is a sailboat. Buster just gives a small whimper and Tigger hands Piglet off to Darby, saying that they'll call him. Rabbit says that he brought something indispensable and puts on a shower cap. Darby tells him that a shower cap isn't really a toy. Rabbit replies that he won't take a bath without one and that bathtime isn't for playing, it's for getting clean. Buster whines and scoots back into the bush. "Not de message we're lookin' to send," deadpans Tigger. "Next!" Roo hops forward with his toy, a squirty fish. He demonstrates it by dipping into the tub and then spraying a large stream of water. Everyone is impressed, except for Rabbit, who ended up getting squirted. "Sorry, Rabbit," says Roo and he plops his toy in the water. Rabbit says that it's all right. "Now do you see how handy a a shower cap can be?" Darby asks if Eeyore brought anything. "Not much of a toy," says Eeyore, and he plops a stick into the water. "Next!" shouts Tigger, but Darby stops him, saying that she thinks they can use Eeyore's toy, because Buster loves sticks. "Maybe there's another way to get him clean," she suggests.
Hose Him Down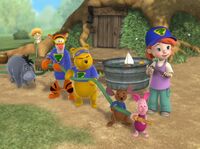 Darby says that when Buster comes out to play fetch, they can spray him with the hose and get him clean. She throws the stick and tells Buster to fetch it. Buster does and they turn on the hose, but because Eeyore is sitting on top of it, there is a kick. Darby calls for more water and Rabbit turns up the pressure on the water. Eeyore is pushed off the hose by the sheer force of the water, then Piglet is floated up into the air by the pressure of the hose. The water sprays out in wild arcs and most of the characters other than Buster and Rabbit end up hiding under the tub. "Somebody turn it off!" shouts Rabbit and he ducks for cover. He turns it off himself and Piglet falls, but he catches him in his shower cap. "You're right, Rabbit, says Piglet. That shower cap does come in handy. "Dose things are dangerous!" comments Tigger. "Let's do that again!" comments Roo. "Perhaps if we, or then again we could," Pooh starts to say, but then realizes that he's stumped. Darby says that she's out of ideas also. "We're never going to get that doggone mud off that mudgone doggy," declares Tigger. Rabbit says that the mud will wear off sooner or later and that Darby will just have to wait. That makes Darby sad because that means no puppy hugs for a while. Buster whines.
Buster Loves the Rain
Just then, it starts to rain. Buster yips in curiosity and looks up. Pooh says that they'd better get inside and everyone except Buster races inside Pooh's house. "What about Buster?" asks Piglet. Darby tells him to not worry about Buster, because Buster loves the rain. Indeed, Buster yips happily, emerges from the bush and splashes in a puddle. In seconds, he cleans off all the mud. "Buster loves the rain!" shouts Darby happily. Buster picks up Pooh's rubber duck and squeaks it. Most of the characters race outside and start having fun playing in the rain. Eeyore thinks about it for a bit and decides that a little rain never hurt anybody... yet. Rabbit comes out too, but not before putting on his shower cap. Darby picks up Buster, telling him that it looks he got his "you-know-what" after all. Buster yaps and licks her face. Tigger says that "this muddy mystery is history."
Characters
Crew
Director - David Hartman
Written by and Story Edited by Brian Hohlfeld
Storyboard by Broni Likomanov
Storyboard by Kurt Anderson
v - e - d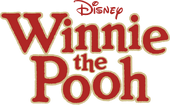 Episodes
The New Adventures of Winnie the Pooh
Season One: "Pooh Oughta Be in Pictures" • "Donkey for a Day/Friend, In Deed" • "There's No Camp Like Home/Balloonatics" • "Find Her, Keep Her" • "The Piglet Who Would Be King" • "Cleanliness is Next to Impossible" • "The Great Honey Pot Robbery" • "Stripes/Monkey See, Monkey Do Better" • "Babysitter Blues" • "How Much is That Rabbit in the Window" • "Gone with the Wind/Nothing But the Tooth" • "Paw and Order" • "Honey for a Bunny/Trap as Trap Can" • "The Masked Offender/Things That Go Piglet in the Night" • "Luck Amok/Magic Earmuffs" • "The Wishing Bear" • "King of the Beasties/The Rats Who Came to Dinner" • "My Hero|/Owl Feathers" • "A Very, Very Large Animal/Fish Out of Water" • "Lights Out/Tigger's Shoes" • "The "New" Eeyore/Tigger, Private Ear" • "Party Poohper/The Old Switcheroo"
Season Two: "Me and My Shadow/To Catch a Hiccup" • "Rabbit Marks the Spot/Good-bye, Mr. Pooh" • "Bubble Trouble/Ground Piglet Day" • "All's Well That Ends Wishing Well" • "Un-Valentine's Day" • "No Rabbit's a Fortress/The Monster Frankenpooh" • "Where, Oh Where Has My Piglet Gone?/Up, Up and Awry" • "Eeyore's Tail Tale/Three Little Piglets" • "Prize Piglet/Fast Friends" • "Pooh Moon/Caws and Effect"
Season Three: "Oh, Bottle/Owl in the Family" • "Sham Pooh/Rock-a-Bye Pooh Bear" • "What's the Score, Pooh?/Tigger's Houseguest" • "Rabbit Takes a Holiday/Eeyi Eeyi Eeyore" • "Pooh Skies" • "To Bee or Not to Bee/April Pooh" • "A Knight to Remember" • "Tigger is the Mother of Invention/The Bug Stops Here" • "Easy Come, Easy Gopher/Invasion of the Pooh Snatcher" • "Tigger Got Your Tongue/A Bird in the Hand"
Season Four: "Sorry, Wrong Slusher" • "Grown But Not Forgotten" • "A Pooh Day Afternoon" • "The Good, the Bad, and the Tigger" • "Home is Where the Home is" • "Shovel, Shovel, Toil and Trouble/The Wise Have It" • "Cloud, Cloud Go Away/To Dream the Impossible Scheme" • "Piglet's Poohetry/Owl's Well That Ends Well"
Special: "Winnie the Pooh and Christmas Too" • "Boo to You Too! Winnie the Pooh" • "A Winnie the Pooh Thanksgiving" • "Winnie the Pooh: A Valentine for You" • "Winnie the Pooh: A Very Merry Pooh Year"
The Book of Pooh
Season One: "Best Wishes, Winnie the Pooh/Double Time" • "Are You Me?/Rabbit's Happy Birthday Party" • "Circumference Equals Pirate 'Arrr' Squared/Pooh's to Do" • "Pigletry/Dinosnores" • "I Could Have Laughed All Night/X Spots the Mark" • "My Gloomy Valentine/Mr. Narrator" • "Vegetable of Contents/A Welcome to Beat the Band With" • "Owl's Book/The Autobiography of Tigger" • "You Can Lead Eeyore to Books/The Spice of Life" • "The Words Are Out/Brain Drain"
Season Two: "Please and Thank-You's/The Rumor Millstone" • "Over the Hill/Tigger's Replacement" • "The Wood Without Pooh/Friends of a Different Stripe" • "Mothers of Invention/Once Upon a Happy Ending" • "Piglet's Perfect Party/A Wood Divided" • "Bravehat/Scaredy Cat" • "Blue Ribbon Bunny/Under the Pig Top" • "The Book of Boo" • "Could it Be Magic?/Diary of a Mad Gardener" • "The Case of the Disappeared Donkey/The Littlest Dinosnore"
Songs
Movie Songs
Winnie the Pooh and the Honey Tree: "Winnie the Pooh" • "Up, Down, Touch the Ground" • "Rumbly in My Tumbly" • "Little Black Rain Cloud" • "Mind Over Matter"
Winnie the Pooh and the Blustery Day: "A Rather Blustery Day" • "The Wonderful Thing About Tiggers" • "Heffalumps and Woozles" • "Rain, Rain, Rain Came Down, Down, Down" • "Hip-Hip-Poohray"
Boo to You Too! Winnie the Pooh: "I Am Not Afraid" • "I Wanna Scare Myself"
Pooh's Grand Adventure: The Search for Christopher Robin: "Forever & Ever" • "Adventure is a Wonderful Thing" • "If It Says So" • "Wherever You Are" • "Everything is Right"
The Many Songs of Winnie the Pooh: "It Really Was a Woozle, Yes it Was"
Sing a Song with Pooh Bear: "Kanga Roo Hop" • "You're the One and Only One" • "Harvest What You Grow" • "My Song"
Winnie the Pooh: A Valentine for You: "Girls are Like Boys" • "When the Love Bug Bites" • "Places in the Heart"
The Tigger Movie: "Someone Like Me" • "Whoop-de-Dooper Bounce" • "Lull-a-Bee" • "Round My Family Tree" • "How to Be a Tigger"
Piglet's Big Movie: "A Mother's Intuition" • "With a Few Good Friends" • "Sing-Ho (For the Life of a Bear)"
Springtime With Roo: "We're Huntin' Eggs Today" • "The Way It Must Be Done"
Pooh's Heffalump Movie: "The Horribly Hazardous Heffalumps" • "The Name Game" • "Shoulder to Shoulder" • "In the Name of the Hundred Acre Wood/What Do You Do?"
Pooh's Heffalump Halloween Movie: "Trick 'R Treating With Our Friends" • "Brave Together"
Winnie the Pooh: "The Tummy Song" • "A Very Important Thing to Do" • "The Winner Song" • "The Backson Song" • "It's Gonna Be Great" • "Everything is Honey" • "Pooh's Finale"
Television Songs
Welcome to Pooh Corner: "Welcome to Pooh Corner Theme Song" • "Try a Little Something New" • "The Right Side" • "Just Say, 'Yes I Can'" • "You're the Only You" • "I Hum to Myself" • "Please and Thank You" • "Welcome to Pooh Corner Ending Theme"
The New Adventures of Winnie the Pooh: "Pooh Bear" • "'Cause It's Make Believe" • "The Floating Song" • "Nothing's Too Good for a Friend" • "Under the Bed" • "I Don't Have A Name" • "King of the Beasties" • "The End" • "Pirates is What We'll Be" • "Tigger, the Private Ear is Here"
The Book of Pooh: "Everyone Knows He's Winnie the Pooh" • "Your Best Wishes" • "On the Double" • "Who is Me" • "Think, Think, Think" • "What Piglets Are" • "I Watch for Signs" • "We're Making a Cake" • "If I Could Be Big" • "Isn't that Funny?" • "Find the X" • "Everyone Wants a Valentine" • "That's What We Do" • "Keep it Simple" • "Have You Got a Book For Me?" • "Give It a Try" • "On Your Way Back Home" • "Nightmare Wranglers" • "Carry On" • "Where Do Words Go?" • "Under a Spelling Bee's Spell" • "Adventure" • "Mental Altitude" • "I Want to Know Everything Now" • "Happy Tailiversary" • "Get Growin'" • "Tigger's Lullaby" • "Perfect Party" • "If We Were Talkin'" • "Someone New to Meet" • "My Hero" • "I Want To Be Scary" • "Broken Friendships" • "Do the Roo" • "Call Me Buck-a-Roo" • "At Chez Piglet" • "Nothing Ever Happens" • "Too Much Honey" • "Lost in a Book" • "Goodbye for Now"
My Friends Tigger and Pooh: "A Few Simple Rules" • "Bouncin'" • "The Grass is Greenier" • "The Password Song" • "Underneath the Same Sky" • "One Big Happy Family" • "Think, Think, Think" • "The Question Song" • "Floating in a Cloud" • "Different Can Be Good" • "The Little Things You Do" • "Christmas Comes Tomorrow" • "Time to Go (On a Trek Through the Snow)" • "Snowman Song"
Miscellaneous: "Luv-a-bye"