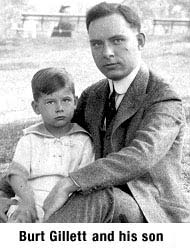 Burt Gillett (October 15, 1891 - December 28, 1971) was a director of animated films. He is noted for his work on the Silly Symphonies series, particularly the 1933 short film Three Little Pigs.
In 1929, Gillett joined the Walt Disney Studios where he started out primarily working on Mickey Mouse cartoon shorts.[1] However, by 1930, he directed Cannibal Capers, the first of 15 Silly Symphonies shorts to his credit. The shorts directed by Gillett included two Academy Award winners (Flowers and Trees and The Three Little Pigs) and also featured important firsts such as the introduction of the Pluto character and the first animated short to be produced in full-color three-strip Technicolor. Due to the success of The Three Little Pigs, Gillett was recruited to run the Van Beuren Studios in 1934. When that studio closed in 1936, Gillett returned to Disney.
| | |
| --- | --- |
| | This page uses content from the English Wikipedia. The article or pieces of the original article was at Burt Gillett. The list of authors can be seen in the page history. As with Disney Wiki, the text of Wikipedia is available under the GNU Free Documentation License. |
Ad blocker interference detected!
Wikia is a free-to-use site that makes money from advertising. We have a modified experience for viewers using ad blockers

Wikia is not accessible if you've made further modifications. Remove the custom ad blocker rule(s) and the page will load as expected.