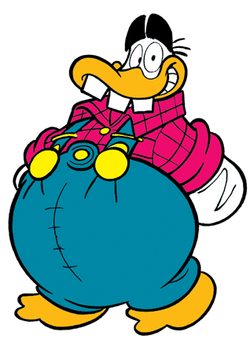 Bum Bum Ghigno is a character created by Corrado Mastantuono. Bum Bum Ghigno is a rotund man who dresses in overalls and a red chequered shirt. He also has protruding front teeth, similar to Goofy, and thick black eyebrows.
History
Bum Bum Ghigno is a general layabout with no permanent profession. He is frequently seen in various short-timed jobs, but his laziness and clumsiness prevent him from holding them for long. In his first appearance he was an antagonist to Donald Duck and Gyro Gearloose, but has since become their friend.
Gallery
| | |
| --- | --- |
| | This page uses content from the English Wikipedia. The article or pieces of the original article was at List of Donald Duck characters. The list of authors can be seen in the page history. As with Disney Wiki, the text of Wikipedia is available under the GNU Free Documentation License. |
Ad blocker interference detected!
Wikia is a free-to-use site that makes money from advertising. We have a modified experience for viewers using ad blockers

Wikia is not accessible if you've made further modifications. Remove the custom ad blocker rule(s) and the page will load as expected.