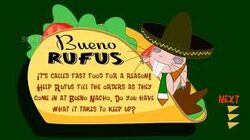 Bueno Rufus
is an online video game based on the show
Kim Possible
.
Description
In this game, you are Rufus from the Kim Possible cartoon. You must prepare Mexican food at Bueno Nacho. The food moves from right to left in the bottom part of the screen. Operate the right machine to add the right ingredient to each snack. You must do this only when the snack is directly under it. Glasses need soda, burritos need salsa, nachos need cheese, and ice creams need chocolate syrup. The difficulty rises the further the player progresses.
Ad blocker interference detected!
Wikia is a free-to-use site that makes money from advertising. We have a modified experience for viewers using ad blockers

Wikia is not accessible if you've made further modifications. Remove the custom ad blocker rule(s) and the page will load as expected.