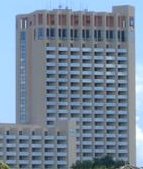 The Buena Vista Palace is a 1,014-room resort located directly across from the Downtown Disney Marketplace. The hotel, which opened in March 1983, is among seven hotels that make up the Downtown Disney Area Resorts. The Downtown Disney Resort Area Hotels are located on the property of the Walt Disney World Resort in Lake Buena Vista, Florida, USA, but are not owned by Disney.
Branding history
The Buena Vista Palace Resort & Spa was rebranded and renamed as the Wyndham Palace Resort & Spa in November 1998 (the hotel's owners, who had acquired the hotel a year earlier, had purchased Wyndham earlier in the year). In 2005, the Blackstone Group acquired Wyndham and announced plans to launch a new brand LXR Luxury Resorts. LXR Luxury Resorts would consist of 21 premium properties wholly owned by the Blackstone Group, including the former Wyndham Palace which reverted to its original name in 2006.
External links
| | |
| --- | --- |
| | This page uses content from the English Wikipedia. The article or pieces of the original article was at Buena Vista Palace Resort & Spa. The list of authors can be seen in the page history. As with Disney Wiki, the text of Wikipedia is available under the GNU Free Documentation License. |
Ad blocker interference detected!
Wikia is a free-to-use site that makes money from advertising. We have a modified experience for viewers using ad blockers

Wikia is not accessible if you've made further modifications. Remove the custom ad blocker rule(s) and the page will load as expected.