Brigitte, Josette, and Collette
Comments

0
19,082pages on
this wiki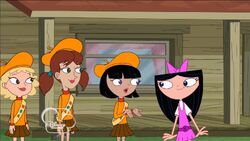 In the
Phineas and Ferb
episode "
Buford Confidential
", three new Fireside Girls appeared: Brigitte, Josette, and Collette.
Brigitte
Brigitte is a French Fireside Girl that was once in love with Buford, and admits to being at least 'vaguely interested' in him.
Biography
Nothing is known about Brigitte's past, except that she fell in love with Buford. It can also be assumed that she was born in France.
Physical Appearance
Brigitte's Fireside Girl outfit is a long-sleeved shirt with a beret, a red collar and cuffs, and pleats on the skirt. Her casual attire is a blue long-sleeved shirt, checkered back and blue skirt, long socks and blue shoes. For swimming, she wears a 2-piece swimsuit with a red stripe on the top.
Background Information
She is the fourth Fireside Girl that was seen with her casual attire. First was Isabella, followed by Katie and Ginger.
She is the first Fireside Girl that wears long sleeves for her uniform.
Collette's Background Information
Her hair looks very, if not exactly like Milly's.
She is the second Fireside Girl to wear long sleeves.
Josette's Background Information
Josette is the only known Fireside Girl that wears blue shoes.
Her hairstyle is similar to Katie's.
She is the second Fireside Girl to have red hair.