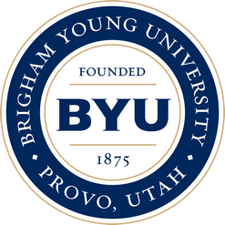 Brigham Young University
(often referred to as
BYU
, or sometimes just the Y) is a private university located in Provo, Utah. It is owned and operated by The Church of Jesus Christ of Latter-day Saints (LDS Church), and is the United States' largest religious university and third-largest private university.
History
The university can trace its roots to Utah's pioneer heritage. The original school, Brigham Young Academy, was established Oct. 16, 1875, on a little over one acre of land in what is now downtown Provo. At that time, Brigham Young, president of The Church of Jesus Christ of Latter-day Saints, charged that all secular learning at the institution should be fused with teachings from the scriptures. Speaking to Academy Principal Karl G. Maeser, President Young said: "Brother Maeser, I want you to remember that you ought not to teach even the alphabet or the multiplication tables without the Spirit of God." BYU has remained true to that original charge.
Despite steady growth during its early years, the Academy was threatened by a series of financial and physical setbacks. With the help and sacrifice of Abraham O. Smoot, the campus moved in 1891 to new facilities on University Avenue.
The Academy's curriculum strengthened and enrollment grew. In 1903, the name was officially changed to Brigham Young University. Work began in 1909 on the Maeser Memorial Building, the first of many structures on the university's present site.
Animation Department
BYU's animation program has been attracting faculty members from companies like Disney, Pixar, DreamWorks, and Warner Bros.— and student-produced films from started turning the heads of entertainment executives from California to Cannes. In the programs first year it won both a Student Emmy from the Academy of Television Arts and Sciences and a Student Academy Award from the same group that hosts the Oscars. They continue to dominate these two competitions, and in addition, they've won Nickelodeon's Producers' Choice Award and Viewers' Choice Award, been invited to show at festivals such as Sundance, Cannes, and Annecy.
In 2010 University administrators decided to establish the BYU Center for Animation. The Center operates under the direction of three colleges—the Ira A. Fulton College of Engineering and Technology, the College of Fine Arts and Communications, and the College of Physical and Mathematical Sciences.
Movies
In The Other Side of Heaven, John Groberg is a 19-year-old student at Brigham Young University. While Attending BYU, John met his future wife Jean Sabin.
Alumni
Blair Treu - Director
Scott Greenhalgh - Disney College Program Advisory Board
Scott T. Petersen - Director and Animator
David bird – Artist
Erin Chambers - Actress
BYU's Football team played in the second annual Disneyland Pigskin Classic.
External Links