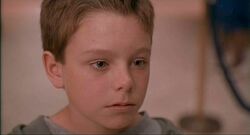 Brian Bonsall (born on December 3, 1981) is a former child actor who played Preston Waters in the 1994 live-action film Blank Check.
He also portrayed Andy Keaton in the later seasons of the sitcom Family Ties, a role he reprised for the character's appearance in Mickey's 60th Birthday. He also played Eddie Charles in Father Hood.
Ad blocker interference detected!
Wikia is a free-to-use site that makes money from advertising. We have a modified experience for viewers using ad blockers

Wikia is not accessible if you've made further modifications. Remove the custom ad blocker rule(s) and the page will load as expected.