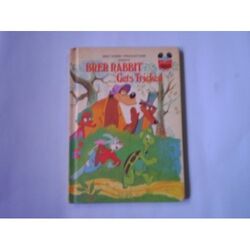 Brer Rabbit Gets Tricked is a 1977 Disney Wonderful World of Reading storybook featuring the characters from Song of the South. In this book, Brer Rabbit is outwitted in a race with Brer Turtle, but in turn tricks Brer Wolf, Brer Bear, and Brer Fox.
Details
Hardcover: 41 pages
Publisher: Random House BFYR; Book Club ed edition (July 12, 1977)
Language: English
ISBN-10: 0394848063
ISBN-13: 978-0394848068
Gallery
Ad blocker interference detected!
Wikia is a free-to-use site that makes money from advertising. We have a modified experience for viewers using ad blockers

Wikia is not accessible if you've made further modifications. Remove the custom ad blocker rule(s) and the page will load as expected.