"Brainzburgerz" is the eighth episode of the first season of Penn Zero: Part-Time Hero. It aired on February 16, 2015.
Synopsis
Exhausted from recent missions, Penn is relieved when he is zapped into a seemingly ordinary job as a food court employee in a mall, but it turns out that Penn and his team are in an alternate world where a zombie apocalypse is taking place.
Plot
Trivia
The title card of this episode bears a resemblance to the movie poster of the George A. Romero film Dawn of the Dead.
This episode has similarities to the Randy Cunningham: 9th Grade Ninja episode "Night of the Living McFizzles".

Zombies are part of the episode's main plot.
One of the villan characters where everyone turned into a zombie by infected food. Rippen with Brainzburgerz while McFist with McFizzles.
One of the main characters are not turned into a zombie are Penn and Randy. Also one of the main characters where main characters' friends turns in to zombies. Penn with Boone and Sashi while Randy with Howard, Debbie Kang and Theresa.
One of the main characters to figure out cured everybody. Penn cure everybody with french fries in antidote and Randy using Ninja Pukin' to Howard to make him and everybody puke and cure.

One of Penn's photo from the Opening Theme.
Gallery
v - e - d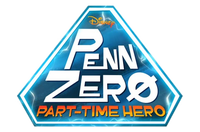 Locations
Middleburg • Middleburg Central High • The Odyssey • Fish Stick on a Stick • North Pole • Knight World • Superhero World • Arabian World • Plush Toy World • Clown World • Dinosaur Cowboy World • Cereal World • Old English World • Giant Monster World • Zombie World • Space World • Ocean World • Color World • Musical Fairy Tale World • Caveman Spy World • Future Barbarian World • Ultrahyperball World • Demon World • Alien World • Galaxy World • Temple World • Dragon World • Gothic Mystery World • Plant World • Animal Barbarian World • Toy World • Outer Space Court World • Robot World • Pirate World • Fairymania World • Steampunk World • Ball World • Ghost World • Rock, Paper, Scissor World • Beast World • Anime World • Sitcom World • Nothingness • Most Dangerous World Imaginable • Least Dangerous World Imaginable
Objects
Multi-Universe Hologram Uplink • Multi-Universe Transprojector • Pigoilet • The QPC Unit • Vortex Tops • Specs