Brad Morton
Background information
Feature films
Short films
Television programs
American Dragon: Jake Long
Video games
Park attractions
Portrayed by
Portrayed by
Animators
Jeff Goode
Voice
Matt Nolan[1][2]
Performance model
Designer
Inspiration
Honors and awards
Character information
Full name
Other names
The Bradster
Personality
Egotistical, arrogant, brash, ignorant, absent-minded, oblivious
Appearance
Blonde hair, red sweater, white shirt
Occupation
Student, Football Player
Alignment
Affiliations
Goal
Make Jake's life miserable, become a ballerina
Home
New York City, New York
Relatives
Brad's Dad (father)
Pets
Allies
Rose (formerly), Jake Long (formerly), Hans Rotwood
Minions
Enemies
Jake Long, Trixie Carter, Arthur Spudinski, Rose
Likes
Rose, bullying Jake another students, pulling pranks, dumping Rose for Jasmine at the school dance, dating any other girls at school
Dislikes
Failing class, the dark, his secrets exposed
Powers and abilities
Possessions
Weapons
Fate
Get suspended from middle school and unable to graduate 8th grade because he pulled a prank on Principal Rotwood.
Quote
"Oh rest assured my friend, she is."
"That's right, The Bradster makes Home Ec home excellent!"
"Game Off, Losers!"
"Oh yeah, The Bradster worth every penny."
"Oh there's goes my cue, too bad to missed yours, LOSER!"
[Source]
Brad Morton[3][4] is a recurring character in American Dragon: Jake Long.
History
He is one of the premier football players at
Millard Fillmore Middle School
, where he is a school bully and plays the role of the popular "dumb jock". He usually thinks he is a hot shot, but at some points he just utterly fails.
He is two years older than Jake Long, making him 16 because he was held back twice in elementary school for failing 3rd grade[5].
Jake is frequently the target of Brad's abuse. Usually by him flaunting something, such as a car[5], a large wad of money[6], etc., in Jake's face. However, Jake almost always manages to get even either by himself or because of Brad's own actions backfiring.
Personality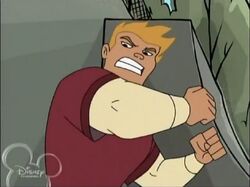 He is very egotistical, constantly referring to himself as "The Bradster". He was a major foil to Jake getting a chance to spend time with Rose during school. He once took Rose on a date but dumped her for
Jasmine
, a girl Jake took to that dance unaware that she was a
Nix
[7]
. Afterwards, he is oblivious to the fact she no longer likes him. He always tries to steal Rose away from Jake whenever they show up, but Rose has probably not forgiven him for ditching her for Jasmine, or the dance gave her an opportunity to see Brad's true personality.
It seems that Brad hides his fears and embarrassing secrets like his fear of the dark[8] and dreaming of becoming a ballerina[9] with his tough-guy attitude.
Family
His father is a police officer and much like his son, picks on other people, including Jonathan Long[10].
Age By Season
Season 1: 14-15
Season 2: 15-16
Episode Appearances
Season One
Season Two
Trivia
Brad has taken piano lessons for 12 years, yet is still no better than a beginner[11].
Brad was suspended from school for pulling a cake bomb on Principal Rotwood and was unable to participate in graduation[12].
Brad is a Leo[citation needed], which would place his birthday between July 23 to August 22[13].
Gallery
References